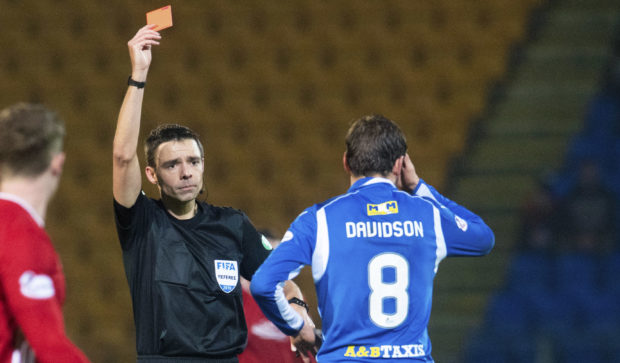 St Johnstone manager Tommy Wright admitted his players deserved the red cards they received in the 1-1 draw with Aberdeen.
Both Murray Davidson and substitute Callum Hendry were sent packing by referee Kevin Clancy in a torrid spell in the second half at McDiarmid Park.
Davidson had his studs showing when he challenged Craig Bryson on 74 minutes then Hendry clattered into Lewis Ferguson just three minutes later.
Wright, who praised his team for securing a precious point, was honest when asked about the orderings-off.
He said: "The red cards are correct decisions.
"But I look at some of the fouls and the number of fouls certain Aberdeen players made and didn't get a yellow card.
"Murray was unlucky.
"TV will slow it down and it looks really bad for him but anybody who has played the game will know that the Aberdeen player has nicked the ball and he's just late.
"Because of where he has caught him, the referee has made the right decision.
"The Callum Hendry one – there was a clear foul on Matty Kennedy before that but the referee doesn't see it.
"Callum's blood was boiling over that then he (Hendry) made a horrendous decision and his tackle in my opinion is worse than Murray's, even though Murray's looks worse."
Wright revealed he went to see Clancy at the interval, saying: "I spoke to the ref at half-time because I knew Derek (Aberdeen boss McInnes) was in seeing him so I wanted to make sure he wasn't going to be bullied by Derek!"
Given the considerably challenging position the red cards left his team in, Wright was understandably delighted with the result.
Asked if it was a good point, he replied: "That's an understatement – it is a great point.
"When you show that spirit I think you deserve a wee bit of luck.
"It is a deserved point too.
"I am really pleased for the players.
"I would have like to have done it with 11 on the pitch but unfortunately we didn't do that."