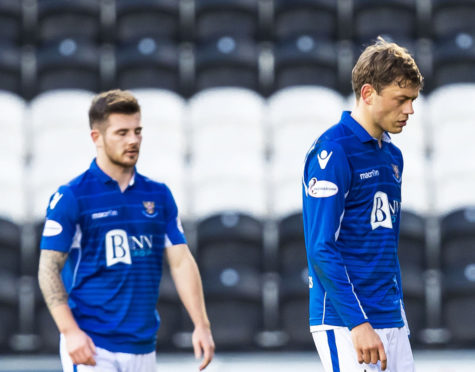 Matty Kennedy is determined that St Mirren will be met by the real St Johnstone when the teams clash at McDiarmid Park this afternoon.
The Saints forward looks back on the October defeat in Paisley as the "lowest point of the season so far" – a game that came as a shock to the system.
There have been a couple of bad losses since then – notably against Hibs and Motherwell – but the 2-0 against the Buddies was when Tommy Wright's side hit rock bottom, according to Kennedy.
Now, with Saints full of confidence after their first away win of the season at Hearts and two clean-sheets in a row, there is good reason to believe the 25-year-old will get his wish and they will pull further away from the relegation zone.
"The last time we played St Mirren was the lowest point of the season so far," he said.
"I couldn't believe how bad we were in that game. We were terrible.
"We have to prove now that we're a far better team and I think we owe a performance.
"Driving away that day I remember being in disbelief at how bad we were. The confidence was gone.
"Too many of us didn't want the ball. We had a very young team and we looked shot.
"As soon as they scored, we looked a team with zero confidence and let ourselves just fade away.
"That was the day I thought 'we are in bother here' – which was a shock because I couldn't believe where we'd got to as a team.
"Until then we were looking at the games we'd lost and we'd missed penalties. We'd given away bad individual goals and stuff like that.
"We'd had a few good performances which we didn't feel we'd got rewarded for – but that St Mirren game was a real shocker.
"Since then we had the bad result against Motherwell but the result at Kilmarnock and then the win over Hearts has given us a boost."
Kennedy insisted that the recent upturn in form and climbing off the bottom of the table hasn't led to any complacency in the Saints dressing room.
"We haven't totally turned the corner," he said. "Nobody here is thinking we have and there is plenty of hard work ahead of us.
"We are not there as a team yet. Everyone can still produce more – and we have got to.
"But we have looked more solid and we have to show now we're a far better team than we looked that day at St Mirren.
"We want to build on the Hearts result last weekend and get a bit of momentum going now."
Chris Kane is likely to miss out again today but Jason Holt has a chance of playing.
Perth boss Wright reported: "Chris has had a scam and there is no structural damage to his knee.
"He has an outside chance but I'd think Hamilton will be his best opportunity.
"Jason will train this morning and if he comes through that he will be fine."
He added: "We have only had two defeats in the last seven games, which isn't bad for a team that was bottom of the table.
"But we have three games coming up against teams round about us.
"We have to pick up as many points as possible.
"It's a big weekend with teams in the bottom six playing each other.
"The games before the winter break can go a long way in deciding how our season is going to pan out, whether we are going to be struggling or relieving a lot of the pressure and getting us up the table.
"These games give us an opportunity to open up gaps. But we are all saying that."