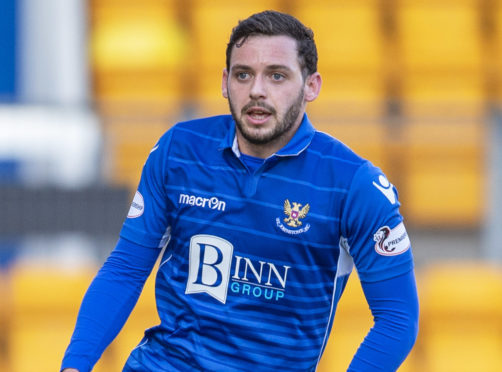 Drey Wright hasn't got much cause to look back on 2019 with fondness.
The St Johnstone winger missed well over half of it with a serious knee injury after all.
But on the evidence of the last game of the calendar year, 2020 could be one to remember.
The Englishman was a real threat down the Saints right against Ross County at the weekend, getting past Staggies' left-back Sean Kelly on several occasions.
And Wright is hoping it is a sign of things to come after the January break.
"That was definitely my best game since I came back," he said.
"It was always going to be a slow process but I am happy to be in the team and if I can put some good performances together then it will do me the power of good.
"It is frustrating because you want to do certain things but my body is not quite there yet.
"I just want to get back to the levels I know I can reach."
Saints completed December unbeaten but it should really have been three wins and two draws rather than three draws and two wins, given the domination they enjoyed against County on Sunday afternoon.
"Yes, it was frustrating," said Wright.
"Our last few performances we have been keeping ourselves in the games which we weren't doing at the start of the season.
"I think against County our play clicked all over the pitch.
"We had the majority of the play and created the best chances and we showed good character to score after we went a goal behind.
"There were times when my final ball let me down and from a few others.
"We need a bit more quality in and around the box then we can score a few more goals, which is what we need to do."
He added: "We started badly and now the break has come at the wrong time.
"I know we conceded against Ross County but before that we had four clean sheets on the bounce.
"We needed to get a bit of solidity and we are looking forward to coming back with that same mind-set that we can keep clean sheets and win games."
An on-form Wright on one wing and an on-form Matty Kennedy on the other will be one of the most potent wide duos in the Premiership.
"Yes, we can do well down both sides if we are picked," said Wright.
"There is a lot of competition down both sides. David Wotherspoon was ill and Michael O'Halloran has been good as well so we all know we have a fight to stay in the team.
"We have got to keep performing if we want to play."
Supersub Callum Hendry has been the Perth side's chief threat up front so far – coming off the bench to score four crucial Premiership goals, the latest to secure the point at the weekend.
"His attitude has never changed and he has been brilliant even when he is in and out of the side," said Wright.
"It is brilliant that he is coming off the bench and making an impact for him and the team.
"He has proven recently that he is a goal threat and causes teams problems as he showed against County."