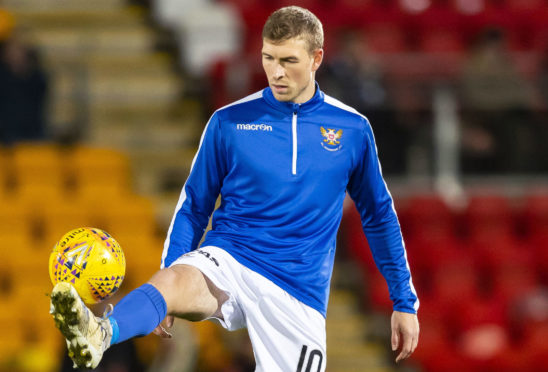 It has to be jam today and not tomorrow for St Johnstone.
David Wotherspoon is comfortable putting a "must win" tag on their clash with Livingston. Top six football is the goal for the Perth side, with two places needing caught up, a four-point gap needing bridged and only five games left to do it.
As such, a head-to-head against one of their rivals in the race to finish above the split line offers up an opportunity that needs to be grasped, according to the Saints midfielder.
"We are at home this week, we want to get top six if we can and to do that we have to win this weekend," said Wotherspoon.
"I think it's a must win. It feels like a big game for us because we need to close the gap on the teams above us.
"If we are going to make the top six we have to be winning games because they're running out.
"Last season we got close to it around this time of the year and didn't make it, so we want to go one better this time.
"It's in our hands, as it stands we are not looking for results elsewhere and hopefully we can go out and do it.
"It would be a good achievement to get into the top six considering where we came from.
"We have grown as a team, the young players have got stronger and I think what we went through early in the season has benefited them.
"They will be better for the experience, it was hard for them at times but we always knew they'd come through it.
"But we haven't done anything yet, we can't relax and congratulate ourselves because there is still more to come."
Wotherspoon has started all 10 of Saints' matches since these two sides last met in the first league game after the winter break. Both player and team have thrived in that time.
"I have been playing regularly and that has helped me get consistency and confidence," said the former Hibs man.
"I have really enjoyed it. It helps when the team is playing well.
"We are happy with our form lately. We have played well and the results have picked up in the last few months.
"We were disappointed to lose to Celtic last weekend and then we had a little dip on Wednesday at St Mirren, but we still got a point and we move on again now."
Wotherspoon hopes that the game-time he has been getting with his club will see him called up for the next Canada squad at the end of the month.
If nothing else it will give him another chance to watch Bayern Munich superstar Alphonso Davies close-up.
"Alphonso is an incredible player and I could see from the first time I trained with him that he's different class," said Wotherspoon.
"I came back and told the lads here.
"I have played up against him in training a few times and when he opens his legs you can't get close to him.
"He's scarily quick. It's a joke how fast he is with the ball at his feet.
"He's a big lad as well, so when he's coming at you it's not nice. But he's not just about pace. He's a skilful player too.
"He's doing it in the Champions League now so he's getting noticed more.
"He's had a tough life but had a dream and has taken it.
"I don't know too much about his back story but I know he was a refugee who moved to Canada and they have managed to get him citizenship.
"We have a couple of games coming up against Trinidad and Tobago so I'll have to wait and see if I'm in the squad.
"I have been playing every week here so I'll just have to wait and see."
Manager Tommy Wright, who will have Callum Hendry back in his squad, said: "Livingston are a formidable team and difficult to play against. They are big and strong but they can also play football.
"They probably don't get enough credit for the quality they have. But their physicality, directness and the quality they put into the box are still their main strengths.
"That makes them very dangerous opponents.
"But we are hoping that at home we can capitalise on the fact their results away from home maybe haven't been as good.
"A win will put us within three points of them. We are at a stage where every win is vital."