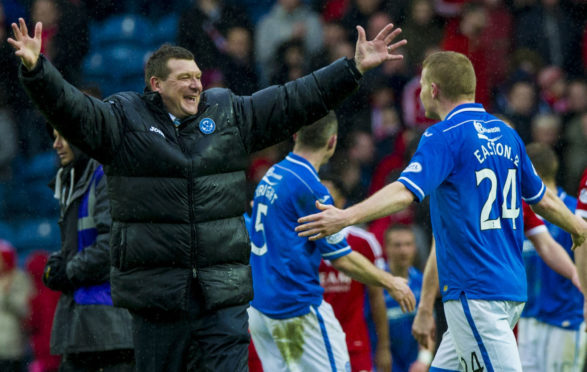 After nearly 10 years at St Johnstone, Tommy Wright has left Perth, widely recognised as the club's greatest ever manager. Eric Nicolson takes an alphabetical look back at his time at McDiarmid Park.
A is for Armenia (or Alashkert)
When Wright was number two to Steve Lomas, St Johnstone competed in the Europa League qualifiers, going out to the Turkish side Eskişehirspor after one round. Four more European campaigns were to follow, with outstanding results against Rosenborg and Luzern frustratingly followed up by defeats to less talented teams like Minsk and Spartak Trnava. A 16-hour round trip to Armenia, a country more likely to see itself as Asian rather than European, summed up the type of wonderful adventure the fans were treated to in this era. Losing to the part-timers in heat the team would never have encountered before or since summed up the frustration of having to play European football before the domestic season was even close to getting started.
B is for Ballyclare
It was in his home town that Wright the sportsman was shaped, first as a promising cross-country runner and then as a goalkeeper. Life experiences that followed, including the heart-breaking loss of his son Andrew at five-years-old, continued to shape the man. The combination of being an elite footballer at clubs like Manchester City, Nottingham Forest and Newcastle, playing for his country and then managing in the shadows of Northern Irish football, shaped the manager. Being at ease with stars and journeymen alike is a potent mix.
C is for Community
With Lomas, you always got the impression that he was passing through. Nothing wrong with that, but club legends are not made in short stays. Wright was reluctant to head to London when Lomas accepted a Millwall job offer and it proved to be the best decision he ever made. The Saints post became his and the rest is history. It was the ultimate sliding-doors moment for man and club. Yes, Wright would have loved a bigger budget to spend in subsequent years, and bigger crowds to watch his teams, but he understood the parameters of both and also understood the community he was part of. His words "there might be clubs with more money, bigger resources and a bigger support than St Johnstone but none with a bigger heart" will endure and it is fitting that Wright's last task as manager was blethering with elderly season ticket holders during the coronavirus lockdown.
D is for Dons
Saints lost to Aberdeen on 11 occasions in Wright's time as manager. But eight wins and nine draws is a fantastic record against the third best – sometimes second best – team in the country. There were two stand-outs – the Scottish Cup semi-final and the 1-0 at Pittodrie on the last day of the 2014/15 season to qualify for Europe. Aberdeen fans won't be sorry to see Wright go.
E is for Even the best get it wrong sometimes
Wright had far more successes than failures in the transfer market but no manager hits the bullseye every time, Wright included. He may well put Adam Morgan may top (or should that be bottom) of that particular list.
F is for Fee
It's ironic that the last player Wright signed was the only one the club paid a transfer fee for during his tenure. Getting Jamie McCart out of Inverness a few months early proved to be a shrewd bit of business. Selling Stevie May and Michael O'Halloran for big money and then bringing them back for nothing would also keep his chairman happy.
G is for Going down
The first time there was a merest whiff that this might happen was in 2017/18 but even then, Saints never felt like genuine relegation contenders. Things got a bit more serious in the first few months of this season but Wright not only steered the club comfortably clear of the drop-zone, he had them within touching distance of the top six by the end.
H is for Hearts 
Wright did look to have lost a bit of his trademark touchline passion for a short period this term but the bottom of the table clash at Tynecastle in December brought it back. The pitchside to and fro between Wright and Daniel Stendel (it was his first game in Scottish football) was an entertaining spectacle from the press box and the celebrations at full-time were the Tommy Wright of old. The fire was burning bright again and never threatened to go out.
I is for Internationals
It's wrong that no St Johnstone player was capped for Scotland – or even called up to a squad – in Wright's period in charge. Stevie May, Murray Davidson, Dave Mackay, Zander Clark and Richard Foster have all had claims at one point, some stronger than others. Wright was never shy in going public when he felt a player had been unfairly overlooked either for the full or under-21 squad.
J is for Jumping ship
It's one of the great footballing mysteries of modern times that the likes of Alex Neil, Steve Lomas, Owen Coyle, Derek McInnes, David Hopkin and others were head-hunted for jobs in England but Wright was not. Dundee United were the only club to make a semi-serious effort to get him out of McDiarmid but a Wright-Stephen Thompson partnership was always going to be a non-starter.
K is for Keeper
Wright is one of a small group of ex-goalkeepers to be given a chance of managing at the top level, and an even smaller group who have made a success of it. That's a story in itself. It was a bonus for Saints that he knew a good goalie coach when he saw one, with Stevie Banks and Paul Mathers both regarded as excellent in their field.
L is for Local rivalry
Dundee are Dundee United's biggest rivals, of course, and that applies in reverse. But St Johnstone fans have to split their derby emotions two ways. Being the top team in Tayside might not be a title the Dundee duo are overly bothered with but it is a badge of honour in the Fair City and Wright has brought permanence to it. United under Jackie McNamara came close to changing that but it wasn't just in the Scottish Cup final that Wright got the better of him – Saints couldn't stop beating the Tangerines by the end and McNamara's last game was a defeat at McDiarmid Park.
M is for Man-management
This is arguably Wright's greatest strength. You could picture him leading a team in different professions. Judging how to get the best out of different personalities is an art that brings down many a sharp tactical mind. 'Losing the dressing room' was never a phrase coming out of McDiarmid.
N is for Neil McCann
Wright had a few run-ins with opposition managers (some the public got to hear about, others not) but the highest profile was undoubtedly with Dundee boss McCann. The Dens Park tunnel incident, and everything that followed it, was off-the-pitch theatre, the type of which the media love. There wasn't any acting needed, though. The phrase 'no love lost' really doesn't do it justice.
O is for Old Firm
The barren run against Celtic in the last couple of seasons shouldn't be allowed to alter the fact that there were plenty of memorable victories against both Glasgow sides under Wright. Danny Swanson's stunning winner at Parkhead in 2015 was one obvious highlight and the League Cup triumph at Ibrox (Saints were utterly dominant that night) in the same season was another.
P is for Philosophy
Wright didn't have one and, if he did, he wouldn't use that word. Tactics and formations changed during a season but football was about getting the best out of your players and winning as far as he was concerned, rather than being a martyr to a style of play.
Q is for Quiz
He loved one when the Saints squad had an overnight stay before a game. Pity the quiz-master or the team-mates who got in the way of a Wright victory, though!
R is for Rosenborg
Where it all began. He couldn't have wished for a better start than this after taking over from Lomas – beating a club that been more used to the Champions League than the Europa League at their place and then finishing the job on a summer night at McDiarmid. Wright was up and running and so was Stevie May.
S is for Scottish Cup
Yes, there was May 17 on their star striker's shirt but every club that gets to a final can claim some sort of 'destiny' back story. This wasn't a triumph written in the stars. It had to be earned. Wright helped achieve that by getting the better of McNamara in the build-up, making sure his players didn't freeze on the big stage and being tactically on point. Little things like Dave Mackay bullying Gary Mackay-Steven and Frazer Wright winding up Nadir Ciftci are unlikely to have happened off the cuff. Wright made sure the Saints players all knew their tasks – the rest was down to them.
T is for Trenches
By the time Saints travelled to Dens Park on March 10, 2018 Saints hadn't been able to safely distance themselves from the bottom two places in the league. Wright, like Sir Alex Ferguson when his team were playing Arsenal or Chelsea, knew that this was a time to field the guys who had fought in the trenches for him to such good effect down the years. On a filthy afternoon, back came Steven MacLean and Liam Craig who were outstanding alongside the likes of Chris Millar, Steven Anderson and Murray Davidson. The 0-4 scoreline (it could have been more) said it all. Steven Caulker might still be having nightmares.
U is for Unsung heroes
There have been a few of those down the years but Chris Kane probably deserves a special mention. Sent on as a substitute at Pittodrie, he secured a place in Europe for Saints. This season, when there were plenty of fans questioning Kane's value to the side, Wright's faith was repaid with tireless work off the ball and a crucial late winner against Motherwell. A player pleasing him was all that mattered to Wright.
V is for Venting his anger
The first few months of this season weren't much fun. No game better summed up Saints' early struggles than a Betfred Cup defeat to Ross County, when the Perth side should have been well ahead but ended up being punished for poor finishing and defensive failings. He wouldn't have seen the funny side of it at the time, but Wright taking a fresh-air swipe at a water-bottle carrier with his weak foot and then making sure he connected with a second swing of his better one was comedy gold!
W is for What next?
Leaving Saints has undoubtedly enhanced Wright's chances of being appointed Northern Ireland manager. It's his dream job and one to which he is ideally suited. Failing that, expect him to be back in the Premiership before next season is finished. Wright will also be an excellent director of football if he eventually goes down that route and, who knows, maybe even back at McDiarmid.
X is for X-factor
He may have been pragmatic as a Saints manager but Wright was always willing to indulge a player whose game-changing skills outweighed their defensive contribution. Arguably the easiest team on the eye in these last seven years was the one that had peak Danny Swanson pulling the strings, while in his last season Wright deployed two out-and-out wingers in Matty Kennedy and Drey Wright.
Y is for Youth
It has probably only been this season that Wright has truly started to shake off the unfair tag of being a manager who doesn't give youth a chance. The biggest legacy he will leave is the youngest side in the Premiership, with two or three players in it who should bring in substantial transfer fees.
Z is for Row Z
Wright won't shy away from the fact that defensive solidity and discipline were the base of his teams' successes – and why, when those qualities evaporated, it went wrong for a while in 2019. Dave Mackay, Frazer Wright, Steven Anderson, Brian Easton, Joe Shaughnessy and others could all pass a football but they knew that their first job was to keep the ball out of the net and clear the danger in whatever way was required. You got the feeling Anderson was more proud of the clean-sheet than the opening goal in the cup final. Wright's team scoring just 34 goals in a season but still finishing fourth is a feat likely never to be emulated.
Next Premiership job will be Tommy Wright's 'if he wants it', says St Johnstone cup winner Lee Croft
1
For as little as £5.99 a month you can access all of our content, including Premium articles.
Subscribe