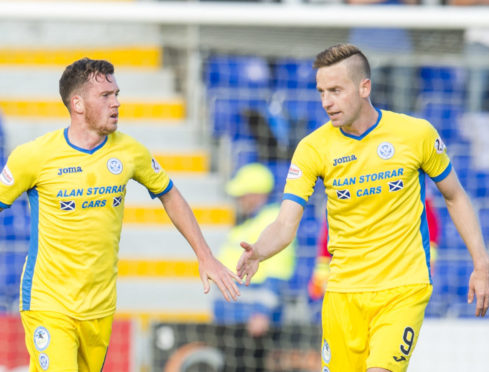 His old St Johnstone team-mate Steven MacLean is the role model for Danny Swanson as he seeks to extend his top flight career into his late 30s.
The Scottish Cup winner with Dundee United a decade ago had three spells at McDiarmid Park but isn't going to be offered a deal for next season.
Swanson believes that his style of play lends itself to a long Premiership shelf life.
And the fact that MacLean was still performing in the Hearts first team at 37, and has only recently dropped down into the lower leagues with Raith Rovers, is a source of optimism for a man four years his junior.
"I was a late starter turning professional and I reckon there are still a few seasons left in me at the top level," said Swanson, who played in England with Peterborough United and Coventry City.
"I look at guys like my Saints team-mate Steven MacLean and see what he has been doing well into his 30s.
"He's an example for anyone to follow. Macca is so quick upstairs and still one of the fittest guys I've ever seen.
"I have concentrated more on my diet over the last couple of years and that has helped me.
"My game is more about trickery and seeing a pass than speed."
Swanson struggled to get into Tommy Wright's starting line-up in his last season and a January loan would have suited him.
"I spoke to Tommy about going out on loan to get game time," he reflected.
"He wanted to see where he was with numbers and I had to stay on.
"It was a huge surprise to discover he was leaving.
"We had a few fallings-out along the way but we patched things up in a recent phone call.
"Tommy has done a lot for me and he was pivotal in getting the best out of me and the rest of the boys.
"He was really good dealing with me and Richard Foster when we had that fall-out.
"That day at Hamilton is still an embarrassment to me, especially with my son Roman being in the crowd that day."
Swanson arguably played the best football of his career in his second stint at Perth. There were 15 goals in one campaign for a player whose creativity was unrivalled in Wright's time as manager.
"Obviously this season wasn't as good as my first two spells with Saints," he said. "It was bitter-sweet at the end.
"But I am leaving with some fantastic memories and the fans were always good to me.
"It is a brilliant club. That's why I went back three times.
"The manager played a huge part in that obviously but there are great people in there.
"I really enjoyed our top six runs and helping the boys get into Europe.
"I got 15 goals in my best season for the club when we finished fourth, before I signed for Hibs.
"But the goal the fans remember most is the 35-yard winner at Celtic Park when I was on loan. I am forever being sent video clips of that one."
Swanson has an open mind about where he'll end up playing his football next season.
"There was interest from America and I was keeping tabs on that," he said.
"I have had calls from a few clubs but they aren't in a position to offer a contract at the moment.
"Other guys around the country are in the same boat, looking to stay in the furlough scheme until football is back.
"I have been out of contract before but these are crazy times.
"It's a bit scary to be honest. I have a wife and two young children, with a mortgage to pay.
"Holly has been trying to find a job to bring in some cash to help pay the bills. She used to work in a bank when she was younger.
"I started up a business putting people in touch with financial advisors and it had been going well. But then this happened and the tap was turned off.
"I've tried to keep myself busy. I put down a bit of astro in the garden so Roman and Oakley can kick a ball about and I've been doing a bit of running."
'I dare you to send one to Barcelona' Ex-St Johnstone striker Kenny Deuchar on his rejection email from Nou Camp giants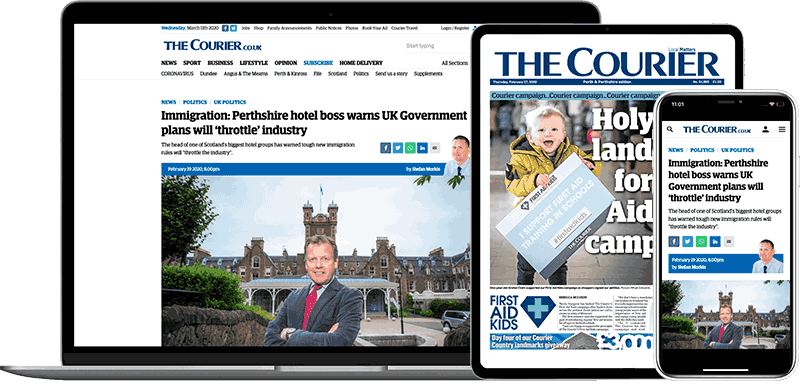 Help support quality local journalism … become a digital subscriber to The Courier
For as little as £5.99 a month you can access all of our content, including Premium articles.
Subscribe