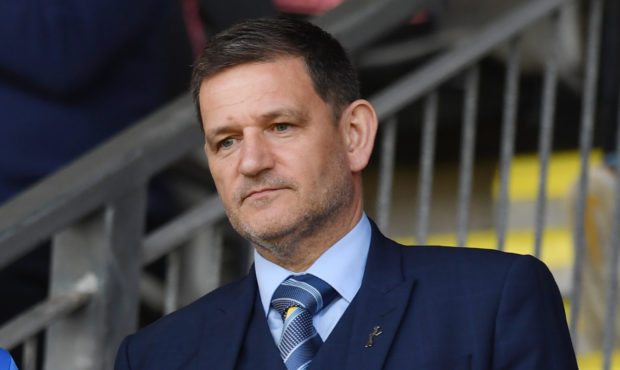 St Johnstone chairman Steve Brown is ready to "step up" the new manager recruitment process this week.
The Perth club made it clear when Tommy Wright left McDiarmid Park at the start of May that there was no need to rush appointing his successor.
That mindset hasn't changed just over a month later, and the other off-pitch issues to deal with haven't gone away over that period of time.
Brown is now at the stage, though, where he's in a position to whittle down the long list of applications from across the world to a handful of potential candidates.
"There have been a lot of very good applicants," he said. "We have not actually advertised the post but we have had loads of interest.
"We have had reconstruction, testing and various other things so it has not been conducive to sit down, focus and spend time going through it all.
"We'll step it up this week and go through all the applicants with a view of getting down to a shortlist. Then we'll take it from there."
It's been a long time since Brown has had to pore over managerial CVs and the quality of some of them has been a reminder of how far the club has progressed in the last few years.
"It's surprising some would apply for a job at St Johnstone," he admitted. "We need to take that as a compliment.
"There are applicants from far and wide – across the globe. There are some previous players, some very good international players.
"There are also some of the usual suspects, it has to be said.
"I'm very impressed with the applicants."
The settled nature of the Saints first team squad is allowing Brown to be more patient than might have been the case if, as is the case at several other Premiership clubs, they had been confronted with the need to make big changes.
"We don't need to gel players together," he said. "They all know one another and have all trained together. That helps us.
"I'm not rushing to make an appointment just because it might be easier on training.
"The point has to be made that all of the players bar Shaun Rooney have been there all of last season.
"There is not a rush to get a manager in tomorrow but I understand the value of getting a manager in to work with the players.
"I'll take my time to get it right."
Coaching badges and previous achievements are all well and good but appointing a football head coach is not an exact science and Brown's "gut feeling" will be a big factor.
"Having a formal interview under normal circumstances over a desk, we're not likely to get an opportunity to do that," he pointed out.
"I would probably speak to an individual on the phone first and get a feeling for them. There are certain questions I'd have in my own mind.
"I would take judgment on how they answered them. And you get a gut feeling.
"It's a risk no matter who you appoint. I wish you could just pick a manager and you are guaranteed it's going to be successful.
"Unfortunately that is not the case. You need to hope the manager will fit into the structure and ethos of the club."
Brown does have two boxes that need to be ticked which are non-negotiable.
"We are a family club and a community club," he said. "The manager needs to be available within the community and involved with the youth.
"It's part and parcel of what the club represents and the principles of the club. If they don't tick any of these boxes, they will definitely not be at McDiarmid."
Northern Ireland caps the next step for Ali McCann, says St Johnstone skipper Jason Kerr