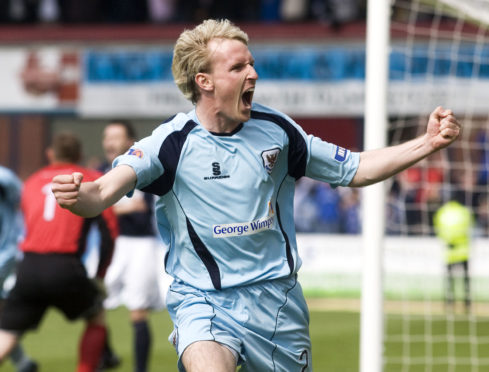 Former Dundee defender Gary Irvine says a snub from boyhood team Celtic fired him up to succeed at St Johnstone, where he went on to lift the Challenge Cup and First Division in successive years.
Now 35 and coaching youth players at Dens Park, Irvine rose through the ranks at Parkhead but couldn't force his way into a first team that had Mark Wilson, Paul Telfer and Jean-Joel Perrier-Doumbe ahead of him in the pecking order.
Having spent six months on loan at Ross County in 2006/07, where he also won the Challenge Cup, the right-back was snapped up by Owen Coyle at McDiarmid Park the following summer.
Coyle would soon depart for Burnley, with Derek McInnes taking his first managerial job shortly after Saints saw off Dunfermline in the 2007 Challenge Cup Final with a 3-2 win at Dens Park.
Former West Brom, Rangers and Scotland midfielder, McInnes, then led a talented St Johnstone side to the First Division title and, with it, promotion to the top flight the following season, as well as a trip to Hampden for a 2008 Scottish Cup semi-final where Rangers only got the better of them on penalties.
Irvine, who still plays for Forfar, told Courier Sport: "St Johnstone was my first taste of real first-team football at a full-time team under Owen Coyle before he left for Burnley.
"We had a really good squad at that time. I came in from Celtic needing to play and we ended up winning the title. It was a really good time and I enjoyed working under Del McInnes, the squad he built was excellent."
He added: "I still had the attitude that I was good enough to be a first-team player at Celtic when I signed for St Johnstone.
"This is no disrespect to Saints, I was happy to move there, but I saw it as a stepping stone.
"I was there to show I was good enough to play for Celtic so I was fired up to do well at St Johnstone and have a really good shot at things."
And he admits that success early on in his career probably "spoilt" him.
"I was really lucky, I feel fortunate because I was brought up at Celtic being used to winning things and having the mindset of doing everything to be the best," he said.
"I had won the league at every age group at Celtic, U/17s, U/18s, U/21s – reserves, it maybe was then – but I went four or five seasons winning medals.
"I then won the Challenge Cup on loan at Ross County and then the cup and league at St Johnstone.
"At the time I think I was spoilt with all that – thinking that's what happened in football, you got medals every season."
Life in the top flight at McDiarmid Park wasn't quite so plain-sailing for Irvine, however, as surgery in pre-season saw him fall behind recent signing Dave Mackay.
The purchase from Livingston would go on to become a club legend at McDiarmid while Irvine moved on at the end of the campaign to Dundee after 17 SPL appearances.
He said: "Dave Mackay came in in our first season in the SPL to add competition for places. I was unfortunate because I'd chosen to have surgery to tidy up an ankle problem that had niggled me.
"The plan was that would tie in with the close season and I could start pre-season.
"But it hindered me and I was behind with my fitness and struggled a bit to get back to form.
"Dave, obviously, came in and did well and I think him being able to play in a few positions helped him, too.
"I recognised at that time, being in my mid-20s I wanted to be playing every week and I wouldn't get that at St Johnstone.
"I've nothing against Del, that's the decisions that have to be made to win games – when Dave came in, the manager couldn't guarantee me games and I heard there was interest from Dundee."
Irvine and Mackay are back together again, this time at Dens Park in the roles of U/18 coach and first-team coach respectively after James McPake took the manager's role.
The trio of young coaches enjoy working together but Irvine admits they bow down to the experience of assistant Jimmy Nicholl and technical director Gordon Strachan.
Irvine added: "Dave has told me he was reluctant to come to St Johnstone because we'd played against each other the previous season and he wasn't sure he'd be going to play either.
"We have a good relationship with each other, me and 'Cup-Tie' at Dundee.
"I'm obviously really close with the manager, we're from the same area, Airdrie, and have known each other since high school.
"We've always kept in touch and since being team-mates at Dundee have driven up together.
"Going into the manager's job, James has always said he needed people around him he could trust and its important to have good people around the place. Players pick up on that.
"Having Gordon Strachan and Jimmy Nicholl's experience is fantastic as well, we might have our playing experience but they have 30 years more experience in the game than any of us. That's invaluable."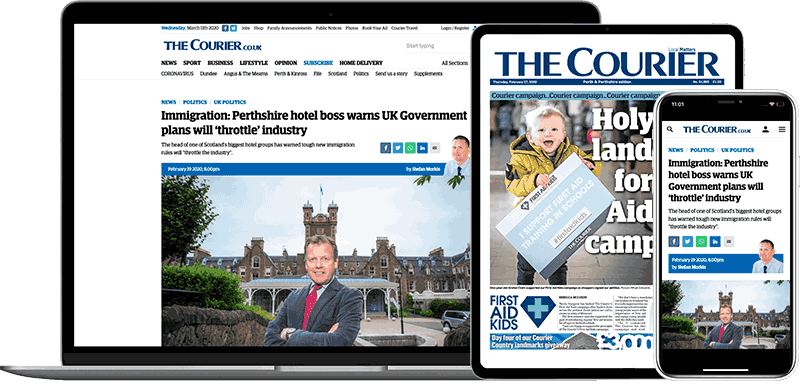 Help support quality local journalism … become a digital subscriber to The Courier
For as little as £5.99 a month you can access all of our content, including Premium articles.
Subscribe