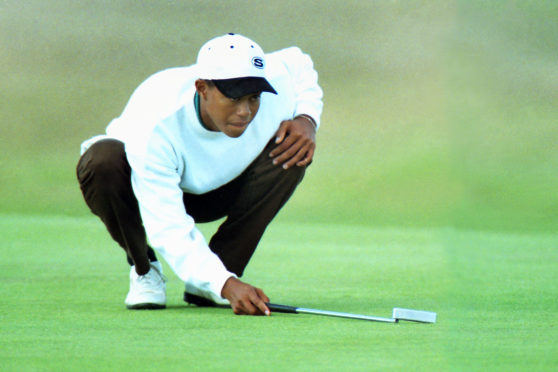 Tiger Woods didn't ponder the question asked at his first press conference at his first tournament in the UK. He flashed that dazzling smile, leaned into the microphone and said "Ah hut it in the wee burrrrn".
It was not a bad effort at the Carnoustie vernacular after just a couple of days. This was 1995, the Scottish Open, and Woods was 19, skinny as a bunker rake, somewhat shy but sure of himself enough to make a little joke at drowning his approach shot in the final sweep of the Barry Burn at the 18th.
Tiger was there as Scottish Open promoter Alan Callan – formerly Led Zeppelin's tour manager before taking a very different career path – had wisely extended an invitation knowing Woods was playing the Open at St Andrews the following week.
Woods often talks of this first experience of links golf – indeed, perennially refers to it in his Tuesday pre-Open press conference.
"I got a two week introduction to links golf," he always says. "Carnoustie, the hardest links course there is, and then the Old Course at St Andrews, back-to-back. You can't get any better than that."
Did we know 25 years ago the best golfer probably in the history of the sport was upon us? Well, not really.
We were aware of his three successive US Junior Amateur titles and his graduation to a first US Amateur win the previous August. We knew he was a rare phenomenon, not just because of the colour of his skin.
But anyone who says now they saw the future dominant Woods straight away is frantically hindsighting. The power generated from such a slight frame raised many an impressed eyebrow, but he was 19. There seemed such a long way to go.
And some Scots even felt we had a phenomenon of our own. Gordon Sherry, a strapping 6 foot 8 inch 21-year-old from Ayrshire was our Amateur champion and outplayed Woods at Carnoustie.
Tiger wasn't bad – 69 and 71 over the first two rounds to be in contention, before the wind got up over the weekend and he faded to a tied for 47th. We were still impressed, but more excited by Sherry.
The Scot finished tied fourth, and the media storm followed him instead of Tiger to St Andrews and a highly-publicised practice round with Tom Watson and Greg Norman.
Woods played all four rounds on the Old Course and loved it immediately, only really struggling in strong winds on the final day when he shot 78.
"We played a practice round where the wind turned on the tide and it was against us all day," he recalled later. "I remember seeing pot bunkers and thinking, `what are they there for, they're not remotely in play.
"Then the next day the wind changed and all those bunkers were suddenly in play. That's the genius of the place."
Woods' links education had one final, bitter lesson in 1995. Playing for the US in the Walker Cup at Royal Porthcawl, he looked ill at ease and guarded in the team format – not for the last time, it has to be said.
The humiliation was a first day loss to Gary Wolstenholme, a tenacious matchplayer who was so far behind Tiger off the tee some wags in the press room wondered if Woods might offer him strokes. At the last, Tiger hit his approach over the green out of bounds on to the beach and lost two-down.
Undeterred by that, Woods won the Open Silver Medal for low amateur the following year at Royal Lytham. The finishing 66 there, equalling the best by an amateur in the championship at the time, was apparently the round that convinced Tiger he was ready for the pros.
By the time he returned to the Open at Troon next July, everybody knew what he was, and the attention had increased to match. Woods turned pro after his third US Amateur victory, won immediately on the PGA Tour, and obliterated the Masters field in April.
A blistering Saturday 64 was the best round that week, but it was sandwiched by two 74s in windy conditions and frequent visits to the voracious Ayrshire gorse. This was to become a recurring theme in Tiger's Open story.
Woods' three Open victories – St Andrews in 2000 and 2005, Hoylake in 2006 – suggest he learned links quickly, but all three came in uncommonly benign conditions for seaside golf. Whenever the wind really got up, Woods found it much more difficult, and his other chances to add further Claret Jugs have floundered in strong wind or his plan for it.
Often, ironically for such an attacking player, Woods had too conservative a plan for the conditions – like Birkdale in 1998, when he missed out on the play-off by a shot, Carnoustie in 1999, where he had a good chance going into the final round, and Lytham in 2012, when he was probably in his best physical shape of his injury years.
There were calamities – the Saturday storm at Muirfield in 2002, the first tee shot which was never found in knee-high rough at Sandwich in 2003, or the duck hook into the Barry Burn (again) with an iron off the first tee at Carnoustie in 2007. At Turnberry in 2009 he even missed the cut, which was almost unthinkable then.
In 2010, even St Andrews denied him – dreadful weather and slow greens meant the Old Course played very differently to his experiences in 2000 and 2005.
His best chances to add a fourth Open have come in Scotland, in 2013 and just two years ago.
At Muirfield in 2013 he was in the mix, but got his strategy on the par five 17th so horrendously wrong on the Saturday that he ended up with a bogey six instead of the expected birdie and could never regain the momentum.
Carnoustie 2018 was the closest, as Tiger's links career came full circle. 23 years of learning this alien form of the game culminated in him moving into the lead on the tenth hole during the final round at the venue where he'd first played in this country.
The rest of the field, in stronger winds and a tightening course, seemed to be struggling. Tiger had become a pretty decent wind player in his time, and a glorious renaissance was surely upon him.
But on the 11th, just as it was in his grasp, he tried to do too much on an approach shot out of wispy rough and his ball went almost sideways into the gallery.
An over-ambitious chip and three putts followed, and he went from first to fifth in an instant. Francesco Molinari, who had been almost anonymous playing alongside Woods parring hole after hole, picked up two birdies in the final stretch to take the title.
Nine months later, in very similar circumstances at Augusta, it was Molinari who floundered and Woods played error-free golf down the stretch for his 15th major. Maybe that was the trade-off for Carnoustie.
Can Woods win another Open? After Augusta, it's maybe the second most likely target for him. He has 25 years' varied experience of Opens stowed away, as much as anyone at the elite end of the game. Veteran nous instead of raw power gets you a long way on the links, as Tom Watson nearly proved in 2009.
The Open's back at the Old Course in 2022, and maybe he doesn't need it to be flat calm to win there now.
At 46, in the 150th Open? Wouldn't that be the grandest of full stops to an incredible career?