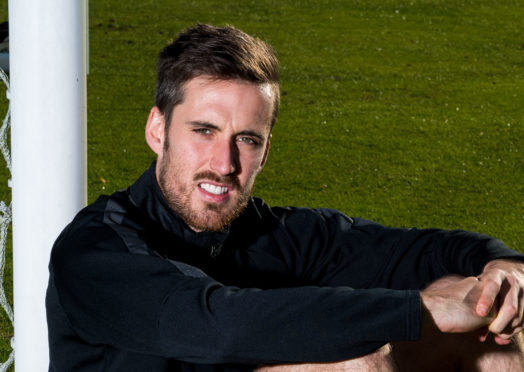 A half-season contract is a half-full glass as far as St Johnstone defender Callum Booth is concerned.
The Perth full-back, veteran midfielder Liam Craig and striker Chris Kane were offered and accepted six-month deals during the Covid-19 lay-off.
Booth was happy to sign and has viewed the show of faith as an opportunity to impress his new manager and secure a longer stay at McDiarmid Park.
"Go back to mid-May when corona was at its height," said the former Dundee United, Hibs and Partick Thistle man. "It was really good of the club to keep us on.
"The old gaffer had indicated he wanted to do that but he had left.
"If it wasn't for corona it would probably have been for longer than six months but I'm looking at it the other way – there are a lot of players out of contract just now and anybody with a contract is one of the lucky ones.
"It was worrying times so for the club to come to us and give us a bit of security was really good of them.
"They could have said they were waiting for a new manager and dragged it out but they sorted us out. It was appreciated by the boys.
"Six months is plenty of time to impress the new gaffer and get an extension."
In light of his Bury experience this time last year, when the League One club was on the slippery slope towards EFL expulsion, Booth doesn't struggle for perspective.
"To even get six months of security is something I appreciate after what went on down the road at Bury," he said.
"I'm getting used to it and short-term deals will probably be the norm in Scottish football.
"The coronavirus period has actually been a lot easier to deal with than what happened at Bury. This time everybody has been in the same boat.
"And things have worked out not too bad for me."
Another test of Booth's positive mindset is playing under a manager who was a Scotland international in his position.
"It has to be a good thing, I suppose!" said the 29-year-old. "He was a very good one, that's for sure.
"To be able to learn off a manager who has played your position to a really high standard has to be a positive.
"Robbie Neilson (his United boss) was a full-back as well.
"The gaffer has had a great career and I'm sure he'll have plenty of advice to pass on to the left-backs as the season goes on."
The last few weeks have been about putting down a marker ahead of Callum Davidson's first big team selection for the Premiership opener at Tannadice.
"There are only a couple of us who haven't worked under him before," said Booth.
"We're the ones who don't have a problem calling him 'gaffer' because we don't know anything else! It's not been as easy for some of the other boys, who have been slipping up!
"He was assistant manager for five years so old habits die hard, I suppose.
"For me, it's been a case of trying to make a good first impression – with the gaffer and Macca (Steven MacLean).
"Training has gone really well. The sessions have been great.
"When we were talking about old players and coaches last season, the boys who played under the gaffer all spoke about how good his sessions were.
"I'd even heard it from mates in football who weren't at St Johnstone. They'd heard about the gaffer as well.
"Training has been high tempo and really enjoyable. We've all got a real spring in our step."
Young St Johnstone striker John Robertson makes good first impression with Callum Davidson