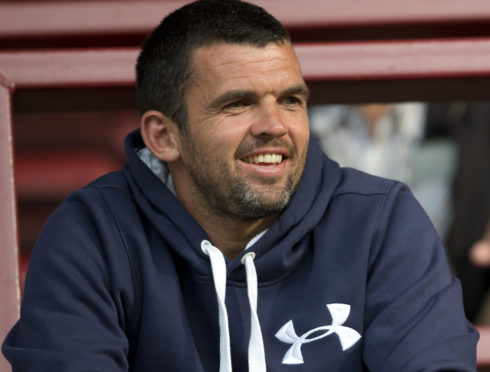 Predicting the Dundee United line-up and tactics ahead of the Premiership opener at Tannadice on Saturday will be no easy task for the St Johnstone coaching staff.
But the same will be true in reverse.
Both sides will carry a surprise factor at the weekend, with Micky Mellon and Callum Davidson taking charge of their teams for the first time.
There is a limit to the level of meaningful homework the two bosses can complete before the day one Tayside derby.
So ensuring his own players are well equipped to pick up where they left off at the end of last season is Davidson's main priority, as opposed to second-guessing his opposite number.
"I watched a lot of their games last year and I have been looking through the footage of them as well," said the rookie Saints manager.
"They did very well and have the same squad intact, so they'll be coming up to the Premiership looking to make an impact.
"They have a new manager, which is a bit of an unknown but then they'll be thinking the same about me.
"So it's two new managers having their first games for their clubs, so that adds a bit to it as well.
"For me, concentrating on what we do is the most important thing.
"The team finished the season well last year so it's about trying to continue that."
Davidson added: "It's a shame that it's going to be behind closed doors because there would have been a lot of interest in the game.
"St Johnstone always take a good crowd to Tannadice and with it being the first trip there for a few years, it would have been a game they'd look forward to."
Mellon is an experienced manager in the English lower leagues but Saturday will be new territory for Davidson, whose trackside work to date has been as a coach with Saints, Scotland, Dunfermline, Stoke and Millwall.
"This will be my first match as St Johnstone manager," he said. "It will be a big moment in my career and I'm obviously really looking forward to it.
"I came back up the road to be a manager.
"People looked at it and said: 'It's about going back to his old club'. But actually one of the biggest reasons was the squad of players I was getting to work with.
"I looked at them and thought that I could achieve success with them. That starts on Saturday."
Davidson has already brought in two loan players from Millwall, Danny McNamara and Tanto Olaofe. More business can be expected in a transfer window that will stretch into the autumn.
"We're working hard behind the scenes," he said.
"The Championship and Premiership have now finished down the road and their players will be taking a break.
"We're still looking at potential options."
St Johnstone boss Callum Davidson confident his team won't be under-cooked for season opener against Dundee United