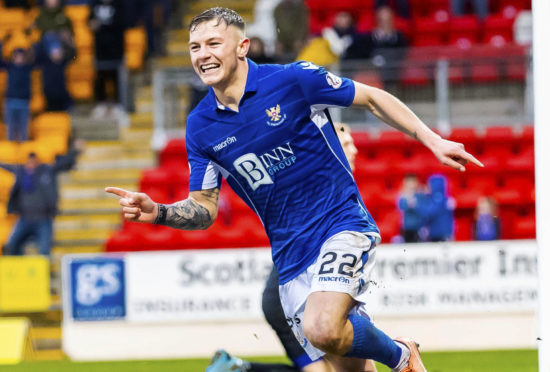 It has been the longest close-season any of his players will have known – and hopefully ever will know – but that won't stop Callum Davidson trying to ensure St Johnstone tap into the good vibes of the end of their last Premiership campaign.
Five months ago a late Callum Hendry winner against Livingston made it seven games unbeaten for Tommy Wright's resurgent side. It was a goal that proved to be the difference between sixth and seventh in the final table when points per game became a thing.
Behind Celtic, Saints were the form team in the top flight.
It's a stretch for rookie boss Davidson to ask his team to pick up where they left off when the Perth men open their league season at Tannadice tomorrow. He does believe there should still be the "swagger" of a confident side, however.
And reminding themselves of how well they were playing when Covid-19 kicked-in certainly beats recalling the disastrous first game, and first few months, of 2019.
"I wouldn't focus too much on what happened at the start of last season (they didn't win until October 26)," said Davidson. "I'd focus more on how they finished it.
"The majority of players who played that last 10 or 12 games are still here so they have that swagger.
"We want to continue that momentum in the next four or five weeks and get off to a good start.
"Both teams this weekend have new managers so things have changed, but I will mention it and get the lads to focus on how they finished last season.
"We are more focused on what we do and how we approach it than worry about Dundee United."
Two new managers and two teams unfamiliar to each other, one of them just promoted to the league, would be enough to make this arguably the least predictable of the opening round of Premiership fixtures. You can also add into the mix the imponderable of which side deals best with the no fans factor.
"Crowds help players and teams massively," said Davidson.
"It will be disappointing playing Dundee United when we don't have a crowd because there is always a great atmosphere. St Johnstone always bring a great support there. It's one of the fixtures as a St Johnstone player, coach and manager I look forward to.
"I think the game may change slightly. There isn't going to be much of an advantage with home or away games. They will be pretty much the same.
"It will be difficult to replicate that intensity you get with fans in the ground. When we do it, we must do it at the right tempo. There might be times when you have to sit off the game a little bit and then go again.
"The crowd definitely helps you get up for the game and keeps you going in those periods at 60-70 minutes when the body starts to tire naturally. It could be a time for introducing other players and trying to keep that level up.
"When you look at stats down the road and everywhere else, there are some funny results in there. The bigger teams have bigger squads, but that's the case with or without a crowd. It's neither here nor there for me."
In a normal season top flight players will either have Europa League or Betfred Cup minutes in the bank before the league gets underway. As nobody needs to be reminded, this is anything but a normal season.
"We have a few wee niggles here and there," Davidson reported. "It has been a tough few weeks but hopefully we will have a full squad.
"The time the players have had out meant we were always going to get niggles when we came back.
"So with having a small squad it's been about getting the right amount of work into them. I am happy with where we are just now.
"You have to get the training right because I'd never ask a player to not go full pelt. I never did that as a player and I'd never ask someone to go easy.
"You have to make it hard enough to get the sharpness and intensity – but you also need a bit of luck.
"That will come from avoiding contact injuries as the season progresses.
"Hopefully I'll get at least one more player in to add a bit of strength in depth in certain areas."
He added: "Training has been intense. The last four weeks have been a case of stepping it up and the levels have increased.
"With having the first league game of the season on Saturday there is an extra buzz about the place.
"The decibel levels have increased so you can tell the real stuff is getting near. The boys have waited so long for it and they can't wait to get going."
Saints have the look of a squad equipped for another top six challenge but Davidson isn't setting public long-term goals.
"Obviously I want to win every game," he pointed out. "I'm realistic but it's my first game in charge and I want to get a positive result, a positive performance.
"That is what I'm looking for in the team, how they respond and then move forward and try and win as many games as we can between now and the end of the season.
"That is my aim. It is a cliché one game at a time, but you have to do that.
"We will just work towards Dundee United and move on to Aberdeen."
Craig Conway can bring experience and quality to St Johnstone team just like Chris Burke at Kilmarnock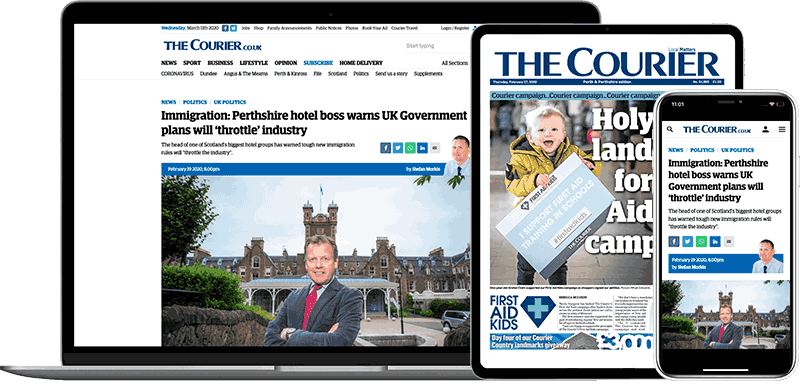 Help support quality local journalism … become a digital subscriber to The Courier
For as little as £5.99 a month you can access all of our content, including Premium articles.
Subscribe