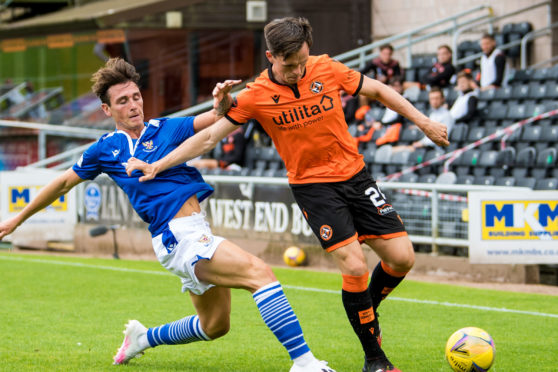 He couldn't really have asked for a much better start to his loan year with St Johnstone.
Within a few weeks of arriving from Millwall Danny McNamara earned a spot in Callum Davidson's first starting line-up for the Premiership opener at Tannadice, looked to the manor born in that Tayside derby, played a part in Saints' equaliser and came up with a late last-ditch sliding tackle that secured a comeback point for the 10-man Perth side.
Committed in the tackle, switched-on tactically and full of running in the right wing-back role in his manager's 5-2-3 formation, the 21-year-old has fans' favourite written all over him.
McNamara is a confident young man with the game to back it up.
The Republic of Ireland under-21 international knows there is a line you just don't cross, though. And staying the right side of it has meant he's had to use a new nickname.
When you share your old one with a club legend on the coaching staff, there's only one man who has to back down.
"I'm actually usually called 'Macca' but I've had to change it!" he revealed. "I can't take that off the assistant manager can I?
"It's just Danny Mac now. When I first came in I thought they were talking to me when I heard 'Macca' but I'm used to it now.
"Macca's a funny guy and he's still got it. He joins in training sometimes and I reckon he could still be playing at this level.
"You can see that he's very good with the strikers and he's doing a lot with me after training as well – one to one stuff on things like my crossing.
"I haven't seen him lose his temper yet but I've heard that's not nice when it happens!"
The old Macca taking the new Macca under his wing is one of the reasons McNamara has adapted to life in Scotland so quickly and impressively.
"All the lads have helped me settle in really well and going straight into the team is always a bonus," he said.
"When I arrived, the first thing the manager said to me was the changing room is quality. He was spot on – it's brilliant. It's a young changing room and everyone gets on.
"It definitely helps having Tanto (Olaofe) up here as well. You don't usually get someone you know coming with you to a new club. He's great.
"We've been together at Millwall for three or four years but this is the first time we've been living together. We can't get enough of each other!
"It's been good."
And, according to McNamara, the flat-sharing between two young professional footballers hasn't turned into the scene of devastation you might imagine.
"To be fair we both do our bit around the place," he said. "Tanto likes his own food so we cook at different times but we share the cleaning up and stuff.
"You know what? Believe it or not, we're both actually really tidy so there's no bother with that!
"And we're a few minutes from the training ground, which is great."
Michael O'Halloran's red card at Tannadice would have opened the door for another forward to come into the team against Aberdeen today had it not been for the Covid-19 call-off.
So McNamara will have to wait for the opportunity to share a pitch with his flat-mate. If and when it does happen, though, there is a tried and tested right side of the pitch relationship already established, albeit not at this level.
"At Millwall we played together on the right side quite a lot," he said.
"Tanto is very effective on the wing. He's direct and quick but he's happy to do the dirty side of the game as well which is great for a full-back or wing-back.
"We'll have to see what the gaffer decides in the weeks to come.
"It would be nice to think we'll get the chance to play together at some point because we do link-up well."
McNamara's grounding in the pro game as a conventional full-back hasn't hampered his development as a wing-back in Davidson's new system.
"I was used to playing four at the back under Neil Harris at Millwall before the gaffer there (Gary Rowett) came in," he said. "It was an old-school 4-4-2.
"Last season on loan at Newport there were spells of a 5-3-2.
"Coming to St Johnstone, I've probably learned more in my first few weeks than I did in my entire time at Newport.
"I'm enjoying this wing-back role because I love getting forward so it suits me down to the ground.
"I can also play in centre-mid if the gaffer ever needs me to do a job in there."
The Londoner's defensive instincts were invaluable last Saturday when he threw himself into an all-or-nothing interception to thwart Peter Pawlett as he was about to pull the trigger, and more than likely score a winner, near the end of the contest.
"I definitely needed to time it right," he reflected. "I was already on a yellow so that would probably have been another red for the team if I'd got it wrong – and another penalty.
"You don't go to ground in the box unless you really have to but there was no other way of getting there in time to stop him shooting and probably scoring. I had to slide in and make the block."
Scottish football is getting greater UK-wide exposure than ever through Sky Sports at the moment (sadly not at McDiarmid today, mind you) with no live English league action to broadcast.
When Manchester United goalkeeper David de Gea is Tweeting about his lookalike, Ross County manager Stuart Kettlewell, during a Monday night match in Dingwall you know that the profile of the game north of the border is on the rise.
"People will be watching Scottish football at the moment," said McNamara. "David de Gea is.
"I called it before the game. I said to Tanto: 'He looks like de Gea'. Tanto was like: 'You're right, he actually does!' Then the next thing de Gea's Tweeted it. It was hilarious.
"I don't think there's any doubles for Man U players in our dressing room, though!"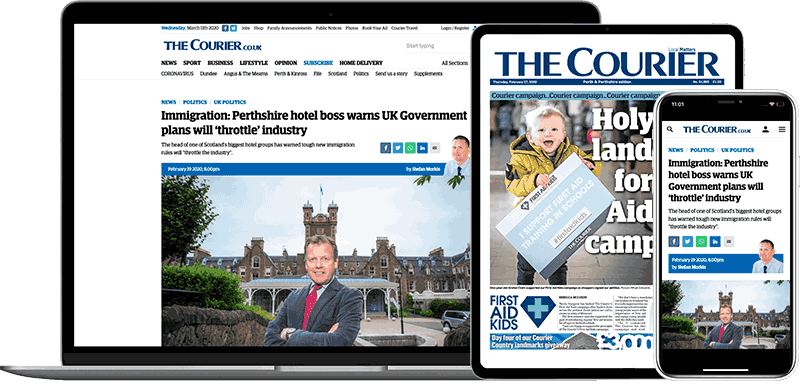 Help support quality local journalism … become a digital subscriber to The Courier
For as little as £5.99 a month you can access all of our content, including Premium articles.
Subscribe