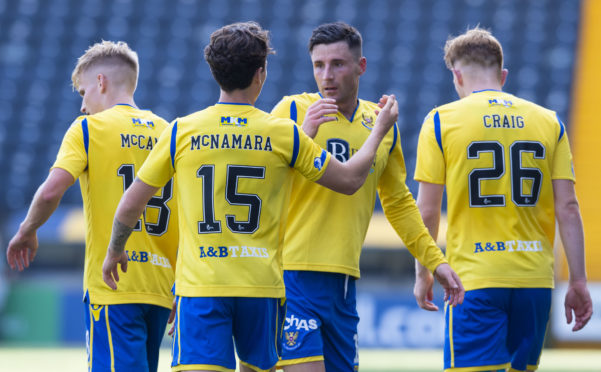 There is a Michael O'Halloran misconception bordering on a Michael O'Halloran myth that has been allowed to take root. It's the all pace and not enough football intelligence one.
If you sign for Celtic or Rangers what happens there is hard to shake off, especially when your history is written by those above you in the food chain, and is more often than not career-defining.
Barely played by Mark Warburton and cruelly and brutally dismissed by Pedro Caixinha as "not my type of player" when he still had three years left to run on his Ibrox contract reinforced a perception that if you denied O'Halloran space to run into and took away his most potent weapon, acceleration, you were a long way down the road of shutting him out of a game.
Even in his third spell with St Johnstone, effectively his football home, he has found it hard to alter that characterisation.
I'd be pretty confident that if you had asked Perth supporters over the last couple of seasons – or the wider Scottish Premiership -watching public for that matter – to choose the best winger at McDiarmid Park, there may have been a pretty even split between Matty Kennedy and Drey Wright. And O'Halloran? He'd have been a distant third.
As fair as the above observation is for that short window, only those with very short memories would challenge the conclusion that if you were asked to rank peak Wright and peak Kennedy against peak O'Halloran, the three-time Saint would this time be a convincing first.
The fact that you would first have to decide when peak O'Halloran was (it would be 2015, pre-Rangers move for me, ahead of August/September 2017 and the second half of 2013-14) reminds you just how important a player he has been for St Johnstone.
The goals and assists came in all shapes and sizes.
Just take a few of the 2015 highlights.
Back to goal, kills the ball out of the sky, turns and drills a 25-yarder into the bottom corner (against Hamilton). Drives forward from the half-way line surrounded by three opponents, chops inside the full-back and sets-up Steven MacLean for a simple back post finish (against Dundee). Plays a perfectly weighted pass that takes out two defenders and gives MacLean another close-range goal (Hamilton again). Drops the shoulder and strokes a controlled angled shot beyond the keeper (Morton in the League Cup).  And, of course, gives two centre-backs a six-yard head start in the chase for a ball over the top, holds them off and beats the goalie with his left foot (the performance that won him his move to Rangers).
The need to dig out archive footage to refresh the memory of O'Halloran's diverse quality is also proof, however, that he hasn't reached those standards for the best part of three seasons. Since the start of 2017/18 when he scored an injury-time winner at Rugby Park and a few weeks after it, in fact.
"It's funny that it has happened again," said O'Halloran (David Wotherspoon also got a goal back then and the scoreline was the same).
"There's no better time to score a goal. They didn't have the chance to respond and it was the same three years ago – and that was our first win of the season as well. This is obviously a good place for me. It was like déjà vu for me and David."
The manner in which O'Halloran latched on to Stuart Findlay's misjudged and under-hit back pass four minutes into added time was impressive. So too the clear-thinking to take his time and pick his spot when the angle was narrow and the stakes high.
The best aspect of the goal, though, was the setting of a trap and the hiding in the shadows that gave the lie to the notion of the full of athleticism and lacking in subtlety O'Halloran. The 'football brain' was in the Saints forward, not the Scottish international centre-back.
"I saw it coming so I decided to hold back," he said. "I didn't want Findlay to see me because I'd have been right on the edge of his peripheral vision. So I didn't go early.
"Then, once he passed it back, I got on my bike. I thought that their keeper was going to wipe me out and take their chances with the penalty. But he stopped and I went round him. They had someone running back on to the line but I was able to compose myself and put it in the back of the net. There's no better time to score, is there?"
That could be taken two ways. O'Halloran was meaning in the context of that game, with three points all but guaranteed as a result of the goal. But it is equally applicable to the 29-year-old's career.
Day one of the new season was arguably his low point in a St Johnstone shirt. Not only was he red-carded in the first half having lost the plot long before the referee's patience eventually snapped at Tannadice, he was also toiling to master the intricacies of new manager Callum Davidson's preferred 5-2-3 system.
Bolted on to an average-to-poor season the year before, the need to play well was pressing.
Even without the winning goal, this would have been an encouraging afternoon for O'Halloran and for Davidson, who had talked him up in pre-season.
He was timing his runs far better – in the first half as part of a front two in a 5-3-2 and then in the second half when his manager changed back to the formation of the Rangers and Dundee United matches.
Everything was sharper and on point. A prime example was when O'Halloran stole the ball in the centre-circle, beat two men and instigated a phase of play that nearly culminated in a Callum Hendry free-kick goal.
O'Halloran appreciates his manager's faith and backs himself to thrive in whatever system Davidson chooses to deploy.
"To be honest, I enjoyed playing in a three but I've no problem if the manager goes with two up top either," he said. "We're quite versatile in that way.
"He saw that we weren't at our best in the first half and he made the change. Leaving aside the goal we lost, I thought we were the better side.
"We came out strongly after the break (when it was still 0-0) and we started better than them. They got a man sent off (Ross Millen, two minutes after Killie took the lead) but I think it can often be more difficult to play against 10 men than 11 because they tend to sit deep and camp in to deny you space.
"But we showed real grit to keep going and we created chances. That was a great three points for us because this is a really difficult place to come. We're delighted and I think that performance, persevering and scoring two late goals, shows the character of the squad we have here.
"It was a long fortnight for me waiting to play again. I was disappointed that the Aberdeen game was postponed because that meant I missed out on Rangers at Ibrox.
"That made it a long time for me to feel that I'd let the lads down but they did really well to earn a point against United and there's jubilation at taking all three here.
"This is the gaffer's first ever win as well. In fairness, we've started with three really tough away games but now we have three on the spin at home so hopefully we can stamp our authority on them and make McDiarmid Park a ground which no-one wants to come to."
The echoes of the past were so loud it would be remiss not to expand upon the 2017 Rugby Park theme.
From the Wotherspoon and O'Halloran-inspired late 2-1 victory under Tommy Wright, Saints went on a three-game winning league run and a five-game unbeaten one, making it a delightfully untypical St Johnstone start to a top flight season. Wright got the manager of the month award and O'Halloran, who scored four in the next four matches, player of the month.
This year's start – a win, a draw and a loss on the road – is already decent and the spell of home fixtures coming up – Aberdeen, Hibs and St Mirren – offers the opportunity to elevate to a level that justifies comparison with three years ago.
It would be too much of a stretch to envisage O'Halloran getting another individual prize for August given he started the season with a sending-off. But it isn't too much to ask that Saturday's all-round performance turns out to be the beginning of a sustained spell of myth-busting form rather than a one-off blast from the past.
https://www.thecourier.co.uk/fp/sport/football/st-johnstone/1513846/michael-ohalloran-repays-st-johnstone-team-mates-at-first-opportunity/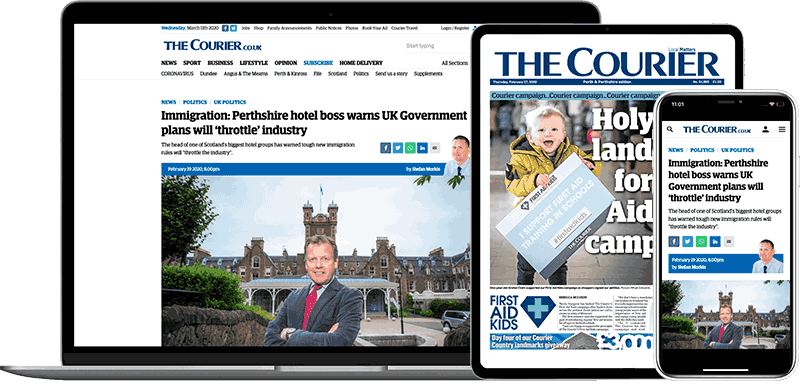 Help support quality local journalism … become a digital subscriber to The Courier
For as little as £5.99 a month you can access all of our content, including Premium articles.
Subscribe