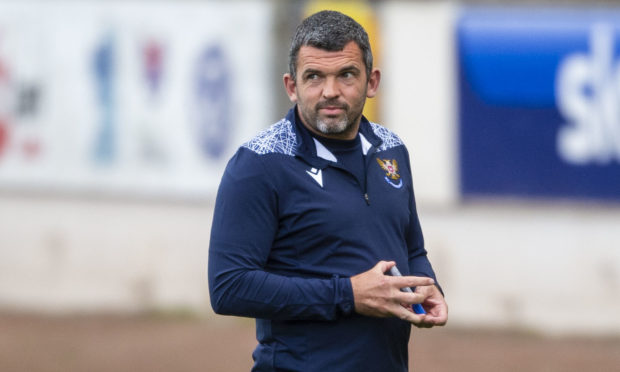 Callum Davidson is willing to play the waiting game in his efforts to strengthen his St Johnstone squad.
The return of key players from injury like Murray Davidson, Chris Kane, Stevie May and Zander Clark lessens the necessity to move quickly.
And Davidson, who will prioritise midfield cover and focus on the English market, wants to take full advantage of a longer than usual summer window before he completes his recruitment business.
"Sometimes you have to be patient," said the Saints manager, who has already brought in Danny McNamara, Isaac Olaofe and Craig Conway.
"You need to make sure you make the right signings and don't panic.
"The players here have got to prove themselves and we're assessing the situation all the time to do the right thing for the squad.
"Hopefully we can add a couple more over the next month or so. If the chance comes up soon, we'll be ready to react but we won't rush in for the sake of it and then deals pop up later on that we can't move on.
"All the English teams are back training now. They've all got big squads and players will become surplus to requirements.
"A lot of players will be needing games and needing clubs.
"That's definitely a market we're looking at."
Saints' best player so far this season has probably been McNamara and the success of that loan deal from Millwall has reinforced Davidson's belief that his knowledge of English football and contacts south of the border can be beneficial.
"Look at Danny," said the Perth boss. "He's a prime example. There are definitely good young players down there.
"I've been delighted with Danny. His application and attitude have been brilliant.
"It's not surprised me because I knew what type of player he was. He just loves football. It's been a great start for him.
"Isaac will have to be patient. He's another good character who has fitted in really well."
Meanwhile, Davidson is keen to see a trend that has stretched across all of Saints' early-season matches so far come to an end against St Mirren this weekend.
"In the first five games we've lost the first goal," he said.
"The stats for Scotland show that if you score first, in the majority of the games you go on to win.
"We've put ourselves on the back foot a bit and it's something we need to look at – how we start games and how we make sure we're scoring when we're on top.
"Players know when they're on top. They showed that with the way they kept going at Hibs in the second half.
"If we'd scored first, I'm confident that we would have won the game."
Saints did score against Hibs, of course. It's just that the assistant referee wasn't good enough at his job to let it stand.
Even though Callum Hendry's first half header won't go into the record books, it should still give last season's top scorer confidence that goals are about to flow.
"It's hard for a striker," said Davidson. "He's desperate to score – you can tell that.
"He's got the right attitude, which is great.
"He has to stay relaxed and calm. I'm sure the goals will come for him.
"He was in the right place for the header and obviously we know that it should have been a goal.
"Macca (first team coach, Steven MacLean) is looking at our strikers' movements and where we can improve as we go along."
There were plenty of excellent performers in blue and white against Hibs, particularly in the second half. Michael O'Halloran was certainly among them.
Davidson said: "Michael was really involved in the game and was excellent. He caused Hibs all sorts of problems.
"His attitude was terrific. He's giving me all I've been asking of him and hopefully he'll get his reward with a couple more goals."
Stevie May can expect to see more action on Saturday, with Chris Kane playing an important role after the international break.
"It was good to get Stevie back on the pitch on Sunday," said Davidson.
"Chris has been working hard. It's about game-time for him now. We'll try and get a game organised for next week during the international break and have him ready for the next batch of matches after it."
ANALYSIS: The growing attacking influence on St Johnstone of Jason Kerr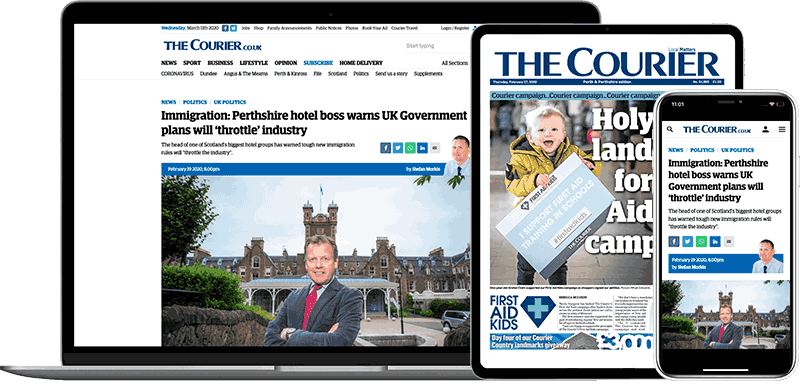 Help support quality local journalism … become a digital subscriber to The Courier
For as little as £5.99 a month you can access all of our content, including Premium articles.
Subscribe