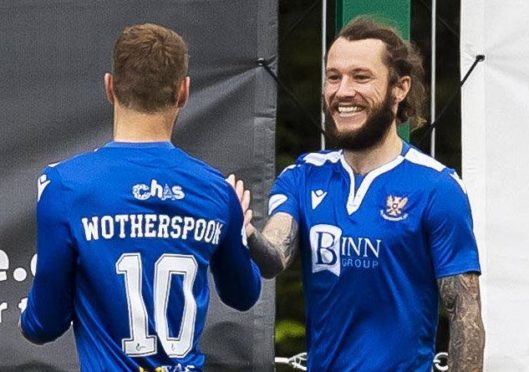 He is already impressively showcasing the qualities that go with being St Johnstone's star man.
And the sight of tangerine and black certainly won't diminish the rediscovered penalty box ruthlessness that was the hallmark of peak Stevie May.
May's reputation was built upon his goal-scoring numbers of 2013/14 – and no opponent brought out the best in him quite like Dundee United.
He might not have scored in the Scottish Cup final at the historic crescendo of that campaign but his five goals in three league victories softened Jackie McNamara's side up for the Celtic Park encounter and forged the impression that one team had the other side's number.
It all started with a hat-trick at McDiarmid Park when Calum Butcher conceded a penalty that May dispatched, John Souttar was brushed aside for his second and a near post run yielded number three.
Confidence was overflowing then and five goals in two games has ensure it is overflowing now.
Callum Davidson's first-choice centre-forward is in the mood to inflict some more Premiership pain on Saints' Tayside neighbours.
"I certainly remember the hat-trick against United," said May. "We had a really successful year against them so it brings back good memories.
"It's always nice to get a hat-trick so it definitely sticks in the mind.
"Morale is high at the moment and the boys are enjoying their football. The players have been playing well around me and that gives me freedom to get in the box.
"They have been creating chances and we have overlapping full-backs which brings another dimension. I'm really enjoying it and when the manager tells you to get into the box you do it."
The fact that people are starting to draw comparisons between the 21-year-old May and the 27-year-old version is all the evidence you need that he is on the right track with his career again.
"That 27-goal season was seven years ago," he said. "Everything was a lot different. The team was different and so was the style of play.
"I was a lot rawer technically. I'm probably a better player now than I was back then.
"I'm really enjoying my football just now and I do feel like I am playing well. But it is important to keep working hard and getting myself in good positions.
"With the way the team are playing I am confident I will score goals."
Davidson – like Tommy Wright before him – is making no attempt to suppress May's number nine instincts. The exact opposite, in fact.
But his individual desire for goals – and the team's need of them – won't be at the cost of the group-first ethic. That was exemplified by his decision to pass up the chance of back-to-back hat-tricks last weekend and lay a perfectly weighted pass into the path of Craig Conway instead.
"At Hamilton when I had that chance for a third I was aware Craig was coming up on the inside," he explained. "The keeper was on my side of the goal and it was a tough angle.
"Obviously it's nice to get hat-tricks but it was important for us to get the win, especially after struggling to get one recently.
"Maybe if we had been 3-0 or 4-0 up at the time I might have decided to have a go but it was crucial, especially after losing two goals to go to 3-2. It was a big point in the game for us to get that next goal.
"It's a great dressing room at St Johnstone. Over the years here managers and players have prided themselves on having a good team spirit and this is as good a group as any."
Linking up with David Wotherspoon got Saints their early opener on Saturday and the role of the left-sided forward in Davidson's front three is as integral to their attacking threat as the timing of May's penalty box dashes.
"It's always been the same with David," he said. "He is a really lovely footballer, nice to watch and great to play with.
"I've played with him for years now and we do have a good connection. Even in training, we see that the ability he has is top class.
"He doesn't rely on his pace but more on technical ability. Having his threat in the team is great because he will create chances.
"Over the years he has probably continued to get better. When you don't rely on pace, there is no reason why you can't keep improving. This team suits him with the style of play. He can really get in the little pockets and space."
May hasn't reached double figures since that glorious 2013/14 season but, with six to his name before the clocks go back, surely that is about to change.
"I've never looked towards targets for seasons," he said. "Even back then I wasn't like that.
"I just try to play every game and score as many as I can. The last two games have obviously been good.
"It does help give you a little more confidence going forward. There is no reason why I can't look to add to it.
"It helps a lot when players around you are playing as well as they are."
It also helps a lot when his manager has added to the club's striking options with the deadline day recruit of Guy Melamed.
"Competition is always good," said May. "He is a really nice guy and he will enjoy it here.
"It's a very easy changing room to come into. Everyone is very welcoming.
"He has been doing a lot of fitness work and I've not trained with him properly yet. But I've seen the highlights of him and he looks like he has real ability. He will give us another dimension in that area of the park."
Saints will leapfrog United if they win and will start to get closer to the sort of points total they believe their first-quarter form merited.
"The stats and performances have been there, just the points weren't.," said May.
"Even if we had lost the Hamilton game, I would still believe in what we're doing here. The rest of the players are the same.
"Not many managers go into a club, completely change the way of playing and expect it to work straight away.
"It would be naive to think we were going to be firing on all cylinders in the first few games with a new formation. There's no reason why we can't build on our latest win."
ANALYSIS: Murray Davidson's St Johnstone role is evolving but his importance to the team remains the same