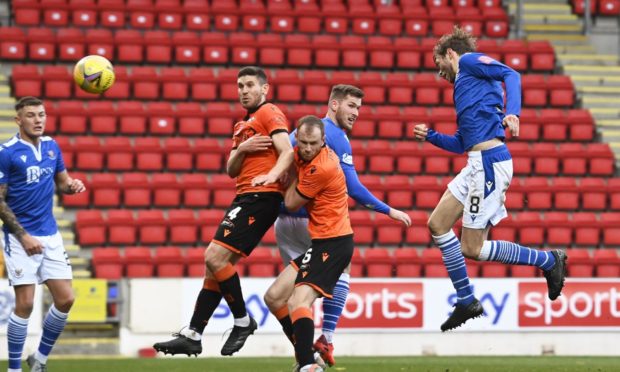 Nobody involved with St Johnstone on Saturday was dressing it up in the aftermath.
The Perth side had bossed the vast majority of their second Tayside derby of the season with Dundee United only to come away with a draw rather than the win they felt their chances should have earned them.
"Two points dropped?" was the first query directed at Murray Davidson by the post-match media throng, each member trying their best to maintain social distancing under the supervision of the SPFL match delegate.
The answer was in the affirmative.
"They started better than us, for the first 10,15 minutes," conceded Davidson.
"But if you take that away we've dominated the game, so it's mixed emotions. For 75, 80 minutes we've dominated.
"It's a clean sheet, which we've been looking for and I thought we limited Dundee United to very few chances.
"But I don't think anybody could say we didn't dominate that game, so right now we're disappointed that we've not won it."
Davidson's snap assessment was sound.
After a tentative opening spell, when the prospect of shackling United strikers Lawrence Shankland, Marc McNulty and Nicky Clark at the same time seemed to prompt a certain wariness in the Saints ranks, there was only one team in it in an attacking sense – and they weren't wearing Tangerine.
Once the opportunities started to flow for Callum Davidson's side, they didn't dry up.
Territory was held. Possession out wide was plentiful. Crosses flew in.
Unfortunately, most of the resultant headers and shots on goal (14 in total) drifted wide, while those that didn't found their path to the net blocked by United keeper Benjamin Siegrist.
And so it went with just eight seconds of regulation time remaining, when Murray Davidson stuck his head on David Wotherspoon's corner and prepared to celebrate a late winner.
"I was so close," he lamented.
"I know I've lost my marker so I'm just trying to get a good contact on it. I just think: 'Hit the target.'
"It's one of them where if I try to be too cute and go for the corners, people are saying (I should have) just hit the target.
"I've got a good contact on it but right now I feel like I should score, so I'm disappointed.
"But to be fair to the goalkeeper, he's made a good save."
Had Siegrist's reflexes failed him (though recent evidence suggests that's not something the Swiss stopper should waste too much time worrying about) it would have been entirely fitting if the likely winner that followed had arrived from a corner on the right.
While David Wotherspoon caught the eye with six shots on goal from the left, the right wing – fittingly officiated in the second half by Scottish Conservative party leader Douglas Ross – was where St Johnstone were most dominant.
Full back Danny McNamara and wide attacker Craig Conway teamed up masterfully throughout – but it was the frequent marauding forays of centre back Jason Kerr in support that caused real chaos on United's left side.
Throw the ever-willing, tucked-in assistance of Craig Bryson – who successfully completed 62 of a team-leading 66 passes – into the mix and it was a recipe for overload supremacy on the right.
The stats tell the story…
Conway, who seems to underline further his status as a crucial component of this Saints side every week, delivered a team-leading 13 crosses – with nine coming from open play – while McNamara was second in the charts with seven.
Add two from Kerr – both from the right – and the grand total of 22 crosses from the Perth men's right-sided stars is plainly illustrative of their game plan.
After their aforementioned tentative start – which turned into something more inspired when McNamara and Scott Tanser pushed higher up the pitch, pinning back United's wing backs and forcing their strikers to retreat to fill gaps – the game progressed according to St Johnstone's blueprint. United's participation was reduced to an almost entirely defensive effort.
Yet, after drawing a blank, Saints were left – and not for the first time this season – to accentuate plus points that did not extend to the score line.
"There are always positives," said Davidson, whose readiness to drop back from midfield to cover for Kerr's forward raids was central to much of Saints' good work against United.
"It's kind of been the story of our season. The manager has always been very positive. Probably at the start of the season we'd have lost that game 1-0.
"Right now we're disappointed because we feel we've done enough, we've got in enough good areas and had enough chances to win the game.
"When you look at last week (against Hamilton Accies), every shot we hit goes in and we win 5-3.
"This week it's frustrating but anybody who watched the game can see the positives, they can see what we're trying to do.
"Dundee United are obviously a decent side. You look at their squad, they've got the front three, we need to limit them, so once it settles down over the weekend there'll be more positives than negatives, but right now, as a team, we're disappointed we've not won the game."
Warming to the theme of Saints' superiority in the face of United's big-money strike force, he added: "United's front three are all quality players. You give them half a chance and you can be in trouble.
"But I can't remember Zander (Clark) having too many saves to make.
"As I said, they started the game better than us until we got to grips with their shape, but once we saw the way they were playing, I feel like we dominated the game.
"I said to Zander: 'How many saves have you had to make?' and we couldn't remember one."
Indeed, United did not register a single shot on target and only managed three wayward efforts over the 90 minutes.
Simply put, once Saints got to grips with the game, they didn't look in any trouble at the back – and Davidson's role, more defensively oriented than Perth punters have grown used to over the years, was key.
"It's strange because I like to get in the box and so does Bryso (Craig Bryson) and Ali McCann," he explained.
"The last few weeks especially I've felt at times like… I've not been lazy but…
"Today, United had three people left up the pitch, last week at Hamilton it was the same, so I've had to do a disciplined job for the team, which I'm more than happy to do.
"I'll play anywhere if it means I'm playing.
"I've played that position many a time. Ideally, I'd like to hit the box, but as long as I'm in the team I don't care where it is.
"Even the manager, Steven MacLean and Ec (Alec Cleland) have said to me, if it's that disciplined role I need to play for the team, I need to do it – and I'm happy to do it."
Had his last gasp header sealed a win, Davidson would be even happier, as would Saints fans.
But while frustration over "two points dropped" is understandable, if this team continues to carve out opportunities the way they have been, it seems unthinkable that they will not pick them back up – and them some – between now and May.