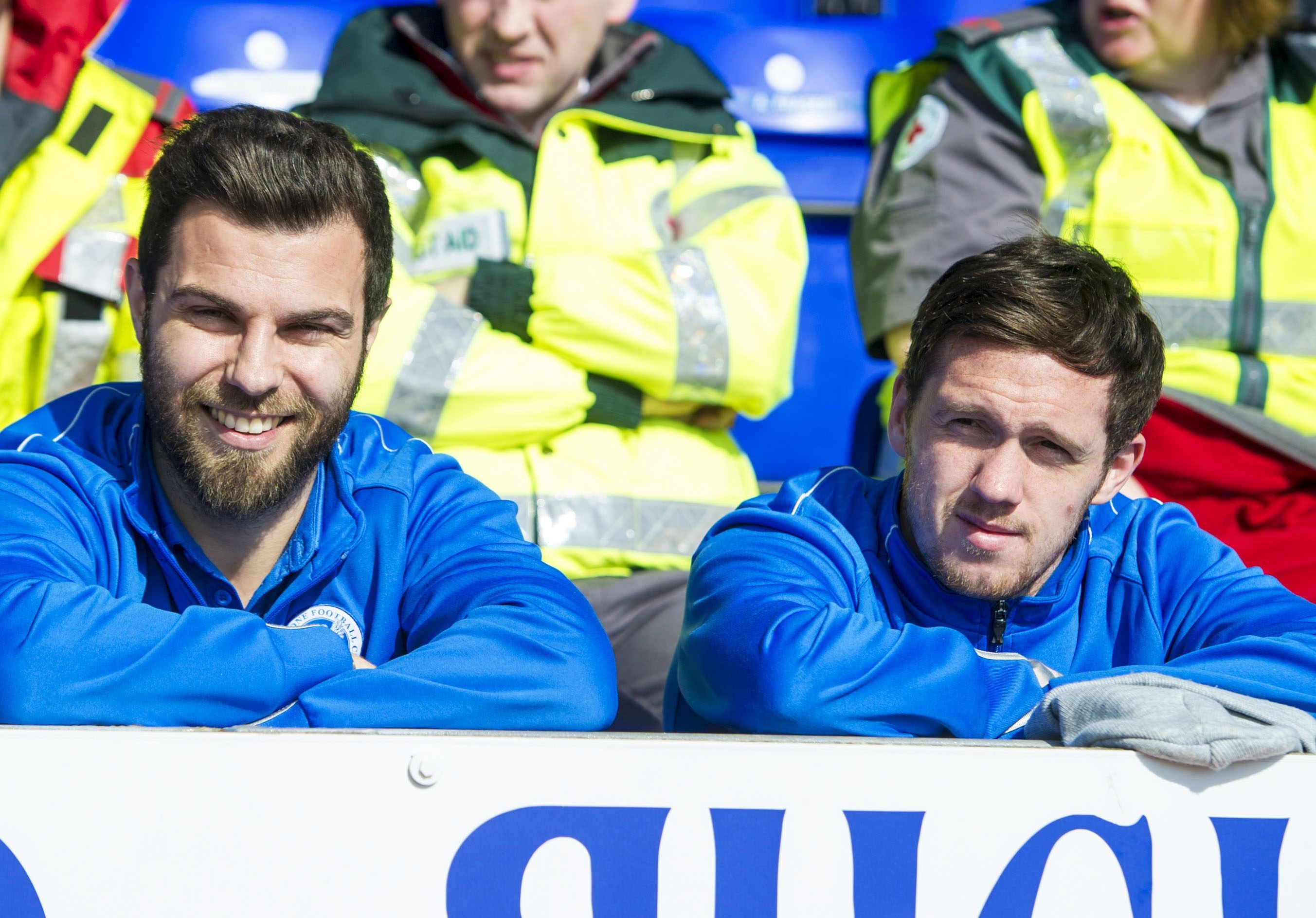 Tommy Wright expects Danny Swanson and Richard Foster to be driven by a desire to repay their St Johnstone team-mates on their return from suspension.
The duo were banned for two games after their red cards for brawling with each other at Hamilton, and were hit with big fines by the Perth club.
No doubt to their relief, Saints have won back to back Premiership matches in their absence.
Now available for selection when Aberdeen visit McDiarmid Park on Saturday, manager Wright believes Swanson and Foster will be highly motivated if selected.
"Richard and Danny are available after their suspension," said Wright.
"It is good to have players back in contention. If you look at our bench in the last couple of games we have had teenagers who haven't had a minute on the pitch.
"We were still able to cope but as a manager I want the full squad available so I can pick the best team possible to win the next game.
"They came back into work on Friday. They came in to see me and shook hands. They didn't say a lot because there wasn't a lot they could say.
"What has happened has happened. It has been dealt with in the proper manner. We haven't tried to smooth it over or hide from it.
"Where players do things on the pitch and their standards aren't what they should be I think there is a responsibility on all clubs to deal with that.
"I would hope for a positive reaction now from the players. They let their teammates down through their actions against Hamilton.
"Then they weren't available for Hearts and Inverness.
"The fact we won both those games showed the strength of character in the squad. But knowing them I think they'd feel a little bit guilty and want to repay their teammates."
Foster's absence has seen on-loan full-back Clive Smith take full advantage of an unexpected opportunity.
"Clive has done well," Wright said. "He has probably never played three games of that intensity in his life. He can be pleased with his week's work."
Another player who has made his mark recently is Graham Cummins, but the Irishman won't get the chance to continue his impressive form against Aberdeen.
"Cummins is suspended and will be a big miss," said Wright. "His work-rate has been really good and he has been excellent leading the line.
"I was pleased he got his goal at Inverness. He deserved it with the level of performance he has been putting in. He had an incredible shift at Hamilton and did it again against Hearts and Inverness within the space of a week.
"He is over his injuries from earlier in the season."
Chris Kane should be back in full training by the end of the month, with Steven Anderson and Murray Davidson both making progress as well.
Wright was at Pittodrie to see Rangers beat the Dons on Sunday and he said: "The way the game panned out 3-0 was a bit of a shock because they had totally dominated the second half.
"Rangers defended well and their keeper made some good saves but with 10 or 15 minutes to go you wouldn't have seen that scoreline coming.
"If anything you'd have thought it would be for Aberdeen but Rangers went up the park and scored and then Aberdeen made a couple of unforced errors and were punished.
"It was a disappointing result for us but our main focus is getting away from Hearts and securing fourth place. We have a five-point lead but it isn't a done deal.
"We have to get a couple of wins which would make it really difficult for Hearts to catch us.
"Rangers would have to be dropping points to have any chance of third. But every game is vital at this stage of the season and hopefully we again finish strongly. Our aim is that fourth place."