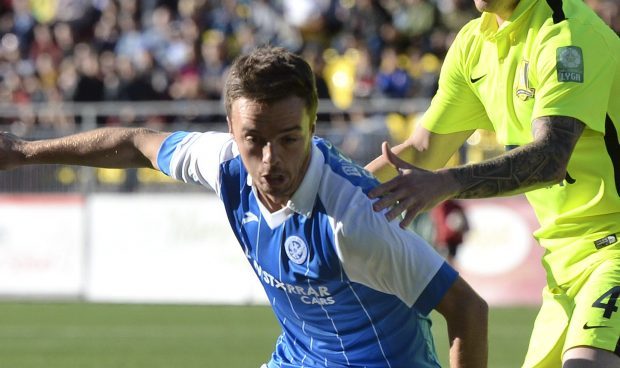 It will be a whole new ball game for Stefan Scougall when he lines up for St Johnstone at Kilmarnock this afternoon.
The 24-year-old joined Saints this summer after leaving English League 1 champions Sheffield United in May.
Prior to signing for the Blades back in January, 2014, the midfielder had played for Livingston in the Championship.
Now, he cannot wait for his first taste of Premiership action and visits to the likes of Ibrox and Celtic Park.
However, Scougall also admits his main priority is just to be playing regular football again after a frustrating couple of seasons at Bramall Lane.
He said: "When I was in Scotland previously it was in the Championship so it is a new experience for me and a step up.
"I am not sure how it (the Premiership) measures up to down south.
"Obviously you have Celtic and Rangers who would probably be Premier League in England but in terms of the rest of the teams, I am not sure where they would feature down there.
"But it is a step up compared to where I was before in Scotland.
"As a boy I grew up following Rangers through my dad and grandad who watched them every week.
"So for me, I am looking forward to playing Rangers and going to Celtic Park.
"I also have family and a lot of mates who are Hibs and Hearts fans so I can't wait for the fixtures in Edinburgh.
"But I am looking forward to every game as I just want to play football."
Scougall added: "There have been a fair few transfers over the summer and there is a growing sense of belief that hopefully the good times in Scottish football are coming back.
"A lot of big-name players have returned to Scotland from England or wherever.
"So it could be a good time to be back here.
"One of the main reasons I came back was to be playing football every week but there are big games in Scotland as well against teams such as Rangers, Celtic, Hearts, Aberdeen and Hibs who are also back.
"That's where I want to be playing – in big games.
"Europe was a key factor (in coming to St Johnstone). Obviously things didn't go to plan but hopefully we are up there with a chance of being in Europe next season."
Scougall featured in the two games against Lithuanian side FC Trakai but was unable to prevent Saints going out of the Europa League at the first hurdle.
While the early exit was incredibly disappointing for everyone connected with the club, the break since then has allowed the player to get a full pre-season under his belt.
Scougall said: "I have been in for six weeks now.
"Obviously there was the disappointment of Europe but I needed this pre-season.
"Fortunately, I have come through it unscathed which is always a bonus and I feel I am ready for the season to come.
"I feel I am getting close to my peak fitness now.
"Hopefully once the season starts on Saturday at Kilmarnock I will kick on then.
"We have had a few pre-season games and I think we have done well in the majority of them.
"We won them all so I think we can look at that and say we bounced back from the European ties.
"Admittedly they were just pre-season friendlies but winning becomes a habit so hopefully we can take that into the league campaign.
"The European games maybe came too early for us. We probably weren't fully up to match sharpness and pace so having now had those extra pre-season games hopefully we will be bang at it on Saturday."