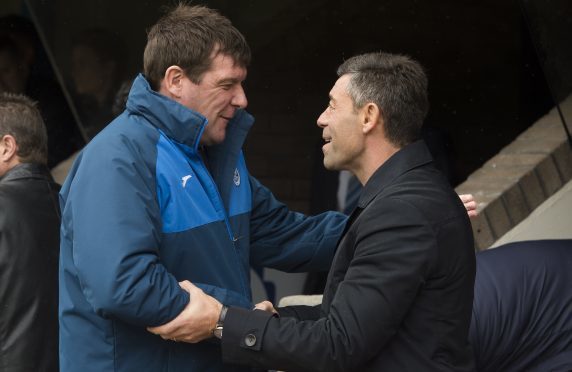 "Paranoid" Pedro Caixinha has had several opportunities to confront Tommy Wright about his belief that St Johnstone were leaked team information last season.
And he'll get another one at McDiarmid Park tonight.
But the Saints boss dismissed his Rangers counterpart's "dangerous" theory as a "figment of his imagination".
And Caixinha's unsubstantiated comments have annoyed Wright as the two sides prepare to clash in Perth this evening.
The under-pressure Ibrox manager alleged on Wednesday that Wright had been fed team news from his camp ahead of the final game of the 2016/17 campaign, which supposedly led to a delayed training session specifically designed to counter Gers' threats.
It is all a mystery to Wright, who said: "Pedro has been saying a lot recently and he's had to back-track on a few things.
"I now know what fake news is because what he said isn't true. It didn't happen.
"Most managers do a bit of asking around and have a think with their staff to second guess each other's teams.
"But I was NOT given the Rangers team and we certainly didn't hang around and change the time of our training because we were waiting for someone to send me it.
"It is a figment of his imagination.
"It didn't happen, it's not true and when you say something like that without evidence, proof or naming names it's annoying.
"It's disappointing because I feel I get on well with Pedro, maybe one of the few that do, and we had two 20-30 minute conversations over the summer.
"We had them face-to-face, man-to-man and it wasn't mentioned.
"I find that surprising because if he felt it was true then I'm sure he would have brought it up.
"If he had a problem then he could have spoken to me when he had the opportunity.
"He's stated he's got a spy in the camp and he's obviously paranoid about that.
"He has been paranoid for a while about that.
"It now looks like he's got a spy in my camp if he thinks he knows what we've been doing and is able to say we have changed our training times.
"Maybe there is a double agent at work!"
Wright added: "Whatever he's been told is duff information, it didn't happen and it isn't true.
"He might be trying to play mind games, I don't know.
"Perhaps that's what they have been teaching on that university course he's been on.
"If that's his game then it won't work.
"Maybe he's worried about us. Maybe he's worried we might finish above them this season.
"What he's said doesn't affect anything, our preparation has done and we're looking forward to the game.
"We just have to wait on the pigeon arriving with the team now!"
On whether Caixinha had a person in mind when he was making the claim, Wright responded: "Was he pointing the finger at anyone in particular? I don't know, you'd have to ask him.
"But if it was me and I had a spy here and knew who it was, they'd be sacked.
"Obviously he hasn't found out who his spy is because if it was me, or Derek McInnes, Brendan Rodgers, Alan Archibald, Stevie Robinson or any of the other managers then they would be gone.
"It's as simple as that. Their feet wouldn't touch the ground.
"But that hasn't happened, so he probably still has that problem.
"Respect and humility are things that you are even born with or not.
"Nobody likes anyone saying things that aren't true about them, it's disrespectful.
"When people throw accusations around they have to back them up.
"But I will shake Pedro's hand on Friday and I'll have a cup of tea with him afterwards.
"There is no ill-feeling. All I'm saying here are the facts.
"I feel I've got a good relationship with him, as good as anyone I'd say.
"But he's fallen out with others. He's fallen out with Derek in the past.
"I think he just feels he hasn't resolved the leak in his camp and he's annoyed about that.
"The whole episode says more about him than it does about me.
"I have always treated people with respect, his comments are wrong and they're dangerous.
"But they're not the truth.
"Pedro is at a massive, world-famous club and maybe he should just concentrate on that.
"Closing the gap on Celtic is what his focus should be, not picking fights with St Johnstone.
"Bill Struth said he welcomed the chase when Rangers were dominant, well Rangers are not dominant now and they are the ones doing the chasing.
"So maybe he should embrace that and put his energy into trying to stop Celtic winning 10 in a row, rather than get involved in tittle-tattle and stuff like this."
Rangers and Saints are tied on the same points total and Wright hasn't yet seen a significant rise in standards from their opponents from last season to this.
He said: "I have seen signs this season that Rangers can improve but at the minute there isn't much difference from last season.
"They have dropped points when they probably feel they shouldn't have. They are six points behind Celtic and Aberdeen and have lost to Celtic again already.
"But there are signs in games they have the potential to be better this year.
"That's what they should be focused on."
Wright expects Blair Alston to return to the squad but will be without Michael O'Halloran and Richard Foster.