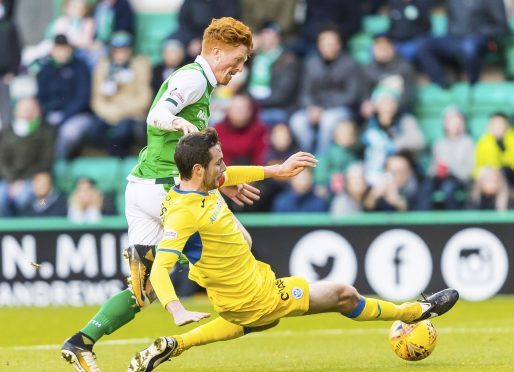 It wasn't only St Johnstone's six-game goalless run that was brought to an end at Easter Road on Saturday.
Recently-installed team captain Joe Shaughnessy was finally able to celebrate a win with an armband on his sleeve.
Both came as a relief to the Irishman – as did the fact that the injury-time penalty decision that went against him didn't cost the team victory.
"It was my first win since becoming captain, which was starting to bother me," the former Aberdeen man admitted.
"I was wondering if I might get it taken off me for being a jinx!"
He added: "It was a massive relief on Saturday because of the run we've been on.
"For me personally, it was probably doubled because of the penalty decision.
"I thought it was harsh because although the ball did hit my hand he's volleyed it straight at me from about a yard away.
"It was one of those. There was no way I could have got out of the way of it.
"When the ref made the decision I couldn't believe it and I just felt that it was going to be another weekend where things have gone against us.
"We had put so much into the game and it would have been a really sore one if we didn't get away from there with the win.
"So when we went up the pitch and scored it was just a huge relief."
Two late goals certainly took Shaughnessy and his team-mates on a stoppage time rollercoaster.
"In terms of an ending to a game, it's one of the maddest and best ones," he reflected.
"When they equalised they wanted to get the ball back to push on, and we were probably thinking that a point wouldn't be a bad result.
"Given how much we had put into it you certainly didn't want to lose it, but we just put players forward in the last seconds and got our reward for it.
"We knew we didn't have a game for a few weeks so it was a massive result.
"The celebrations were great. Macca loves a wacky one and he just went straight into the stand.
"Watching it back on television, you can see the fans at the front don't have a clue he's wandering about in the stand with his top off.
"It's really funny to watch it and I'm sure the fans who were there loved it.
"I don't think he can really complain about his booking, since he was about three rows back!"
The Saints players said all the right things during their barren spell in front of goal and, now that they have put it behind them, Shaughnessy insisted their self-belief wasn't manufactured.
"Honestly, I didn't have doubts because I was always confident we would come out of it," said the centre-back.
"We had played Celtic, Aberdeen and Rangers during that run and although we had hoped to do better we didn't pick up any points.
"In the other games we were not far away. Against Ross County and Partick we created chances and in the Hearts game it was a freak deflection that beat us.
"So I always knew we were not far away from it and it would turn again in our favour.
"If we were not creating anything at all I would have been worried, but it was just one of those runs where things were not falling for us.
"Defensively we have been fine lately and it was just a case of getting a break in front of goal.
"It couldn't last forever and thankfully it came to an end against Hibs.
"But the thing now is we have to keep it going, we play Kilmarnock next weekend and hopefully the Hibs win can spark us off onto a run."