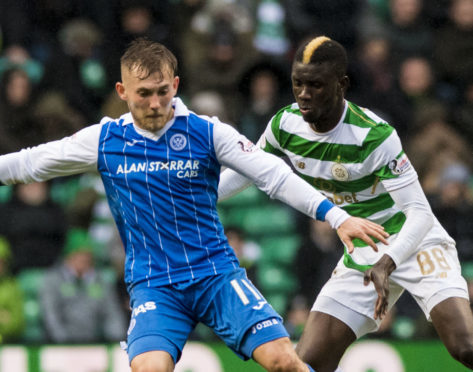 Tommy Wright is faced with an injury and illness crisis going into a week that could define St Johnstone's season.
The Perth boss could have eight first team players sidelined for the visit of Ross County this afternoon, with loan recruits Matty Willock and George Williams the latest casualties.
"It looks like we will have eight missing," Wright revealed.
"Scougall has had his ankle op, Foster's scan on the hamstring wasn't good and the chances of seeing him back again this season are probably nil, Watson is recovering from an ankle knock, Easton has had an injection on his hernia but should train on Sunday, Hendry is out long term and McMillan is still not back in full training.
"Williams has felt his hamstring and is a doubt and Willock is ill. He wasn't in for training so that is obviously a concern.
"This season is as bad as it has been in my time here in terms of injuries.
"It is disappointing and we just have to deal with it. But this year has been particularly tough for us."
At the end of their three home games in seven days, Saints could either have put themselves in a Premiership mid-table comfort zone or be in the think of a relegation battle.
Wright isn't looking beyond bottom of the league County, though.
"It is a game we are more than capable of winning," he said.
"But first and foremost we have to do our jobs individually as we did at Celtic Park. We didn't make any bad mistakes which led to opportunities for the opposition.
"We did our job last week. The basis of our success has been about being hard to beat, giving us a platform to go and win games.
"We've got to get back to keeping regular clean sheets and hopefully we will start taking our chances at the other end."
Wright added: "This is a huge week for all the clubs, no matter what position you are in. A lot can happen when you have so many games coming up. We have five games in two weeks.
"Everyone will be wanting to get as many points as possible to deal with their own situation, whether it's at the top, going for top six or wanting to get away from the bottom of the table. It is so close and every point is vital.
"I think Ross County are showing they are battling and they produced real quality to win 4-1 at Dundee.
"It is a different set of problems we face this week. They will be more direct than Celtic. They have more of a physical threat.
"We have to be aware of what they offer but if we look after ourselves and do what we are good at we can win the game and build on last week."
There was no charity from the Saints players at Celtic Park and that has to be the same at McDiarmid, according to Murray Davidson.
The midfielder said:  "We've had a full week to prepare and we're ready to go.
"A lot has been said about our home form and it's important that we pick up points.
"We prepare for every game the same but maybe we've tried to be on the front foot more at home. I think, as we saw on Sunday, we're a better team when we play off our shape and maybe hit teams off the break.
"There could be other reasons for the home form but what isn't in doubt is the attention and preparation for home games – that's the same as it is for the away ones.
"If we give the same work-rate and standard of play as we produced on Sunday, it's only a matter of time before our home results improve.
"There have been a lot of games with nothing in them but we've given away the first goal, which has played into other teams' hands.
"There was a spell when it seemed every game we were walking back to the centre circle after 15 minutes having conceded a goal. I don't know the stats, but more often than if we get the first goal we win the game.
"It's important that you stay in games – even at 0-0. Although we want to force the issue it's equally important we don't give the opposition something to hang on to."
After their Parkhead point, Davidson wants the team to continue looking like the St Johnstone of old.
"It's about getting back to what we're good at.
"We always used to know that if we stayed in a game we would always get chances later on.
"We've got three home games and we know how important it is to pick up points in them.
"We know we're capable of getting three positive results. Now we have to go out and prove it."