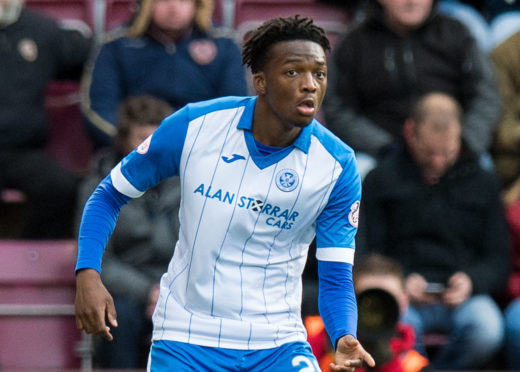 Matty Willock has already had to endure one of his Manchester United pals celebrating a goal and a win against St Johnstone.
And he wants to make sure it doesn't happen again at McDiarmid Park tonight.
Demetri Mitchell found the top corner with a goal of the season contender in Hearts' recent Scottish Cup victory over Saints at Tynecastle in the battle of the Old Trafford loan stars.
And when Rangers come to town this evening, Willock will be up against another familiar face in Sean Goss, who came through the United age groups before leaving for QPR.
"I played with Sean in the same reserve team at Man United," said Willock. "I actually lived with him for a couple of years. So we know each other well.
"We shared an apartment and used to travel to training together. We get on well.
"He is a good lad, tidy about the place. He's a mate and a good player as well.
"This will be the first time we have ever played against each other.
"Demitri scored a great gal against us for Hearts. He practices them a lot in training and it came off for him. I know Sean has a shot on him so we don't want a repeat."
Saints actually have Goss to thank for Willock making the move to McDiarmid.
"Sean is one of the main reasons I came to Scotland," he said.
"I spoke to him a few weeks ago and he said how good a move it had been for him coming up to play here.
"He is really enjoying it and said the level here was really good. Sean said it was a great place to play football and a good opportunity for me.
"It was good to get feedback from someone who was already playing here. Sean warned me about the tempo of games and that it was physical. He was right. But we can only learn and improve from coming to Scotland.
"The quality is high here and it is more physical than under-21 football and in Holland.
"Despite Sean's warning it was a bit of a shock in my first game against Hearts. The first time I got the ball I took a touch and someone smashed me. I knew then I had to be quicker and I really enjoyed it.
"I realise you have to know what you're going to do before you even get the ball. I think the game here will suit me."
Illness meant Willock was in the stand for the weekend victory against Ross County and he was impressed with what he saw, particularly the performance of fellow central midfielder and match-winner Murray Davidson.
"The lads were class, playing at real high tempo," he said. "The confidence is back after the draw away at Celtic. Hopefully we can put a run of for together. It's all coming together now.
"Murray was outstanding against Ross County. It was a real leader's performance.
"It's great to play beside him. He has a lot of experience and he helps me out during games."
The Saints players are eyeing up a Glasgow double, after coming back from Parkhead with a precious point just over a week ago.
"At Celtic we set-up well and cancelled them out," said Willock. "It was a great tactical performance from the boys.
"We'll need to reach the same level against Rangers. With the form we have been showing we can beat them.
"It was a great experience for me playing in front of a big crowd at Celtic and it's games like that and playing Rangers that I came here for."
If Willock wants a role model for advancing from the Old Trafford academy through to the first team, Scott McTominay provides it.
He said: "Scott is doing very well and he deserves it. He has taken his opportunity. That is something I look at and I want to do that in future.
"Nicky Butt is in charge and he spoke to me a couple of days ago.
"United give me feedback after games. It's good to know they are keeping an eye on me."