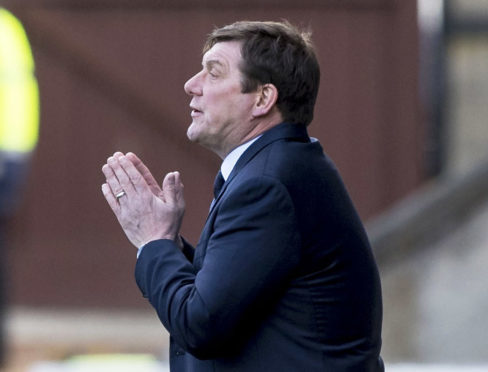 An all-round performance like Saturday's at Motherwell "had been coming", according to St Johnstone manager Tommy Wright.
And the Perth boss is hoping for two more of them before the season comes to an end.
Saints face Hamilton Accies tonight, with striker David McMillan set for his first start for the club in Lanarkshire.
And replacing Steven MacLean with the Irishman may not be the only change from Fir Park.
"We've got a few bumps and bruises and obviously Macca won't play," said Wright. "David will start.
"I don't want to change it too much because we want to win the game.
"There were huge positives in the Motherwell performance. It was a performance that had been coming.
"The first goal, in particular, probably hasn't been given the credit it deserves.
"It starts with our goalkeeper and 16 passes later, it's in the back of the net. The quality of the build-up play in three of the goals was excellent."
Wright added: "Out of that performance, individually there were a lot of positives as well.
"Jason (Kerr) is getting better and better, the centre-backs were solid and the wing-backs got back and forward with energy.
"We put a lot of work into getting McMillan signed and for him to get a goal after being out for so long was great.
"He won't be really match fit until next season but that was a big thing for him to get his first goal.
"Ali McCann showed a lot of maturity for an 18-year-old, was strong and used the ball really well.
"(Matty) Willock and (George) Williams are getting better.
"Matty went to Utrecht and didn't get many games. When you're getting loan players there is always a bedding-in period because they haven't played a lot of football.
"We've seen him improve in training and we're delighted with him and George."
Regarding the possibility of Willock coming back next season, Wright said: "I've got a plan for the summer, with a list of what I need. I'm open to everything."
Chris Millar will feature in the last game of the season against Ross County, Wright confirmed.