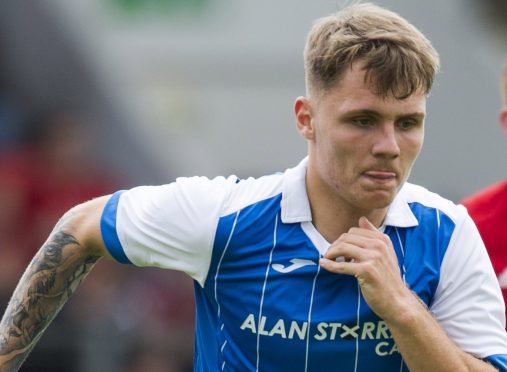 Jason Kerr has already stablished himself as a key man in the St Johnstone first team.
But Saints skipper and central-defensive partner Joe Shaughnessy has predicted that even better is still to come.
Manager Tommy Wright believes Kerr deserves to be put in the same bracket as the likes of Scott McKenna, John Souttar and Jack Hendry and Shaughnessy shares his manager's faith in the Scotland under-21 regular.
"Jason came straight in after returning from his loan spell and looked the part from the first game," said Shaughnessy.
"He has done well for Scotland in the summer as well so we're definitely looking for him to hit the ground running again this season.
"I had always been impressed with him in training. He looked like he had something. The loan spell at Queens did him a lot of good and he was brilliant for us after Christmas.
"He's a big lad. He wins a lot in the air but he's really confident with the ball at his feet as well.
"Sometimes he tries things I would never try but he's got the confidence to do that. The midfielders will tell you that they're happy to give him the ball and let him play. That's a good thing to have."
Shaughnessy added: "The likes of McKenna and Souttar have more experience in the Premiership but once Jason gets a full season under his belt you'll see even more improvement from him.
"I think Jason has done it a good way – playing at lower levels and handling every step up that he's made.
"This is a good place for him to play his football again this season. Then next summer we'll probably be talking about him again."
It won't just be himself, Kerr and Steven Anderson fighting for a start next season, according to the Irishman. Liam Gordon will be in the mix as well.
"Big Gordy has done well too," he said.
"He's not had as many chances, maybe, but he has always impressed me in training. He's a really good defender and I'm really comfortable playing alongside him."
Kerr is the perfect role model for the young members of Wright's squad to try and emulate in the months ahead.
"There are a few knocking on the door," said Shaughnessy. "Ali McCann came in and did well. Then you've got Kyle (McClean) and Hursty (Greg Hurst) as well. They've all got the potential to kick on. It's a big pre-season for them.
"Cal (Callum Hendry) has been unlucky with injuries and will be looking to put down a marker. John Robertson has definitely got something and made a good impression at the end of last season.
"This is their chance to catch the manager's eye and we'll be encouraging them to do that."
Shaughnessy is relishing his senior pro role at McDiarmid Park this season.
"When I first came in Cuptie (Dave Mackay) and Fraz (Frazer Wright) were still here and I was one of the younger ones," the former Aberdeen man recalled.
"This will be my fourth season and now I'm one of the experienced ones.
"We've got to lead and show the young ones what to do and help them step up.
"I think there's a good mix and I'm sure the manager is still looking to bring in a couple more. I'm really looking forward to the season starting."
2017/18 was far from a disaster for Saints but Shaughnessy knows there is room for improvement in 2018/19.
"We've already talked about last season and what we need to do better," he said.
"We let in too many stupid goals. That's one area we definitely need to improve on.
"There were a couple of runs when we weren't scoring either. And we had injuries to deal with as well.
"What could go wrong, did go wrong for a while but we still had enough to be clear of the relegation battle and be fighting for seventh on the last day of the season.
"That wasn't how it was looking like going at one stage."