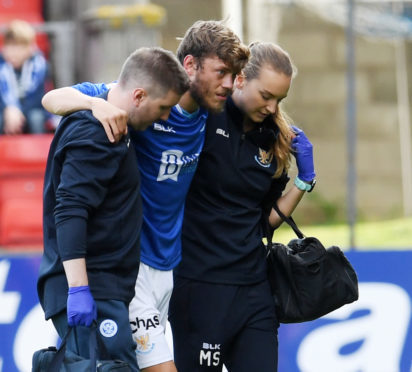 Tommy Wright may have to bring in two midfielders this week if scans reveal that Murray Davidson needs an ankle operation.
St Johnstone are understood to be closing in on a season-long loan deal for Ipswich Town's highly-rated teenager Tristan Nydam.
But that may not be the end of Wright's transfer business ahead of the window closing on Friday night.
"There are players we are interested in and hopefully we will have someone signed this week," said the Northern Irishman.
"We are close to getting someone in and I'm hopeful of getting it over the line.
"I have been looking for a midfielder for a while and with Murray Davidson's injury I might be needing two.
"But the player we are well down the road with isn't linked to his injury. That was happening anyway."
Wright added: "I still need to get some of the younger ones out to balance the books. There have been a few nibbles.
"Once we know where we are with them and we have a better idea about Murray's injury, we will reassess things and see if we need to go back in for another player."
Davidson only lasted 15 minutes on Saturday before he came off injured and Wright admitted that "it isn't looking good".
"Murray will have his scans this week," said Wright.
"It's a concern because he's had trouble with that ankle before and has needed a clean-up in the past.
"He just has wear and tear on his ankle but has played on with it for a long time.
"The scan results will tell us more but there is a chance that might be the case again.
"We just have to hope the scans are better than what the initial diagnosis has been."
Nydam, 18, made 20 appearances for Ipswich last season and was signed up on a new long-term deal in November after being tracked by Arsenal.
He has been capped by England at under-19 level but is now in need of regular first team football.