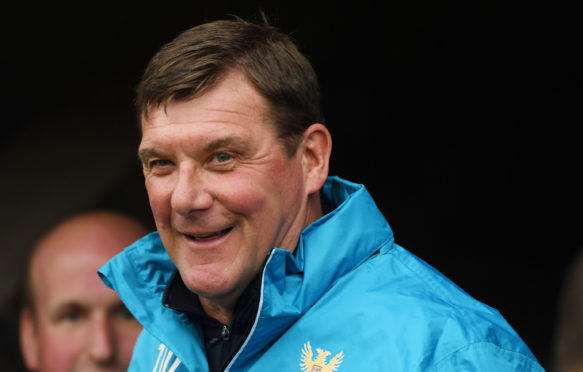 St Johnstone's style of play has attracted much praise in the early weeks of the season.
Old school wingers Drey Wright and Matty Kennedy have hit the ground running, with striker Tony Watt justifying his new manager's faith in him.
But Perth boss Tommy Wright has insisted that "work rate and intensity" remain the key McDiarmid Park Premiership principles.
"We are playing differently this season and have had more possession in matches than we've had before," he said.
"That wasn't the case against Dundee but in that instance we were happy to let them have the ball because we knew we could hurt them in certain areas.
"With the players we've got now, we are able to play in a different way.
"But the ethos hasn't changed, the work rate and intensity from the team is still the same.
"There had been criticism in the past about us and the way we played, but we have always maximised what we've got.
"The results and winning games is the most important thing.
"So although we are maybe passing the ball more this season, I'm not going to say this is the right way to play and other ways are wrong.
"It's simple, this season we have the players to play a certain way. There is no right and wrong.
"You don't want to just have possession for the sake of it.
"The results before were good, that was the right way to play then.
"Now we have two out-and-out wingers so we have to use them and that means getting them on the ball.
"So things are a bit different this season but the principles are the same."
Saints will play their fifth away game in a row on an artificial pitch at Hamilton on Saturday. Nothing will change Wright's opinion that top flight football should be contested on grass but at least Accies now have a new surface.
He said: "I am looking forward to playing on Hamilton's pitch because it's newly laid and it should be the best one around at the moment.
"Everyone knows I'm not a fan of them but I remember playing on theirs not long after it was put down a few years ago.
"The issue comes further down the line when they are used too often and not maintained properly.
"I can understand why clubs want them, the financial side of it is appealing, but they do deteriorate fairly quickly when they're being used all the time.
"A good astro is a good astro – I wouldn't argue otherwise – but the longer they're down and the more hours people play on them, they start to get progressively worse.
"When they reach the stage of degrading, they shouldn't be suitable for football at the top level.
"But I'm not thinking too much about the pitch, I'm more focused on Hamilton's team.
"I have nothing but admiration for them because they have defied the odds and the pundits year after year.
"Everyone writes them off but they always perform above some people's expectations."