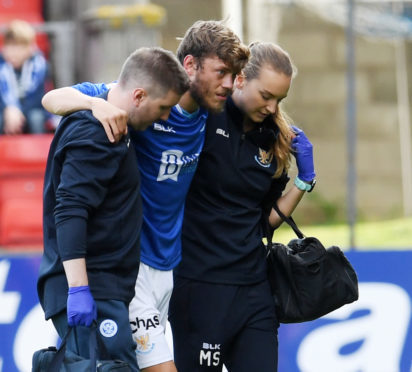 Murray Davidson has an "outside chance" of being fit to face Celtic at the weekend, St Johnstone manager Tommy Wright revealed yesterday.
The midfielder has been out of action since the end of August but has made encouraging progress since his ankle operation.
The game against Motherwell after the international break is his likely return date but Wright hasn't completely ruled out this Sunday's clash with champions Celtic.
"Hopefully Murray will kick on this week and the plan is to get him on the grass on Tuesday," said the Perth boss.
"There is an outside chance that he could make Sunday but, if not, he will definitely be back for Motherwell. It will be about on schedule.
"Murray gives us a different dimension in terms of what he does in midfield for us.
"But we won't put him at risk. If he has a really good week then there is an outside chance that he could be involved against Celtic."
Tony Watt picked up another knock at Tynecastle on Saturday but he should be fine for the match against his old club.
Wright said: "Tony got a kick on the top of his foot but I think he will be alright. He will train on Tuesday. Other than that there were no fresh concerns."
Reflecting on the 2-1 defeat to the league leaders, Wright noted: "Hearts had more chances and shots, but most were outside of the box.
"If anything, we had as many clear-cut chances but the difference was they got us on two set-plays.
"We have David McMillan's header in the first half and Tony's chance which Kano should probably put in.
"We have Drey's chance and if he gets his head up there is a square pass for McMillan for a tap in.
"The players thought at the time it was a penalty kick for handball on Souttar.
"I've seen it back. His arm is away from his body and it hits his arm, so we probably should have had a penalty.
"But I thought we were lazy in possession in terms of we give away too many simple passes that we should complete.
"That gave Hearts the opportunity to have more attacks than us."
The Celtic game will be the last of a daunting sequence of fixtures against the Premiership's big hitters.
"It's a run of tough games and we knew that," said Wright. "We've come up short in the three games, but there are positives to take.
"Celtic was different. We didn't have that many clear-cut chances.
"And Hearts deserved to win the game, there is no doubt about that. But we had as many, if not more, clear-cut chances.
"We've got to make sure we are ruthless in front of goal. If we score directly after Hearts score their second, it's a totally different game.
"So there are positives, there are negatives as well and we know that. But we just need to work hard."