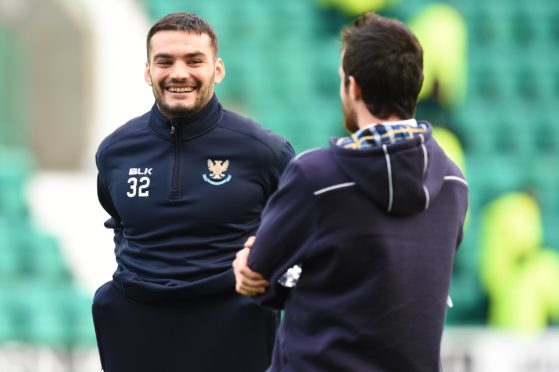 Tony Watt couldn't care less that he isn't making headlines for his goals.
Being part of a winning St Johnstone team is his only concern.
The suspicion when the former Celtic man signed for Saints in the summer was that he might be passing through quickly but there is no selfish streak to a striker who has been a proper team player at McDiarmid Park.
"I came here with my eyes on St Johnstone, not my next move," he said.
"I don't need to score 20 goals or 40 goals to get a transfer somewhere, it's about being part of a team winning games.
"That's what it's all about and I have realised that, it's about the team.
"I am loving it here.
"Obviously I want to score more goals. But your weekend changes when you play and it's even better when you are in a team doing well.
"I'm going home buzzing and even on a Sunday I'm still on that high.
"That's something I missed a lot and although I didn't fall out of love with football, I'm definitely back more in love with it again since coming here.
"In the past I probably would have been going home banging down doors and kicking things, but I genuinely haven't been doing that.
"Against St Mirren, that was the day I could have went home in the huff but I just thought to myself 'don't be so daft, we won the game'.
"It's not about me, I have had assists lately and the manager has said he's happy with the work I'm putting in for the team.
"Of course, I want to get back scoring again but if we are winning games then it's fine.
"Does that mean I've grown up? I think you can trust me more as a player now.
"I know better when to dribble and when to pass, whereas before I was all off-the-cuff and that's where my goals came from.
"Now I'm more controlled, I know what the team needs and I know what the manager wants."
Watt, whose last goal was against Dundee at the end of August, doesn't believe he is yet at peak match-sharpness.
"I am still getting up to speed," he said. "I missed a lot of football last season and it has taken time.
"I can feel myself getting better with games and I think I can still kick on.
"I still want to get to double figures but I need to keep coming up with the assists and the all-round performances.
"Matty Kennedy has been scoring goals and I've been setting them up for him.
"He's got everything to be a top, top player and is getting better with games too.
"He has helped me massively because if I get the ball and am in trouble he can take it for me and run with it.
"Matty can score goals too – but if he starts getting too many I'll have to stop passing to him!"
If Saints can beat Kilmarnock today it will set a new top flight club record of six wins on the bounce.
Watt said: "I didn't even know it was a club record. It hasn't been discussed.
"Obviously it would be a good thing but it will be tough because Killie are a good side and are in form.
"Down there on the opening day of the season we were still gelling but hopefully we will show we're better than we were that day.
"The manager has built a team who can play and you have seen us get better every week lately.
"I knew the gaffer had good plans for the club when I joined here but I didn't expect him to bring in the quality he has.
"He's really pulled out a few gems this season."
Manager Tommy Wright said: "We won't get carried away by five wins and five clean sheets. Those games are gone.
"We know it is going to be tough against a side with a top manager in Steve Clarke.
"We just have to make sure we continue with the level of quality we have shown over the past month or so.
"I hope they can take what I have seen in training into this match because they have been right at it all week.
"They're organised and difficult to beat, with pace and the likes of Stewart, Brophy and Boyd can all score goals."
Blair Alston and Danny Swanson should be available but Steven Anderson and Brian Easton will miss out.