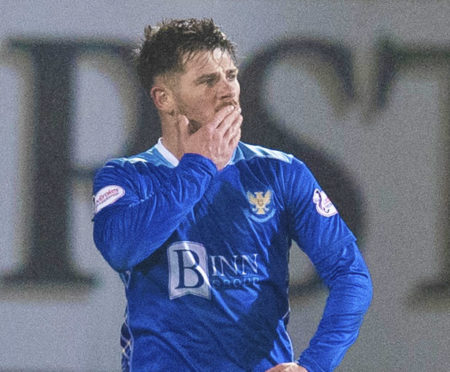 Perseverance paid off for Matty Kennedy, who has ended a worrying run of penalty misses for St Johnstone.
Tony Watt, Liam Craig and Danny Swanson have all failed from the spot in recent weeks and when the Perth side were given the chance by referee Andrew Dallas to make it 2-2 against Hearts, David Wotherspoon was the first player to show willing.
Kennedy managed to persuade his team-mate to let him take it – and the subsequent clinical finish made it a wise decision.
"I actually grabbed the ball from Spoony and asked if I could hit it," said the former Kilmarnock and Everton winger.
"He said 'no' at first. Then he asked me a couple of times and I was actually walking away when he finally said 'on you go'.
"It was great he changed his mind.
"I wasn't bothered about the three boys missing previous penalties. I just put myself forward.
"I blanked everything out and my form has been good.
"I actually missed one for Hibs in the Scottish Cup when I was 18 but I took them for Everton and Cardiff under-23s.
"When I was on loan there was always a penalty taker and at Cardiff Peter Whittingham took them. He's got one of the best records in England so there was no chance of getting one off him."
The comeback draw continues Saints' Premiership momentum and the goal made it four in six for Kennedy.
"It was great to get another goal and that is seven unbeaten," he said.
"That's a good record for any team, including Rangers and Celtic.
"We are obviously doing something right.
"It was disappointing to lose two goals from set pieces but we played well again.
"We work hard in training on defending them but it showed the character of the boys to come back twice.
"People might be saying it is soft penalty but I wasn't thinking about that.
"I have seen the highlights and it looks like it was never a penalty. But they don't show the tug on Gordy. He went to jump and head the ball when the boy has tugged him a little bit and he was off balance."
Aberdeen's midweek win at Ibrox was all the warning Saints needed ahead of today's game at Pittodrie.
"This is another big test for us because Aberdeen are a right good team," said Kennedy.
"They bounced back from the cup final defeat. To go to Ibrox and win is a statement at any time.
"We had a draw in Perth against them but we are a lot better now."
Manager Tommy Wright reported that Scott Tanser, Danny Swanson and Steven Anderson could all be available.
The Perth boss, meanwhile, has called for an end to referee-bashing in the wake of Wednesday's controversial penalty decision at McDiarmid Park and the reaction to it from the Hearts camp.
"We are at the stage where whoever shouts the loudest about referees gets heard," he said.
"I have tried to take a leaf out of rugby's book and try to accept decisions that go against you.
"We could have made a song and dance about a couple of decisions, including a penalty shout.
"You can be unhappy with them but it is almost at the stage where everyone is out to bash referees and pile blame on them.
"There was a shirt pull on Liam Gordon for our penalty.
"The referee told me and the players he saw a clear shirt pull. Because cameras don't pick it up doesn't mean it didn't happen.
"Hearts didn't complain on the pitch. There was no mad protest at the time.
"They were only concerned that Haring was going to get another booking and be sent off.
"He told one of our players he thought it was soft but said he did pull his shirt.
"Yes, referees have made mistakes, like we all do, but what worries me is that there seems to be a culture developing that it is alright just to come out and bash the referee.
"Some pundits say managers should be allowed to come out and criticise referees.
"But as a manager I know if I was getting that level of criticism I certainly wouldn't be happy.
"How do we help them and make the situation better?"
Wright added: "Turning professional might improve things, introducing VAR certainly would help even if it's not perfect.
"Managers have a responsibility too. It might win favour with your fans coming out and banging your chest but let's face it, it doesn't get you anywhere.
"I think we need a constructive dialogue between managers and referees.
"We have a meeting about rule changes at the start of the season but not one with the referees themselves.
"Maybe we should get together at times during the course of the season, with supervisor John Fleming, who has a difficult job on his hands.
"But ultimately the referees are crying out for VAR. The big question is where the money comes from to fund it."