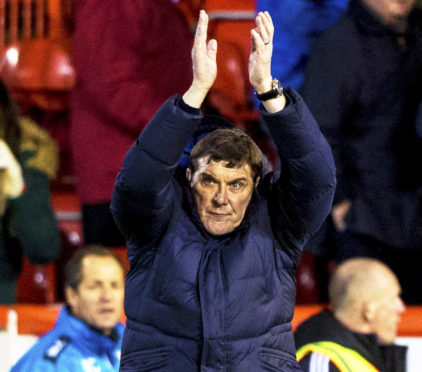 Tommy Wright believes the run of form his St Johnstone team are currently on could be the best in his time as Perth manager.
Saints are unbeaten in eight matches, having won six of them.
And Wright can't think of a spell that matches up to it.
"I'm not a great one for knowing statistics," he said. "People normally come to me with them. I think I've had an eight game unbeaten run before but I would be surprised if there were six wins in it.
"This certainly feels like the best run we've had in my time.
"Maybe that's because it's the most recent but it's also because the run of results that came before it.
"It was a great result for us on Saturday, particularly as we played them three times last season and lost all three.
---
---
"I actually think it was a game that we would have lost last year. We had to be very resolute in defence at times, as you would expect up at Pittodrie against and Aberdeen team which had a big win at Ibrox a few days earlier."
Wright, who believes the Hibs performance was their "most complete" of the eight, is delighted his team are proving that predictions of their "demise" were premature.
He said: "People were talking about the demise of St Johnstone but there was an over-reaction to one season that was viewed as a failure.
"And it wasn't even a bad season. We were disappointed with eighth but if we hadn't had all the higher finishes before that, eighth for St Johnstone would be good.
"We were being judged on expectation levels going up.
"All of a sudden there was negativity – and six weeks ago people were saying, 'where does he go from here?'
"But we've got rid of that negativity.
"There's no denying that there's a really good feeling about the place."
Wright added: "We've have put ourselves in a great position but it's so tight at the top. There is only 10 points between first and eighth.
"Kilmarnock, Rangers, Celtic and Hearts have all been top of the league and we've put ourselves on their coat-tails.
"Football isn't all about budgets – we've shown that time and time again. But Celtic, Rangers, Aberdeen, Hearts and Hibs are certainly helped by the money they can spend. The likes of Kilmarnock and Dundee will spend more than us as well.
"With the way Kilmarnock performed last season a lot of people didn't even think there was one place to fight for in the top six for the rest of us. They thought the top six was set.
"It shows you how hard it is to get amongst the top teams as it has taken us an unbelievable run of seven wins and a draw to do it."