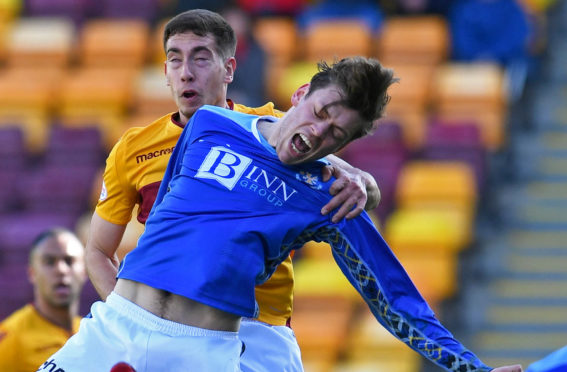 The St Johnstone players won't hide from the criticism that came their way from their manager, Murray Davidson has insisted.
And they are determined to show Tommy Wright his harsh words have hit home when they face Dundee tomorrow night.
Wright described the last 20 minutes of the 3-0 defeat to Motherwell at the weekend as "not good enough" and pledged that he "would address it".
Top six football may now be out of the Perth club's reach but Davidson is determined that Saints will start to hit the high standards their boss expects of them, and they expect of themselves.
"It is extremely disappointing to miss out on the top six and we have to take the criticism that is coming our way," said the midfielder.
"It's down to the players at the end of the day. It's our fault.
"Ultimately we just haven't been consistent enough over the season.
"We never got carried away when we were doing well before the break.
"Looking back we were in a good position in January but it's down to 33 games before the split and we aren't going to be up there.
"We can only blame ourselves because we had got into such a good position in January.
"We should have secured enough points from there to get us into the top six."
Davidson added: "The manager is as disappointed as all of us.
"He wants to win and it's been down to the players making too many mistakes.
"The manager was quite rightly angry after the game.
"I went home angry with myself and I'm sure the rest of the lads were the same.
"It hit home that we hadn't been able to achieve what we wanted to this season.
"Looking at the players we have here I believe we should be finishing in the top six.
"We haven't done that so any criticism that we get is rightly deserved.
"You are always getting assessed and judged.
"The manager is never one to throw out criticism when we don't deserve it.
"We should never have lost that game 3-0. That's not good enough.
"Now we have to finish strongly with an eye on next season.
"The manager has a job to do and if he is looking towards next season that's fair enough.
"You are always being judged and in the spotlight. Nothing changes there."
Davidson finds it hard to nail down where things have gone wrong for Saints since January.
"We were on a great run of form earlier but for whatever reason we've been on a bad one over the last three months," he said.
"I can't put my finger on why.
"Maybe it is down to confidence. But the bottom line is that we have made too many mistakes as a team. Do that in this league and you get punished.
"It was the same again at Motherwell. Until the first goal we had the best of the chances, including the penalty.
"It's a real shame because we have been well in games for the last six or seven weeks.
"But it looks like we are low on confidence and don't know how to win games.
"There's no getting away from the fact we have let ourselves down too often this year.
"Now we have to pick ourselves up and finish strongly."
Saints certainly have a point to prove against neighbours Dundee at McDiarmid Park tomorrow.
"It doesn't matter who you play after a loss," said Davidson. "You want to bounce back.
"But there should be no more motivation required than a derby.
"It's up to us to stand up and be counted.
"Dundee had a disappointing result against St Mirren so they will be desperate to come here and get three points.
"But we just have to concentrate on ourselves."