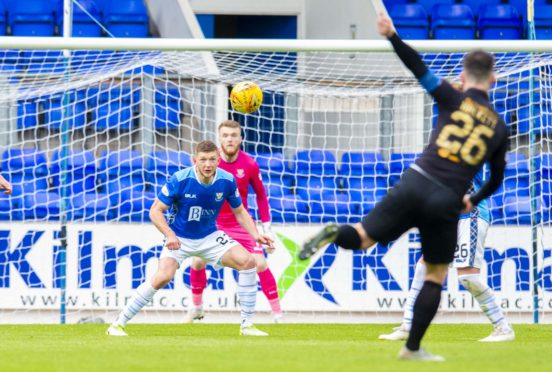 Any disgruntled St Johnstone supporter need only look a few miles along the road to realise they should count their blessings.
OK, it is never nice when your team loses a goal six minutes from time to draw a game that looked like a home banker.
It is even worse when the equaliser comes into the category labelled: "How on earth did that happen?"
The loss of Craig Halkett's leveller did cast a bit of a shadow over the Saints fans as they left the stadium.
It was a 40-yard, rollercoaster of a shot that goalkeeper Zander Clark would probably save 99 times out of 100.
However, any fan feeling down or hard done by need just have considered what was happening at the same time 20 or so miles away in Dundee.
While the Dark Blues were on the knees and wondering what life will be like in the Championship next season, along the A90 the worst that happened was that the Perth men failed to move further away from Motherwell in the contest for seventh spot. It was not the end of the world.
There is also the not so small matter of finishing the top team in Tayside once again. They could, of course, be the region's only Premiership side next season depending on how Dundee United do in the play-offs.
Indeed, that Saints have avoided relegation danger, not just for this season but for many beforehand, is one of the greatest achievements of the Perth club.
The Scottish Cup win in 2014 will always have its own chapter in Saints' history, of course, but we should not play down the ability to avoid any dropzone drama.
They should have won this game and got off to a fantastic start when Michael O'Halloran took a pass from Murray Davidson and slammed a shot past keeper Ross Stewart and into the far corner of the net.
That was after only four minutes and provided the springboard for a performance that should have been good enough to take all three points.
That they didn't do so was down to Clark's failure to stop Halkett's long distance strike with just six minutes to go.
Saints boss Tommy Wright called it a "freakish" goal and felt his team should have been better organised in order to close down Halkett before he let fly.
The Northern Irishman said: "The set-up from the throw-in was disappointing and we really needed someone to take leadership out on the pitch.
"We should have organised it a little bit better and had a calm head in order to see where the problem was.
"The problem was that we wanted spare men in the box and we didn't need that.
"If Kano (Chris Kane) was further up the pitch Halkett wouldn't get the opportunity to make the strike because he would have been there to put pressure on him.
"That is two weeks running that we have been unfortunate but in both instances we should have done better in the build-ups.
"It was still an unbelievable strike. It had height and then it dipped at about 16 yards.
"Zander probably doesn't pick it up until it flies past him. I haven't really spoken to him about it.
"It was over head height and then it dipped – it's a difficult one.
"It looks like one of those freakish goals that happen from time to time."
Asked if they should have been able to see the match out, Wright added: "I think so.
"We got a great start.
"I don't think we played particularly well in the first half but in the second I thought we were much better.
"We got our wide players on the ball more and created a few opportunities.
"Against a Livingston side that puts the ball in the box early and has good setpieces we knew we needed that second goal but we didn't get it."
Saints have been telling everyone who will listen that they still have loads to play for in this season finale and they showed that again after just four minutes.
Davidson, making his 300th start for the McDiarmid men, teed up O'Halloran and his superb strike sailed past keeper Ross Stewart and into the far corner.
Five minutes later it took an unusual but brilliant one-handed save from Clark to keep out a 25-yard shot from Livi's Steven Lawless.
There was no further scoring in the first half but Saints came close to making it 2-0 just after the restart when Kane was denied by Stewart.
On 56 minutes, the visitors threatened when Halkett's freekick from outside the box was pushed away by Clark. That would be a warning that went unheeded.
Up at the other end, Stewart did well to save after a fine move from the home side that was finished off with a Ross Callachan shot. Callachan then fired wide as the home side pressed.
A great block from Davidson then thwarted Livi's Dolly Menga on 73 minutes.
The visitors then pulled themselves level with a goal that stunned the 2,222 crowd inside McDiarmid.
There seemed little danger when Halkett, a full 40 yards from goal, tried a shot and it skipped off the turf and flew past keeper Clark.