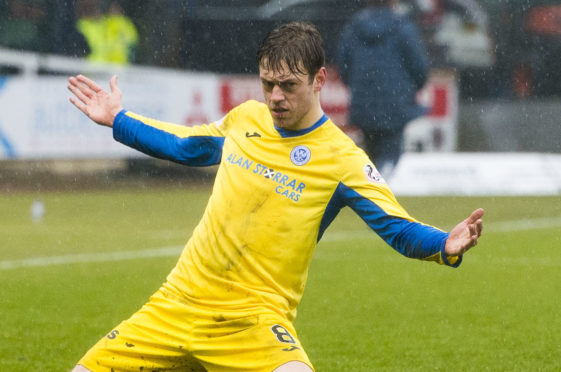 Murray Davidson didn't want to see Dundee relegated.
And the St Johnstone midfielder would be quite happy for Dundee United to take their place in the Premiership and give the Perth club a Tayside derby next season.
Davidson knows that Saints supporters might not agree with his argument but the former Livingston man enjoys having a local rivalry in the top flight.
And if he's to get one, United will need to win the play-offs.
"I was disappointed Dundee went down," Davidson admitted.
"A lot of St Johnstone fans will have a chuckle to themselves – as they did when United were relegated – but from the players' point of view, they are good games to play in.
"I always enjoy going to Dens. We bring a big crowd there.
"They'll be looking to bounce back straight away and United will be desperate to come up through the play-offs.
"If that happens, they'll be games we'll look forward to having again."
Dundee's demise, and the collapse of United a few seasons ago, has put Saints' continued Premiership success into context as far as Davidson is concerned.
Another campaign has gone by without the hint of a relegation battle at McDiarmid Park.
"They will both have had bigger budgets than St Johnstone when they've been relegated," he said.
"Dundee had a huge overhaul of players in January. That didn't work for them.
"I've said it for years but if you've got a small core who know the club and know what's required on and off the pitch, you've got a chance.
"There are far more positives doing it that way than taking a chance with a lot of changes year after year."
Davidson's start against his old club Livingston last weekend took him to 300 for Saints which is a significant achievement in itself – and blows out of the water the theory that he is continually coming back from injury.
"I didn't know until somebody told me after the game," he said.
"I got presented with a shirt with 300 on it but that was for 300 appearances, not starts.
"It's not the sort of thing I pay much attention to. It's a good milestone though and hopefully there will be many more.
"I didn't set myself a target anywhere near 300. I just wanted to play as often as I could and this is my 10th season.
"A lot of people say that I'm injury-prone but 325 games and 300 starts in 10 seasons isn't a bad total.
"I'll miss three or four games here and there – that's just the way I play – but I haven't actually been out as long as folk think.
"I wish I'd had a pound for every time somebody came up to me to ask, 'are you fit?'
"I could be walking down the High Street having played the last 15 games and somebody will say 'are you back from injury?'
"It's over 30 games a season which isn't bad going. Hopefully I'll have many more here."