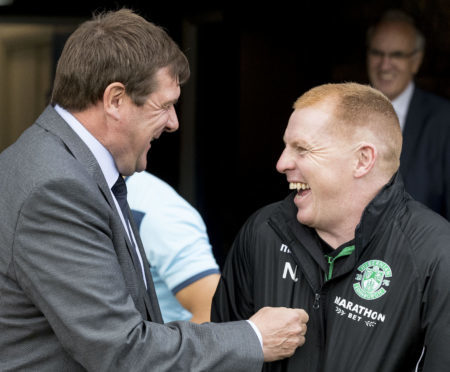 Neil Lennon may now be in charge of a different team but Tommy Wright hopes it will be business as usual from a St Johnstone perspective at Parkhead tomorrow.
The two Northern Irishmen are good pals and enjoyed a game of golf together this summer.
There were plenty of laughs along the way but it will be deadly serious between the pair as their respective teams clash in the Premiership opener.
And Wright is hoping that the Indian sign he held over Lennon when he was Hibs boss will continue now he is back in charge at Celtic.
The Saints manager said: "The golf was a friendly game this year. I don't think we played for money.
"From what I remember, I think he won.
"It's always good to meet up with him for a laugh but come Saturday he'll be desperate to beat me and I'm desperate to beat him.
"I just hope my record against him is the same as it was against Hibs because he couldn't beat us when he was there and I always reminded him of that!"
Wright added: "I was thrilled when he got the Celtic job full-time because it's his dream job.
"He was delighted to get the call to go in as the interim manager and once he was in again, he was very keen to stay.
"I know from speaking to him over the years he always wanted to go back to Celtic one day.
"He knows the pressure he's under but he will be looking forward to it.
"He will have Celtic fired up to start positively in the league because when you look at Rangers strengthening he knows he'll have to hit the ground running."