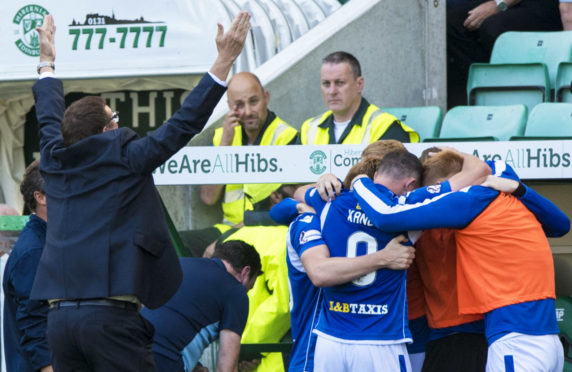 Tommy Wright has revealed that the only person upset by his weekend touchline celebrations after St Johnstone's last-gasp equaliser against Hibs was his wife, Anne.
The Perth boss became a social media sensation when the cameras caught him blowing kisses to the home supporters in the wake of Jason Kerr's 94th minute header.
The Easter Road regulars took it in good humour but Mrs Wright was less amused.
"I always enjoy games at Easter Road," he reflected. "There is good banter with the Hibs fans.
"We have made a habit of last minute goals there and the celebrations are maybe a bit over the top because of that.
"I had a good celebration when we got the first equaliser but I got egg on my face when they scored again right away.
"You can imagine what the banter was like then from the fans behind me.
"It was just blowing kisses right at the end and I don't think I upset anybody, apart from my wife, who phoned to ask what I was doing!
"It was just a bit of fun and their shouts had been good-natured all afternoon.
"I didn't realise I had so many problems with loss of hair and my weight. I might have to reinvent myself.
"But I like to think you can have a laugh with opposition fans, as long as you don't cross the line."
Wright certainly enjoyed his team's display in the 2-2 draw.
"I was really pleased with the weekend performance," he said.
"We passed the ball and there was energy within the team. The full-backs and wide men got forward to cause Hibs problems.
"And Chris Kane ran his socks off leading the line.
"The quality of Liam Craig's pass for Michael O'Halloran's goal was outstanding – unbelievable, really. As was Danny Swanson's delivery for the Jason Kerr header.
"There was a lot of quality on display and we deserved to get all three points."
Wright's options could soon be much greater as he seeks to continue the recent upturn in form.
"When I have Wotherspoon, Wright, Kennedy, O'Halloran, Swanson, Kane, Hendry and my new striker I'll be sitting back happy," he said.
"We will have firepower to really hurt teams.
"They can't all play so the pressure will be on them to perform. That is the perfect scenario for a manager.
"Drey is looking outstanding in training and hopefully he will be signed off by the specialist. That will be an early birthday present for me."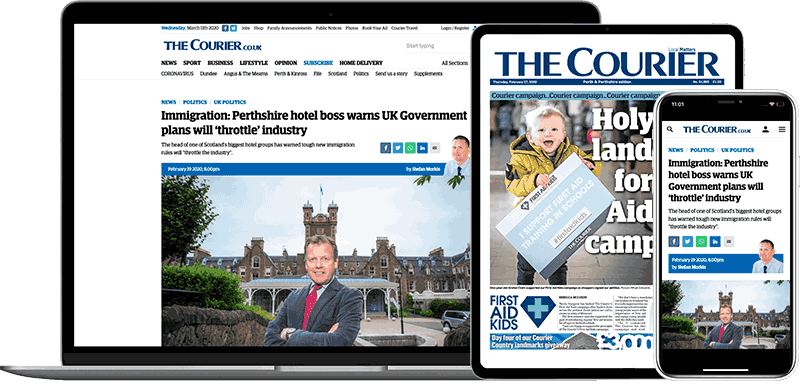 Help support quality local journalism … become a digital subscriber to The Courier
For as little as £5.99 a month you can access all of our content, including Premium articles.
Subscribe