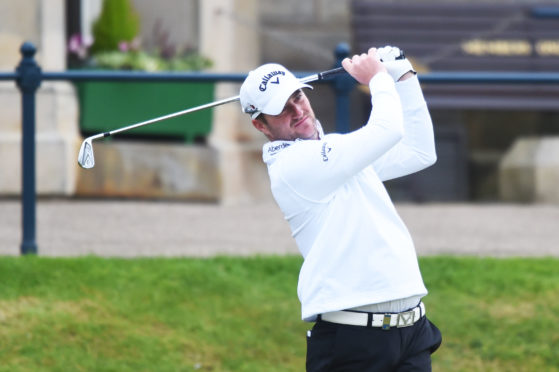 Marc Warren finally heeded the advice given to him long ago by his late coach Bob Torrance, and it simplified a golf game that was getting away from him.
The Scot won his fourth European Tour event at the first post-lockdown tournament in Austria, regaining his playing rights in one week after a nightmare spell in which he fell off the tour and seriously considered alternative employment.
He's now qualified for the UK Swing events that relaunch the Tour in this country, and will play again at the Betfred British Masters at Close House near Newcastle, finally able to plan his schedule again and find a way back to the World's Top 50, where he was just five years ago.
The long malaise in his game had forced Warren to reconsider a number of things, and one was an attitude change that had been a long time coming.
"I spoke to people like my manager Stuart Cage and (coach) Karl Morris and we went back to how I used to play when I did well in big tournaments," he explained.
"Stuart talked a lot about how so many players have just the one shape of shot. Bob Torrance, when he was my coach, used to talk about this all the time as well, and I guess the penny finally dropped.
"That shot for me is a draw, so if I start with that I can work back technically to what I need to do with your swing. Lee Westwood is the perfect example of this, he's a fader of the ball but his technique is geared up to hit that shot.
"Start with the shape and the target and working back, it's the simple and sensible way of looking at it…but I guess we're always learning!"
The results of this change in philosophy in Austria were almost immediate.
"Shot selection and club selection felt so easy in Austria," he said. "You're not so sure after such a long time off how you're going to be mentally, making those decisions, but instead of trying to shape every shot I just stuck with what I knew would work, basically have one clear decision and stop asking myself so many questions to obviously not coming up with the right answer."
Warren played without a caddie in Austria as well, and that was also a help.
"I'd been playing well back home, scoring well, but carrying my bag. I knew I'd have to do that in Austria so it helped me a little mentally, to just kind of carry on and treat it like a round at home, don't try to be too careful or over aggressive, just play like you would at home.
"I shot six-under first round, so that seemed to work."
Warren now hopes to kick on, but he has everything in perspective now after his years of struggles.
"I feel have a good team behind me that believe in me – Callaway were amazing even when I wasn't playing well and Aberdeen Standard Investments have been behind me 100% – Martin Gilbert has been huge with advice and we've talked a lot.
"I feel things are in a good place. But you don't want to get ahead of yourself, it's just one tournament.
"Hopefully if everything is okay in the world there will be quite a few tournaments left and I just want to play well and keep it all as simple as possible. It's not always going to work out like it did in Austria, of course it won't, but if you're giving yourself the chances you can out and enjoy your job a little more."
TEE TO GREEN, STEVE SCOTT: The European Tour returns with caution and why The Open For The Ages didn't do it for me