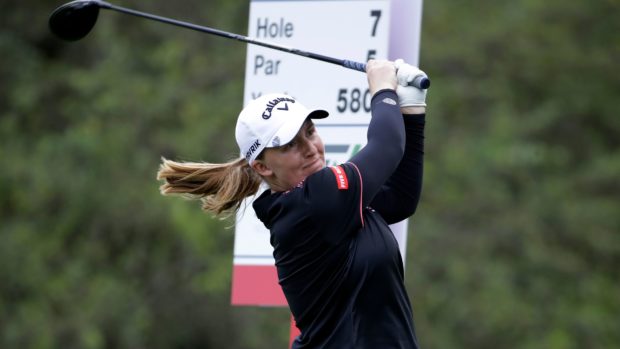 We should have known it was coming. First international tournament in elite golf in Scotland since the lockdown, high temperatures and (mostly) good weather for a week beforehand, East Coast venue…
The haar duly rolled into Renaissance for the start of the Aberdeen Standard Investments Ladies Scottish open and delayed play for two hours. This was not a disaster, even if your alarm call was 3.30 am for your start time and the decision to delay came just eight minutes before the first hit.
Gemma Dryburgh and Azahara Munoz in the first group made light work of it, however. The No 1 ranked Scot, hitting the first shot in her national open, had an eventful two-under 69 to continue the rich vein of form she's had since golf re-started.
The round included five birdies in six holes on the front nine, and a double-bogey, but she lies just two shots off Nicole Broch Larsen's four-under lead.
The annoying thing was having to do several warm-ups as the delay elongated from half an hour to two hours.
"We were probably eight minutes away from walking to the tee when it first got delayed," she said. "We were going in and out of the clubhouse a little bit, warming up for every half-hour, and obviously (because of social distancing) we couldn't all be in there at once, so we had to manage where we were, space out a bit in the locker room and outside."
But the benefit for them was that the wind didn't get up for most of their first nine, and Gemma was cruising at four-under until she doubled the 11th.
"A bit unlucky, I got a bad lie in the green-side bunker and didn't have a stance, so I wasn't able to get the ball out first time," she explained.
"I left the bogey putt right in the jaws like a centimetre short, but that was a really tough hole into the wind, so it'll play tough for everyone."
Not having home support was "a little surreal".
"I'd normally have my family and friends following," she said. "It was nice that a lot of the tournament staff came out for the first tee, just to have people there.
"I was nervous, but I also hit the first shot in 2018 and really I like a bit of nerves, it helps you focus better."
After playing well in the Tartan Pro Tour event at Carnoustie last week, Kylie Henry carried that into the Scottish Open 2ith a par round of 71 that probably should have been better.
"I played really solid, but made a couple of sort of frustrating mistakes on two of the par fives," said the two-time Ladies European Tour winner.
"I felt like I got it back a bit when it was playing tough, made some good pars, and then dropped a couple towards the end, which was a bit disappointing. But on the whole, I'm playing really well, and really happy with my game."
The delay came just before Kylie left the bubble hotel in Edinburgh, but even being from Glasgow, she's pretty used to the early morning fogs.
"It didn't affect me except waking up two hours before I needed to!" she said. "The wind really started to pick up on the back nine, but I guess I have quite a lot of experience playing in the wind, so I don't feel too thrown off by it for the most part.
"I feel like the conditions are good and it's a good, strong test out there."
Catriona Matthew played the tougher back nine better than the front, shooting par figures with just one birdie and bogey there, but two bogeys to start with eventually meant she finished with a three-over 74.
It was a tough day for another former champion, Perthshire's Carly Booth, who birdied the second hole but it all fell away after that, with seven bogeys and two doubles on her way to an 82.