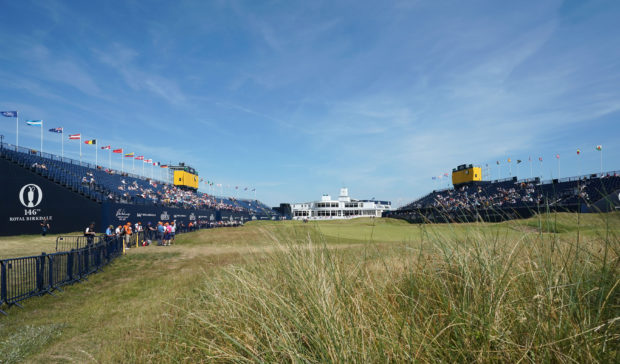 Hamish Brown is the unlikely Scottish link in the last eight of the Amateur Championship at Royal Birkdale, even if he plays under the flag of Denmark.
The 21-year-old, the winner of the Danish National Strokeplay title earlier this summer, plays England's Jake Bolton in the quarter-finals over the famous Open Championship links in Lancashire this morning, aiming for Sunday's final, the historic title and the tickets to three major championships that come with the trophy.
Hamish's name is a dead giveaway to his Scottish roots as the son of Marcus Brown, who is professional at Aalborg Golf Club in the north of Denmark, but originally hails from Blairgowrie.
"I think of myself as half-Scottish, my mum is Danish but my Dad is a proud Scot," said Hamish, who defeated Dartford's Mason Eassam 4 and 3 and Ireland's Marc Boucher at the 18th during yesterday's play.
"We come to Scotland every summer and every December, and we usually play the great courses when we're there, but especially Carnoustie.
"It's probably my favourite golf course, and I've played it every year for most of my life."
During yesterday's last 16 game Hamish got caught up in familiar territory when he blocked his drive at the 13th over the mound on the right and close to the practice ground – the same territory Jordan Spieth famously found himself during the 2017 Open.
"It was on the same line that Jordan Spieth hit it, but I managed to find myself a good lie and hit an 8-iron out to the fairway," he said. "From there I hit to five feet and got out of there with a par, which I suppose is better than Spieth did!"
There's still two more games and a 36-hole final to negotiate to the title, and Hamish knows there's still a long way to go.
"The start of the week in qualifying I wasn't that good, but I got through and it's been better as we've gone on," he said. "It would be very nice to win, especially with everything that comes with it, but there's a lot of golf to play."
Hamish had planned to go to European Tour Q School this year, but with it being cancelled for 2020 because of Covid-19 he plans to stay amateur for another year.
Home-based Scottish interest at Royal Birkdale ended in the last 32 with defeats for Darren Howie (Peebles) and Connor Wilson (Castle Park).
In the Women's Amateur at West Lancs, the last two Scots lost out in the last 16, Broomieknowe's Hannah Darling losing 3 and 2 to the top-ranked player left in the draw, Aline Krauter of Germany.
St Regulus' Chloe Goadby had a battle royal with defending champion Emily Toy, finally losing out at the second extra hole. Toy went on to win her quarter-final on extra holes as well, and will play Krauter in the semi-finals.