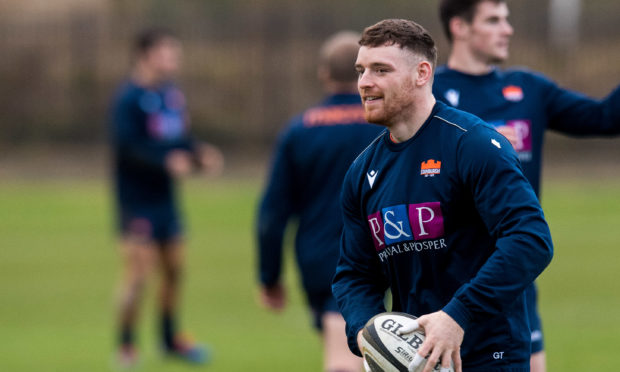 George Taylor said there were "quite personal and harsh" criticisms for the whole Edinburgh team after their defeat to Ulster but the squad are steeled to bounce back in Bordeaux this week.
A two and a half hour post mortem of the PRO14 semi-final – which Edinburgh led 19-7 with 20 minutes to play only to lose to Ian Madigan's final kick penalty – followed when the teamn regathered, said the young centre.
"It was quite a stern meeting on the Wednesday after," he said. "Some areas were quite personal, some were quite harsh on the whole team, but everyone took it on the chin.
"Training's not been easy at all since then and the guys have had to really dig deep. It's been a really tough few days but the boys have backed the coach with what he's been saying in the meeting and have got behind everyone."
The European Challenge Cup quarter-final against the Bordeaux-Begles team they played twice in the pool stages offers and immediate chance to atone.
"It would be massive win for the club, and to bounce back from the Ulster game would be great," said Taylor. "It would bring a sense of confidence in the squad. To go over there and beat such a good side would be a huge statement that would back up the hard work of the last season."
For Taylor personally, Edinburgh's decision to part with Matt Scott in the lockdown period was a huge vote of confidence in him, after he had forced his way into the squad playing inside centre rather than outside, which had previously been his identified slot.
"I'm looking to make my mark a bit more," he agreed. "I've still got a lot to learn, but I learnt a lot from Matt, while Chris Dean and Mark Bennett are experienced so I can learn from them too.
"When they mentioned that Mattie was leaving it kind of woke me up a bit. I thought I'd potentially have more games in the 12 jersey, and in the back of my head I wondered who might be coming in, and what style they would be. But I just tried to focus on my own game and improve where I can.
"Chris has been performing well recently so that's good competition, but I'm looking to get a consistent run of games under my belt towards the end of this season and hopefully the start of the new season."
That starts in France, and although Taylor played and scored in both legs against Agen in the pool stages, he didn't play in the old Stade Lescure when Edinburgh visited in January, and he's particularly looking forward to having a go at Matthieu Jalibert, the 21-year-old UBB stand-off who played for France at Murrayfield in the Six Nations.
"It's exciting more than anything," said Taylor. "It's another chance to go and prove myself against an opposition I've not played before.
"They'll be strong, I'm looking forward to it, especially if Jalibert plays at 10. He's a skilful footballer but his defence is one of his areas of weakness, so we'll be targeting that for sure."