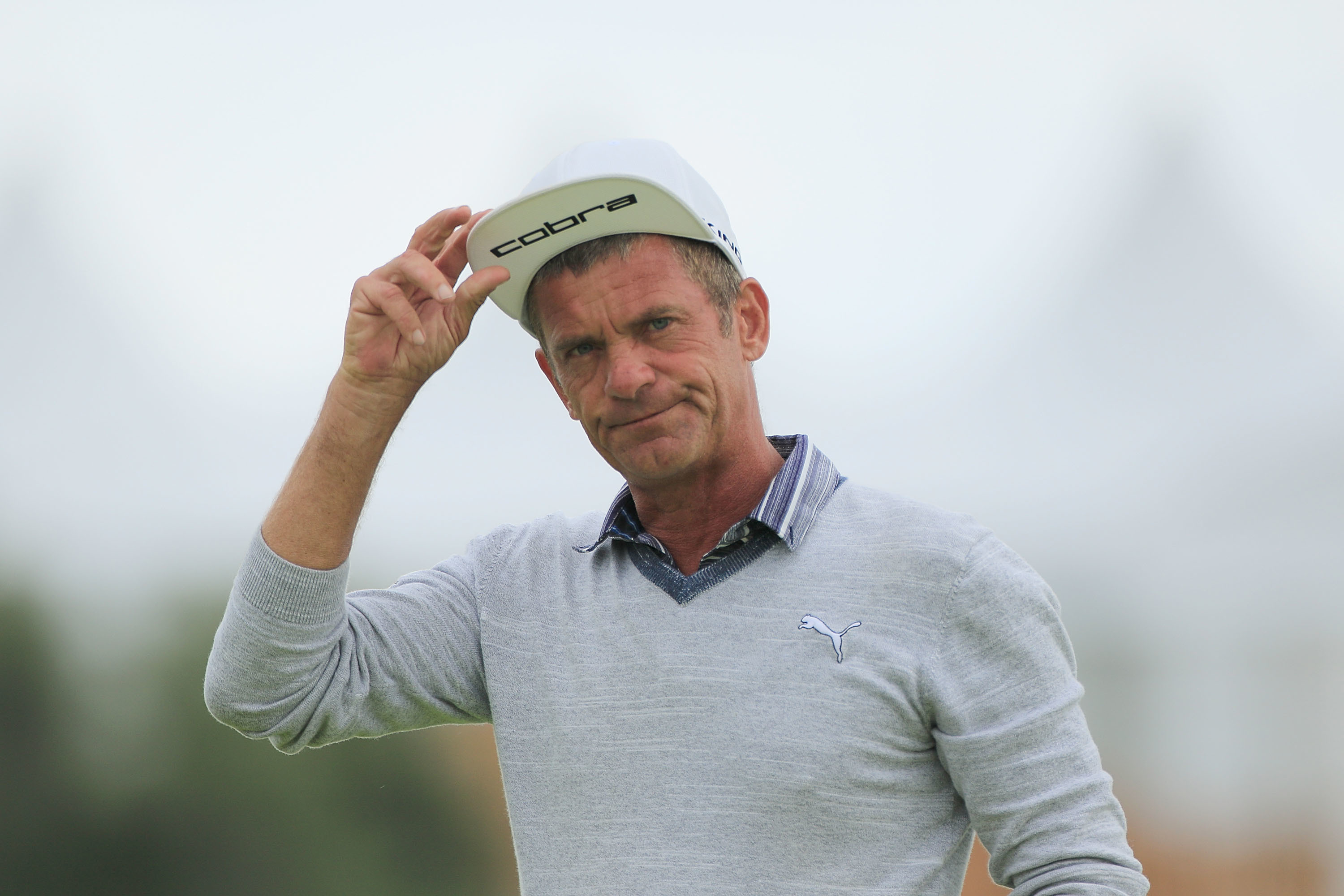 The Swedish-Scottish treble – or trifecta as he calls it – is still on, as Jesper Parnevik has managed to put all the chaos in his life to one side for a week at The Senior Open.
"A mixture of Stenson inspiration and Scottish inspiration" is Jesper's reasoning for his being close to the lead at the halfway mark at Carnoustie despite next to no practice or play in the last few months, such is his schedule.
It's all agreeable stuff, however. The engaging and eccentric Swede is still as daft as when he was so close to winning Opens in the 1990s, and looks exactly the same as he pursues a Senior Open title to go with Henrik Stenson and Alex Noren's victories in the Open and Scottish Open over the last fortnight.
Only now he's not nearly the most famous member of even his own family, who appear on Sweden's most popular reality TV show Parneviks, which is in its second season. Wife Mia is Sweden's TV Personality of the Year, eldest daughter Peg is a successful pop star, and 14-year-old son Phoenix seems to be Sweden's answer to One Direction.
Is there time for Jesper's golf career in this? Not really, despite his 68 at Carnoustie yesterday to tuck him a shot behind the leaders after 36 holes, Japan's Khoki Idoki and Joe Durand of the USA.
"I'm overjoyed, I haven't played at all this summer," he said. "I hurt my back in the gym, ended up working out with a couple of MMA (Mixed Martial Art) fighters which was not a good idea and I was out for three weeks.
"I didn't know what to expect this week. All I can say is it's probably Stenson inspiration, and a bit of Scottish inspiration. I love this type of golf and I've always loved this golf course; even though 1999 was torture, it was still a lot of fun."
Yesterday's four-under score was bogeyless, and he eagled the Spectacles 14th, despite being disgusted with his approach, which got a friendly bounce from one of the hollows beyond the eponymous bunkers and ended up eight feet away.
"I had no expectations coming here," he admitted. "I have 20 different swing thoughts and was just trying to sort them out.
"Monday was only the second round I've played since the middle of June; all I'd done was hit balls off a mat when I was in Sweden – yellow Pinnacles they were I think."
Jesper's had various injury problems in his 40s – two hip surgeries, a cracked vertebrae and ribs when he fell off a Segway, nearly severing a finger when he was winching his boat. Amazingly, he looks exactly the same at 52 – skinny, cap lid upturned – as when he was battling for those Opens 20 years ago.
"I don't know why that is, I do everything wrong," he added. "I love wine, I'm out in the sun all the time, my cap doesn't block out the sun. Maybe that's the recipe."
His family life keeps him active and he and wife TV Mia's reality show with their four children featuring Swedish celebrities coming to stay with them in their house in Florida has proved a massive hit in his native country.
"Everybody in Sweden knows me as Peg's Dad, because she's been No 1 in Sweden for four months now," he explained. "She's breaking through in Australia and Germany now, which is unbelievable.
"It's all down to the show. The funny thing is that I've been away from Sweden for 30 years now and myself and the family don't know many of the celebrities at all, but maybe that's why it makes for good TV, we have to get to know them when they live with us for a few days."
Odoki, the 54-year-old who spent his entire pre-senior career on the Japan Tour but won the PGA Senior Championship in 2013 for his only senior major so far, looked to have played to type when he reached seven-under but bogeyed the 17th and then found the greenside bunker at the 18th.
However he grabbed the lead for himself by holing out form there, with a 63 degree wedge he changed to this week precisely because he found the bunkers so penal.
"I came into the tournament only trying to make the cut," he said through an interpreter. "The wind was blowing in every practice round and I was making bogey after bogey.
"Thankfully the last two days have been much calmer."
American Joe Durand later holed a six foot putt on the last to equal Inoki's seven-under mark.
With Parnevik tucked behind are American Olin Browne after a day's best 66, Australia's Peter Fowler, another American Tom Byrum and the doughty Paraguayan Carlos Franco.