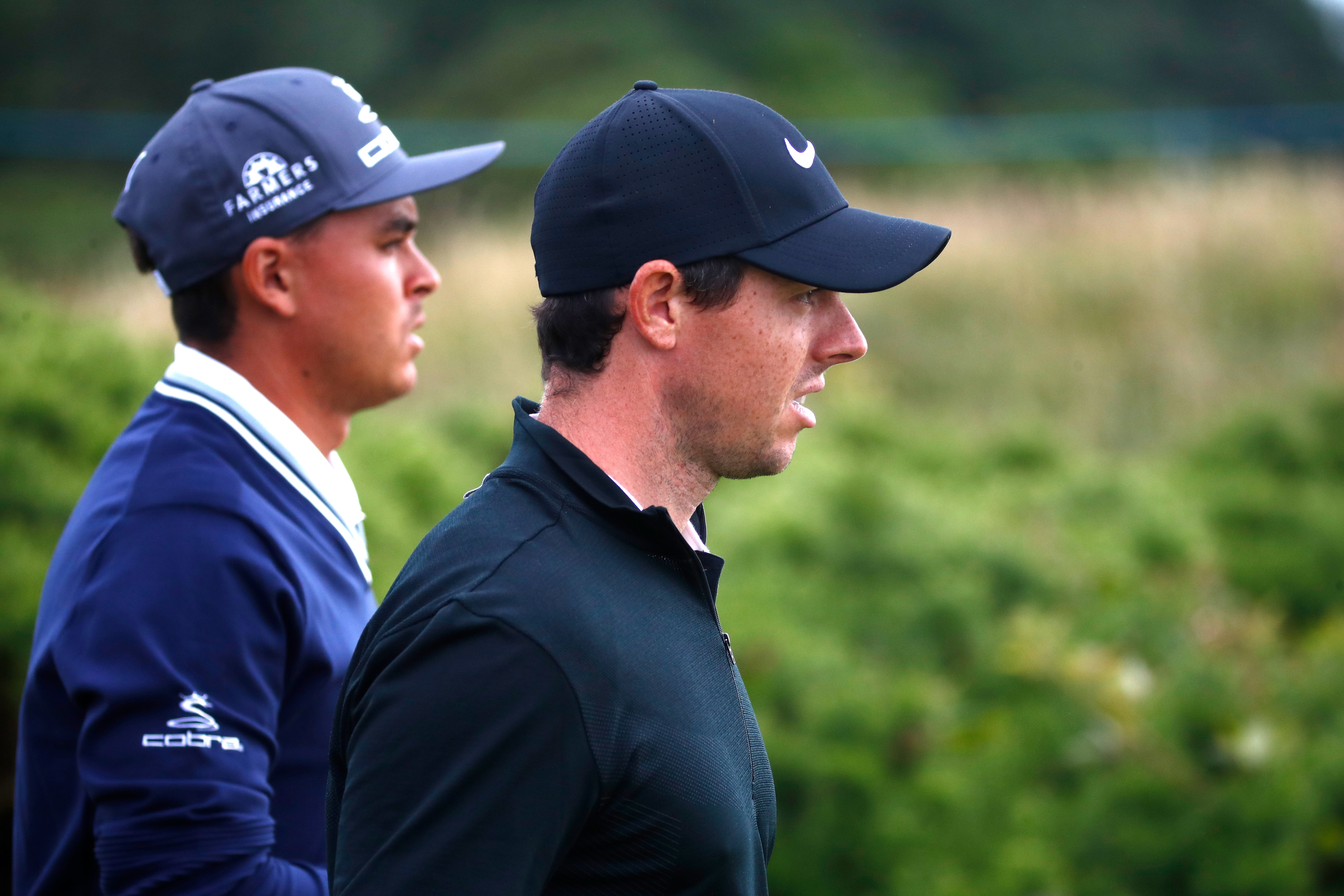 Rory McIlroy breezed past press men – well dodged really, because there's not that much room in the Dundonald mixed zone – with a rare after-round snub that indicates just how frustrating his current slump has become.
His 74 was actually fairly decent given that he was four-over after four holes of the Aberdeen Asset Management Scottish Open, provoking stunned and spiteful reactions from the Ayrshire faithful arriving at such an early hour to watch him.
"That was f—ing sh—," said one reviewer, loudly. A woman later watched Rory toil to a six on the long 18th – his ninth – with the less profane but equally damning "what a clown".
McIlroy's sunny optimism of the pro-am day – he held court entertainingly in the media centre and his team won the knockabout comfortably – vanished within those four holes on a cool and clear morning in the marquee trio with Henrik Stenson and Rickie Fowler.
Stenson actually had the worst start initially, carving his opening tee shot at the 10th into a bank tangled in bracken and fescue and requiring three attempts to get out for an opening triple-bogey seven. The Open champion rescued one shot immediately at the short 11th, and eventually recovered a round of par 72.
Rory's opening drive was majestic, and that part of his game scarcely diminished in majesty for the entire morning. His opening birdie putt was makeable but slid by, yet he looked to be rolling the putts reasonable well.
The glaring problem was his wedge play, which was abysmal by amateur standards, much less from than a man widely acknowledged to be greatest talent in the game.
Despite requiring just a knockdown pitching wedge into most holes, he was short of the 11th and bunkered, taking a bogey four; short of the 12th green again and a clumsy chip produced another bogey; and then woefully short of the pin at the 13th where his ball leaked back into the ditch.
Someone in the unforgiving gallery loudly suggested his recent new choice of equipment might be of issue, although in somewhat more colourful language. A young boy, dressed identically and immaculately in Rory-branded Nike gear from cap to toe, looked crestfallen.
Rory continued to stripe his drives, and they helped him pick up birdies at three of the par fives. What probably annoyed him enough to sidestep reporters in the end was the bogey at the ninth, his final hole, which derailed a nice little comeback.
Fowler, although a clear thirty yards behind McIlroy on most holes, played almost faultlessly. He maybe should have got started at the short 11th but missed the putt on the low side, but birdied thirteen and fourteen and had a little spurt of three in a row on his back nine.
No bogeys, and a 67, which is a perfect way for the American to start the "defence" of the title he won at Gullane but passed on last year at Castle Stuart because of scheduling issues.
"It's fun to go out on links and hit shots that don't necessarily have to be spot on," he said. "It's about managing the game and working your way around the golf course, putting yourself in the right position and avoiding bunkers.
"I felt like I did a good job of hitting fairways today, staying on the right side of the hole and made a couple of birdies, and it's always nice to have a clean card."
He and McIlroy chatted a lot, and the American has no worries about his friend.
"He didn't make the swings he wanted to today, but he did a great job of hanging in there," he continued. "He'll be fine.
"He's one of the best players in the world. He's in a great spot in his life away from the course and it's been fun to build that relationship with him. I reckon that he'll bounce back."
Perhaps, but after not playing the weekend in Portstewart last week, his Open Championship prep sheet can't really afford to read MC-MC.