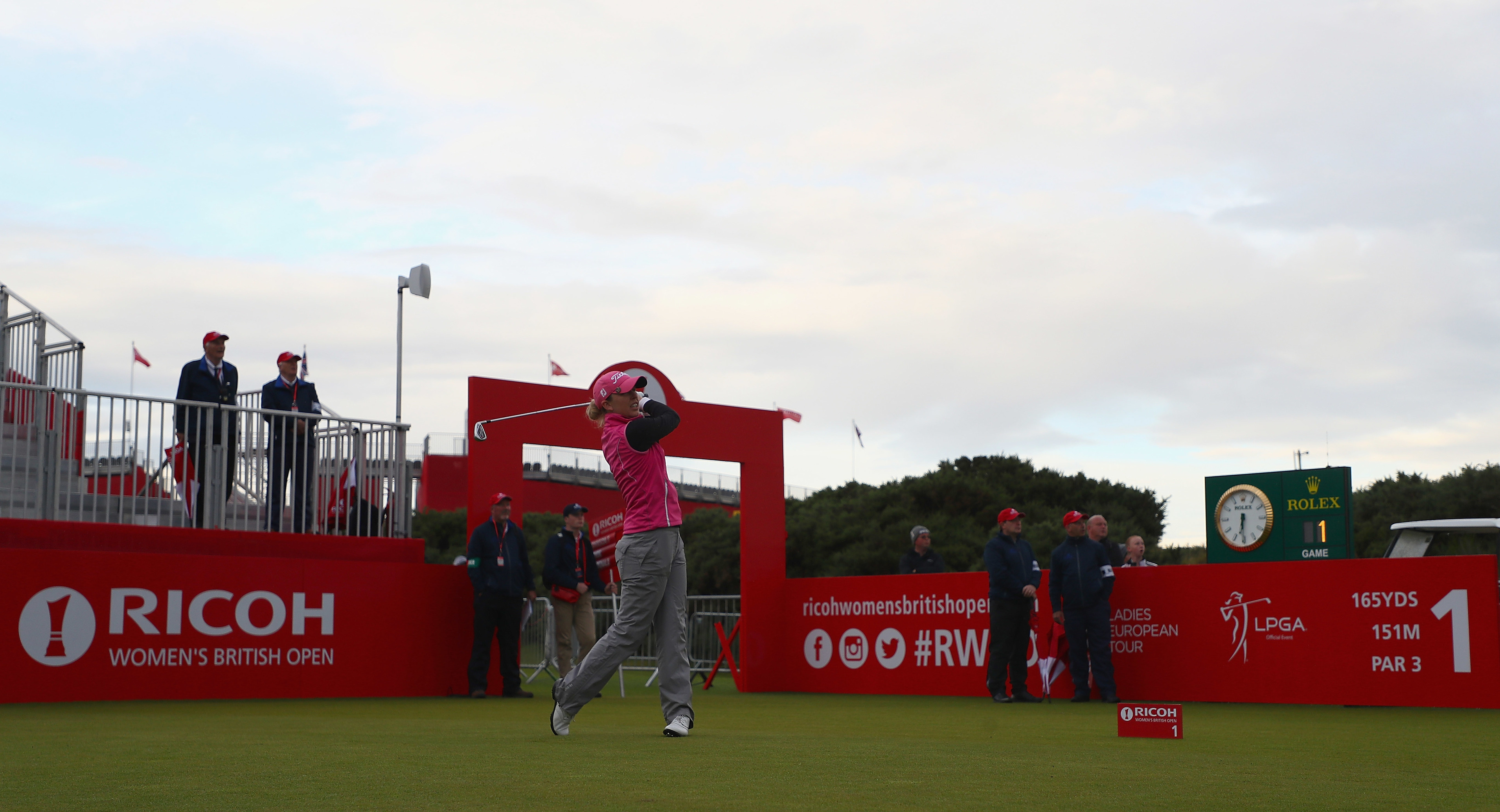 You hear it all the time in golf; a player takes a scholarship to college in the US and does the degree to "have something to fall back on". Only Sally Watson always meant it when she said it.
Many times among aspirant Scots in the US college system the degree doesn't even get finished or is can be a distraction to the real goal, which is training to be a pro golfer. But for the 26-year-old from Elie it was always the other way about.
After five years on the pro circuit, Sally is finishing at this week's RICOH Women's British Open, with a nice symmetry as it was in this championship as a 16-year-old amateur she played her first professional event, the first time the WBO was staged on the Old Course, back in 2007.
To mark the occasion, she was given the honour of hitting the first ball of the championship, and a opening par 72, with her Dad Bill as always on the bag, was a nice return. But – hopefully after Sunday – she'll wave goodbye to pro golf this week and head to the University of Chicago's Booth School of Business to start studies for an MBA.
Sally already has a degree from the prestigious Stanford University in California – former students include Tom Watson and Tiger Woods – and she's missed the cut and thrust of student life, she says.
"It's a combination of factors," she explained. "I never saw golf as something I wanted to do forever and I missed the intellectual challenge of university. I always knew I wanted go back at some point.
"Also I love golf and I love competing, but I have struggled a little bit recently to see how I would be happy being a pro golfer. The lifestyle is a real challenge."
It was still a tough decision, and in the balance right up until the end of last year.
"I went to LPGA Tour School last year and if I had got my card, I would have postponed my decision," she said. "But I didn't get it and I knew this year the Ladies European Tour wouldn't be a full schedule. It's tough to call the amount of events, five or six or whatever it is, we've had so far this year a career.
"One of the reasons I went to Stanford in the first place was to have other options, and I think it was just time to take one of them. I'm really excited and there's no better place than here to finish on a high."
Advice in making the switch came from the former US secretary of state Condoleeza Rice, a professor at Stanford and one of the first woman members of Augusta National, who was her academic advisor when she was a student and has stayed in touch.
"She recognised how golf has given me a number of experiences and opportunities I can put to work in other areas of my life," added Sally. "She wrote my letter of recommendation to the University of Chicago and she told she'll come looking for a game with me once I'm settled in."
Sally has few regrets leaving pro golf behind, at least for now.
"Playing professional golf isn't the least stressful of careers, you have to earn your living every week, there's not a set amount going into your bank account every month," she said.
"Hopefully whatever career I choose after graduation will provide a bit more financial stability but at the same time I want to do something I'm passionate about, personal fulfillment and happiness are my No 1 things.
"I want to go to school again to challenge myself and expand my skill set, and hopefully be as attractive a candidate to a prospective employer as I can be. And that could be in golf, you never know!"