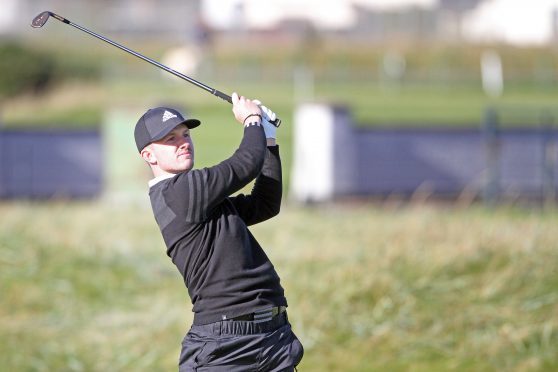 Actually playing in the Alfred Dunhill Links Championship turned out to be a lot less nerve-shredding than playing with Rory McIlroy the day before for Connor Syme as he started at Carnoustie with a solid par round of 72.
It was actually Connor's first round over 70 as a pro – he shot four rounds in the 60s in his debut at the Portugal Masters – but these were challenging conditions on one of the toughest courses in the world even in a flat calm.
"I shot two-over in much better conditions than this qualifying for the Amateur a couple of years ago," recalled the 22-year-old. "Level wasn't bad at all on probably the toughest course out of the three.
"It wasn't my best stuff today, but level par's not a disaster at all."
A bogey at the 10th – his opening hole – wasn't the ideal start, but three quick birdies followed including a rare one at the 16th.
"A cool moment," he said, having holed a 40 foot putt from the back of the green. "There's not too many twos made there.
"The putt was actually one I had in the British Amateur and I remembered the read. A two at the hole feels like an eagle."
He wasn't fooled by being two-under after seven and just behind playing partner James Morrison who was leading at the time on four-under, however.
"There were a few chances on the back nine but the wind made it very difficult on the front nine. It wasn't the quickest out there either but you see that in the amateur game quite a lot dso although you'd like to be quicker you're used to it."
He made one errors at the short par four third, misjudging the wind and ending up with a brutal up and down from the left, and then a short miss at the short eighth, but he finished off with a good save from off the left on his final hole.
"That was good because it was important not to finish bogey-bogey and keep some momentum for going into tomorrow."
Followed by a coterie of family and well wishers, with his dad Stuart looking on with confidence – "we don't do nervous", he said – Connor looked comfortable and assured, carrying himself very much as a pro.
"Playing with Rory was the most nervous I've been so far, much more than today," he said. "He's someone I've looked up to and the way he handles himself is spectacular, definitely something I aspire to.
"It was a bit of a starstruck moment but when we got down to it he's such a nice guy I was perfectly okay by the third or fourth. I was going to have to play with him sometime, it was good to get that out of the way."
Now it's on to Kingsbarns, where caddie Tim Poyser used to loop regularly, and tomorrow is St Andrews, which Connor has played countless times.
"Between Tim and I we have a pretty good knowledge of Kingsbarns, and St Andrews is longer but the pins are often tougher and tucked in the Links Trophy than here," he added.
Carnoustie's famous long sixth was a brute into the face of the wind, and David Drysdale got the full bite of the monster.
"I hit a nice drive into the middle of the fairway and was trying to hit a low 2-iron, but it hit the bunker face in front of me," he recounted." I chipped out, couldn't get up with a 3-wood and took five shots to reach the green."
However he bounced back with a fine run of four birdies in the last seven holes – both the par fives as necessary, but with bonuses at 15 and 18 – to finish with a three-under 69.
"I played the back nine really well in tough conditions and it was nice to finish with a 3 at the last," he added. "I was allowing for a 30-35mph wind out there most of the round.
"It was tricky, as Carnoustie always is. I've done pretty well in this tournament in the past and it is nice to get Carnoustie out of the way at the start as it's normally the toughest of the three."
Marc Warren also had a strong finish at Carnoustie taking advantage of the wind with a birdie at the last for a 70.