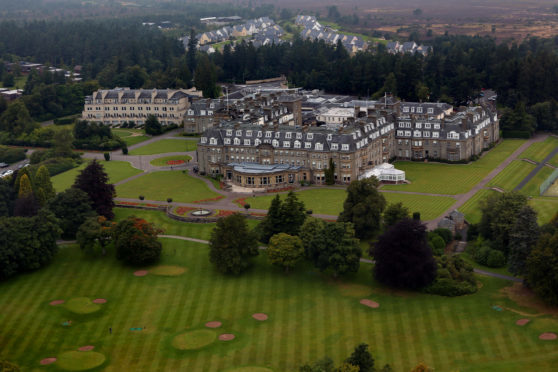 The inaugural European Golf Team Championships at Gleneagles this summer will be a ground breaking event involving mixed teams of players from the men's and women's European Tours with equal prizemoney.
The format and qualification process for the five-day event in August – part of the multi-sport Glasgow 2018 European Championships – was unveiled yesterday after the European Tour and Ladies European Tour finalised the agreement.
There will a 50/50 gender split in the field with male and female professionals competing for equal prize money in both a Men's and Women's Team match play Championship, as well Europe's first Mixed Team Championship over 18 holes of foursomes.
Players will represent their countries with 16 teams of two players competing in Men's and Women's Team events before combining to form teams of four (two men and two women) in the Mixed Team Championship.
Qualification for the Championships will be from points tables based on men's Official World Golf Ranking Points and women's Rolex Ranking Points earned from tournaments finishing between Monday 10th July 2017 and Monday 9th July 2018. A maximum of three teams can represent any one nation in each event.
Keith Pelley, Chief Executive of the European Tour, said: "The inaugural European Golf Team Championships is an exciting addition to the 2018 European Tour schedule, and we are looking forward to this unique event at the historic Gleneagles PGA Centenary Course.
"There is a need for golf to embrace new formats and engage a wider audience, and following our recent announcement about the inclusion of female players in our GolfSixes tournament, the European Championships presents yet another innovative opportunity to break new ground on a number of fronts.
"The opportunity to represent your country is a great honour that many players experience at amateur level, but the opportunities are fewer when they become professional. Add to this the match play element, and of course the intriguing prospect of the mixed team event, it all points to being a fantastic event for spectators at Gleneagles and those watching on free-to-air television across Europe."
Mark Lichtenhein, Chairman of the Ladies European Tour, said: "This summer's European Golf Team Championships will be a totally unique event and we are extremely pleased that the men and women will play competitively together for equal prize money.
"As we have seen through the Olympic Games in Rio, the recent Oates Vic Open in Australia and the announcement to have mixed teams in the GolfSixes in the UK, there is a tremendous public appetite to see men and women competing.
"The format is terrific and the fact that the event will be shown throughout Europe via free-to-air television presents an unprecedented opportunity to bring new fans to the game."
The European Golf Team Championships is part of the Glasgow 2018 European Championships. To be staged every four years, the European Championships will combine the existing European Championships of Athletics, Aquatics, Cycling, Gymnastics, Rowing and Triathlon.
The first edition will be held in 2018 in a unique sporting partnership between Host Cities Glasgow and Berlin.
Golf is the only new sport staged as part of Glasgow 2018 and will take place at the famous Jack Nicklaus-designed Gleneagles PGA Centenary Course – the same venue that hosted Europe's memorable victory over the USA in The 2014 Ryder Cup and will also host The 2019 Solheim Cup in September 2019.
Sports Minister Aileen Campbell said: "Scotland, the Home of Golf, is no stranger to innovation when it comes to sport so it is fitting that history will once again be made with men and women competing side by side in the European Golf Team Championships.
"Scotland is a proud advocate of equality, not just in sport but in society, and I am delighted that the Glasgow 2018 European Championships is playing its part to effect positive change."
Tickets are now on sale for the event from August 8-12 with adult prices from £10 for practice days and £15 on competition days. Children under the age of 16 are admitted free when accompanied by an adult.
The Championships will be broadcast across the European Broadcasting Union (EBU), the umbrella body for European free-to-air channels, with a potential audience of 1.03 billion. In the UK the Championships will be broadcast on the BBC, meaning it will be the only domestic live golf event shown on UK terrestrial television in 2018.