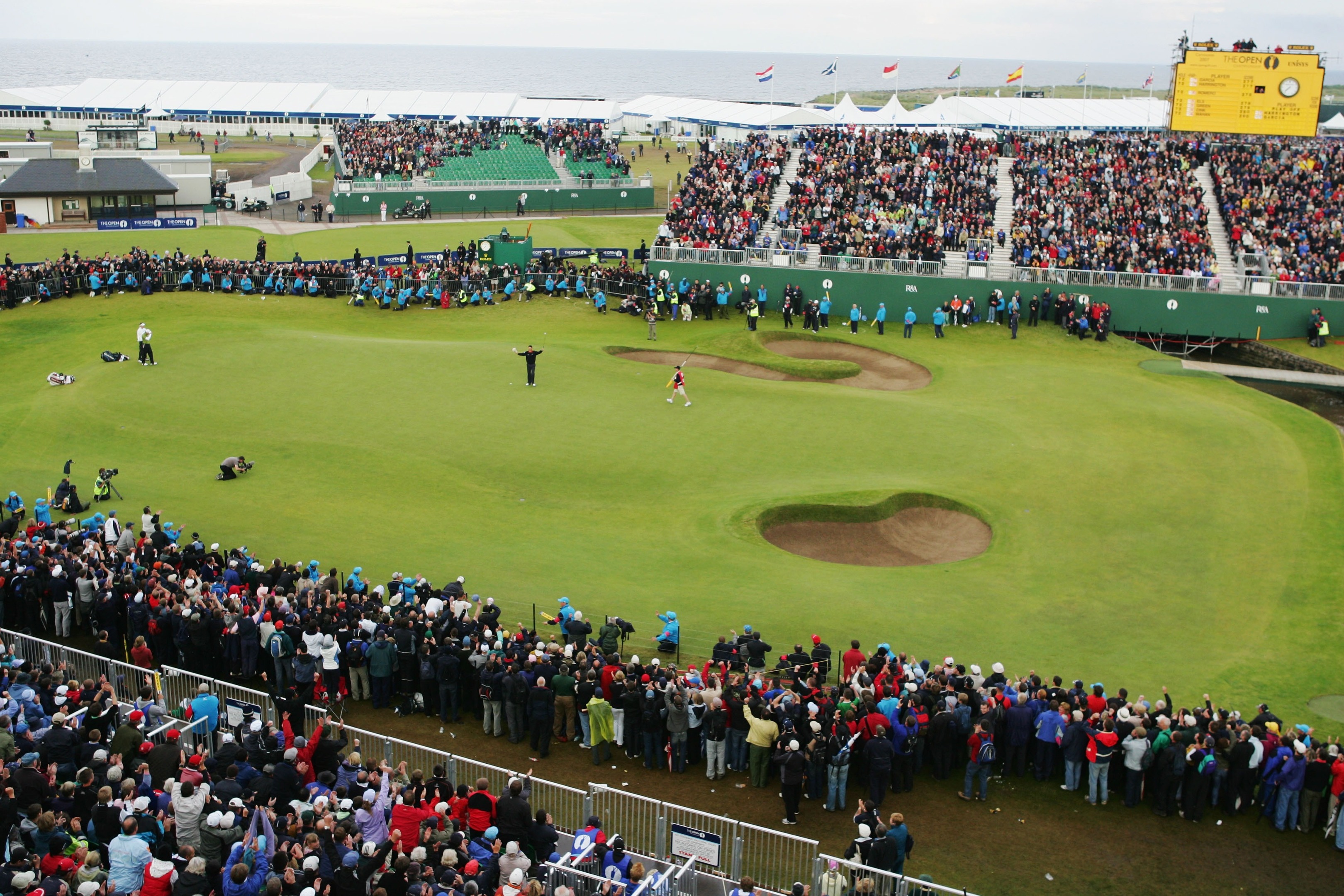 He birdied it yesterday, and what would he have given even in his finest hour for that?
Padraig Harrington was retracing his steps around the final holes at Carnoustie where in 2007 he thought he'd choked away an Open Championship only to get a second chance a claim his first major title.
And the 18th, where he took a double bogey six and a bogey five in a nerve-wracking finale 11 years ago, is still a hole that gets his juices flowing.
"Carnoustie is known by all as one of the toughest major championship courses and I don't think you'll find a tougher last hole in any tournament than here," he said.
"Sometimes I've lacked intensity when going to play regular golf, sometimes at tournaments you don't wake up with the butterflies. But I could stand and play the 18th at Carnoustie every day and still be interested."
Harrington was being filmed by his long-time club manufacturer Wilson ahead of the Open in July, the victory that defined his career, and the hole that probably did it as well.
"There is trouble everywhere, even if you are trying to make five it's still difficult," he added. "Off the tee there is out of bounds left there is water left, there is water right.
"A straight shot will go in the bunkers. You can hit the green and go out of bounds. If you miss the green you can chip it out of bounds if you for the flag. Short is water, long is more out of bounds.
"As a finishing hole it's second to none. It really puts you under severe pressure."
Even in a knockabout for TV, the nerves were up, he admitted.
"I played the first three holes today without being properly warmed up, but when I got to the 18th I wanted to play it and I wanted to play it well, I was into it," he continued.
"Even flying over here last night I was thinking about the 18th and how I would play it. There's not a day goes by that I don't think about that hole.
"It brings a lot of pressure and it carries a lot of baggage. Everybody remembers how badly Jean (van de Velde) played it and some will remember how I played it. It carries that baggage.
"Even if you've played it well all your life you'll still remember there is danger there. It's a very difficult finishing hole but the storylines and history makes it even tougher."
For himself, Harrington will always be a factor as a links golf specialist but he feels in his best shape for years coming into this season.
"Physically I can compete," he said. "I struggled with my putting for a while but it's coming back. My chipping is as good or better than any of these guys.
"That only leaves a bit of the mental game, and that has been poor. I've not been as strong mentally. It could be experience and scar tissue and not being as innocent, but I'm getting through it.
"I feel like I can win where I am. I had a rough couple of years, two or three years ago, when I had the putting yips and I was working so hard to just shoot a 72.
"I've seen guys get to the twilight of their career and they are out there trying too hard for no return. I don't want to be that old codger where the young guys are looking at me thinking 'will he ever take it easy and take a step back?'
"I want to be competitive. I'm in a good place now."