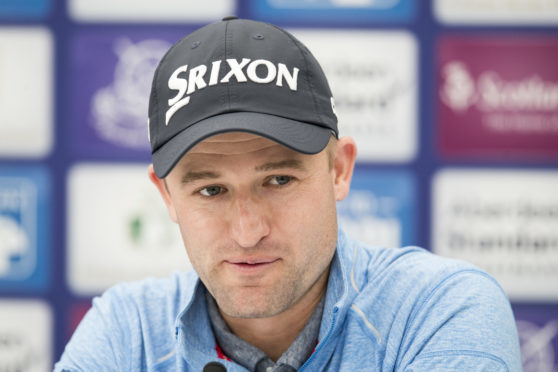 Scottish Golf is in crisis, we're told, and does our latest professional winner Russell Knox have the solution we're all waiting for to end levels of underachievement across the board in the game we gave to the world?
"I just got jammy," said Knox who rolled into Gullane yesterday for the Aberdeen Standard Investments Scottish Open fresh – or to be more accurate a little tired – from his dramatic victory in the Irish Open.
New Zealand's Ryan Fox, who Knox defeated in the play-off at Ballyliffin, might agree, having seen the man from Inverness bomb two putts of over 40 feet on the 18th green in the space of an hour for his unlikely victory. But clearly there's a good deal more to it than that.
"It takes a lot of work, and a lot of talent as well, obviously," said Knox, who moved back into the World's Top 50 with the first Scottish win on the European Tour for over three years.
"But I ask myself all the time, why me?  Why was I the one that was able to do it and all these other guys who are equally as talented, or if not more, why did they not make it?
"There's no answer to that.  I just got jammy."
Knox may not be a template that Scottish Golf could or wants to follow anyway. He was a fringe player in his amateur international days, based himself in America and came through the mini tours there to the PGA Tour.
What he does clearly have despite his always self-effacing, pleasant and modest manner – and what might be the key – is a hard edge which manifests itself in key situations.
"Maybe I play my best when I'm on edge," he pondered. "Some of my tournaments I've played my best at are stressful courses, like I did in France (two weeks ago, when he finished second) where you have a lot of high-stress shots.
"Maybe I need that environment to bring that out in me, almost like that triggers my adrenalin level. I need to somehow pump myself up for those big moments, and fortunately now I've got a couple stacked in the memory books that I can rely on when I need to."
Knox came back to Europe intending to build on a run of decent form, with a view to qualifying for the Open (he did that in France) and enjoying his time at home in Scotland, but he admits the win in Ireland may have thrown those plans into turmoil.
"I wouldn't change anything," he said. "I've played a lot of golf, but ultimately winning in Ireland makes up for everything, all the hard work I've put in.
"I'm tired now, but couldn't really have worked out any better, coming back to Scotland for two weeks, because obviously I'll be up for these next two tournaments, naturally being back home.
"One of these weeks, I'll probably crash and burn, but to be honest, I don't really care. After last week, such a high, the main goal this week, and also next week, is just to enjoy my time here and if I can replicate any kind of form the last few weeks, it will be a huge bonus."
And Knox's last two weeks resulted in a greeting from Thomas Bjorn when they met near the media centre yesterday – "Welcome to the conversation!", that is, the talk about selection from Bjorn's European Team for the Ryder Cup.
"Yes, two weeks ago, it was miles away," he remarked. "Now, it's not miles away, and I know I'm trending in the right direction.
"But I've still got these massive events to go beforehand, so it's going to be a reward of what happens from now till then if I'm good enough.
"It's not so much a goal of mine but a reward. If you set it as a goal, you lose sight of what's right in front of you.
And having been in the conversation and missed out last time, he knows exactly what he has to do.
"The last two weeks have put me right there but it's all about what happens from today to when the team is picked, if I play well in that stretch.
"If I play good in that stretch, I deserve to make it and if I don't, I don't deserve it. I've had a good run but there could be a guy who hasn't done anything yet that makes it if he has a purple patch from now."
Missing out last time has made him tougher, he believes.
"Right after The Ryder Cup selection, I had a couple very nice tournaments, and then I think I tried to improve more, tried too hard and I got worse," he said.
"But it all helps, and you have to go through moments like that. 2017 was not a great performance year for me, but it's definitely made me a stronger person, a better player, and I'm out of that now. Hopefully I'll take off from here."