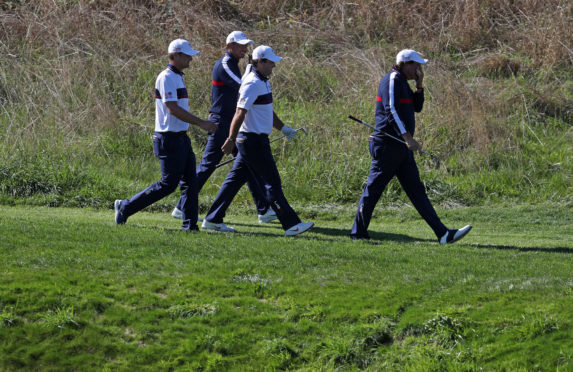 Tiger Woods and Phil Mickelson would welcome the chance to play together again in the Ryder Cup after a 14 year gap. Well, according to Phil they would.
The pair were together in practice yesterday with Bryson Dechambeau and Patrick Reed – as usual on Tuesday, potential pairings are pure conjecture – but even after the disaster of 2004, when Hal Sutton's decision to pair "the two best players in the world" ended in two defeats and general acrimony, Phil feels things would be different this time.
"When we go over like little details as to why we were or weren't successful, when I talk about it openly and try to share insight, sometimes it comes across as though I'm trying to take a shot at somebody," he said, rather defensively.
"The bottom line is going to be preparation. When we can eliminate the variables; eliminate the uncertainties, it eliminates the pressure.
"So the more questions we have answered well before The Ryder Cup, the more prepared we are and the better — the more time we have to prepare our games this week. So the fact we would be prepared would be the general answer."
However he and Tiger are now such great buddies planning high-stakes games in Las Vegas in November, it's a natural fit, he thinks.
"I think we would both welcome it," he said. "I think that when we started to really work together to succeed in The Ryder Cup, going back even four years ago; and then at Hazeltine and last year at the Presidents Cup, we realised that we both have a lot more in common than we thought.
"I think that we both have really come to appreciate working together. It's little things, our work ethic and so forth; I think the way we look at details.
"I think our minds work a lot more similarly than what we might have thought, and working together has been not just special but it's been really fun."
Working together to break the USA's record of not having won on European soil for a quarter of a century? That's the plan, and Phil knows that personally this is probably his last chance.
"I am aware this is most likely the last one on European soil and my last opportunity to be part of a team that would be victorious here, and that would mean a lot to me personally," he said.
"It would mean a lot to our team and to the United States Ryder Cup to have a victory on foreign soil. But it's a very difficult task. The European Team is extremely talented with some great young players and great experience and great leadership, and it's going to be a very difficult match for both sides.
"I think it's going to be close, and something that if we were able to come out on top, it would be something I would cherish the rest of my life."