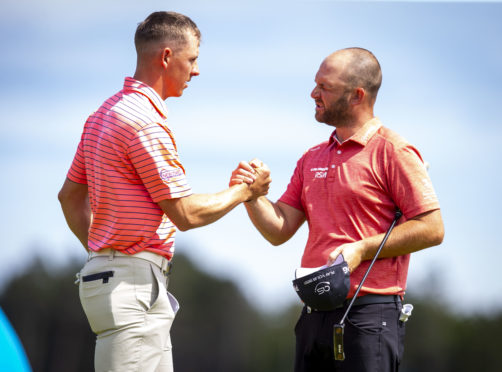 Who is the most-wanted draw on the European Tour right now? You'd have to go some to beat Grant Forrest over the last three rounds.
The 25-year-old Scot on his rookie season on the European Tour has done decently himself those last three rounds, yesterday's four-under 67 in the opening 18 at the Renaissance taking him to 11-under for 54 holes.
But his partners have really prospered – Robert Rock shooting 60 on Saturday at Lahinch in the Irish Open, Jon Rahm 62 in storming to victory in that event the following day, and yesterday Andy Sullivan benefitting from the golden partnership with his 64 to share the lead.
"Yeah, I'm a lucky charm, the last three rounds anyway," said Forrest. "I'm sure it's just a coincidence.
"It's a little more frustrating for me when that's happening, but Andy was brilliant today. He almost holed out (from off the green) three times, He just managed to hit it a little closer than I did, and you need to be inside eight feet here to give yourself a chance."
That meant even a four-under score was reasonably frustrating for Forrest, who had four tap-in birdies with his longest putt holed just six feet.
"It's frustrating because we're not going to get it in conditions like that," he said, having played in the morning wave before the wind got up. "Four-under is still a decent start, even though it could have been a lot better."
Forrest lives close by the Renaissance and has played it more than 20 times, benefitting by owner Jerry Sarvadi's general support of young local players.
"They've been very kind to myself and other tour pros in letting us use this great facility," he said. "It feels like a home match, and local knowledge definitely helps especially with some of the slopes around the greens."
Calum Hill didn't have that local knowledge, so he hired some in local pro Ross Noon as his caddie, and his first round on the European Tour proper – he played all four rounds  in the US Open a year ago as a qualifier – was an encouraging 68 for the Perthshire-based player.
"Ross caddied for Liam Johnston a bit last year so I got to know him then, and then I played with him in the qualifier at Longniddry at the weekend," said Hill.
"We spoke again afterwards about the week and decided to link up for this week. Ross is really as good as I could have got, it really helps to have someone who knows all the lines."
Hill wouldn't normally come off the Challenge Tour to play the main tour, but the pull of the qualifier for his national open was too great.
"I had a qualifier for the Open, and one for here, and it just make sense to take a week off the Challenge Tour and play them both," he said. "I could potentially end up in a huge tournament, two if I was lucky. I'm really happy to be here.
"Just to be here at home and representing Scotland at my home Open is a great feeling. I just didn't make many birdie putts today, but you don't here unless you get really close."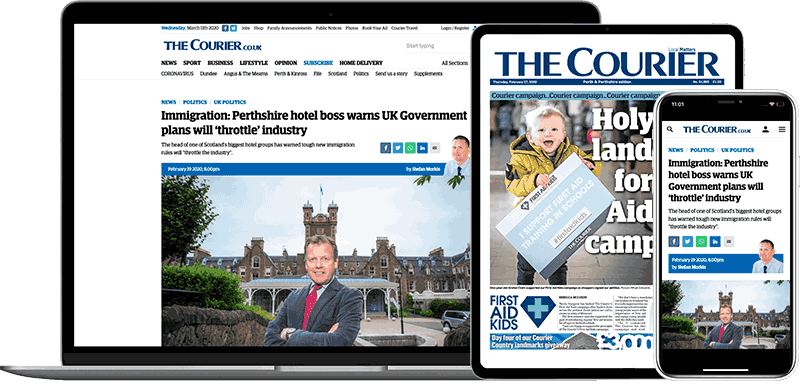 Help support quality local journalism … become a digital subscriber to The Courier
For as little as £5.99 a month you can access all of our content, including Premium articles.
Subscribe