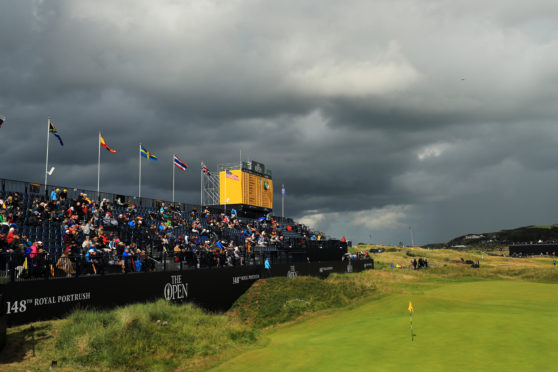 Royal Portrush wanted glory and Rory, it got just rain and pain. But the opening day of the 148th Open did provide a foundation for what could be a championship worthy of the setting on its return to Northern Ireland.
McIlroy's indignities on his way to a 79 mean what happens in the next three days – specifically the final two – won't have anything to do with him. But there is plenty of quality in easy reach of JB Holmes' opening lead at five-under.
The crowds turned out as expected but it was miserable for a large portion of the day. It was so wet they had to abandon the press car park, which sits on top of a hill where you can see all the way to Donegal.
It rained on everyone without favour, but the wind definitely dropped for the final two hours which allowed Holmes, the forgotten man from 2016 at Troon, to come through to lead.
The Kentuckian, a former Ryder Cup player who is probably most notorious as one of the slowest players on the circuit, shot six-under in the Open Championship three years ago and can reasonably claim he won the tournament he was playing in.
Only Henrik Stenson and Phil Mickelson were playing a different sport that weekend, and Holmes was eventually 14 shots behind the Swede's winning total.
Play had already become a crawl because of conditions and the little matter of David Duval taking four hits off a tee on his way to a 14 on the seventh, so Holmes can't be blamed solely for the pace of play yesterday. But if it's really his preference he obviously thrived.
Holmes won the Genesis Open – the old Los Angeles Open at Riviera – in February but since this has been one of his worst years.
"Perhaps it's here," he reckoned. "You just have to accept the conditions over here and not get too greedy and go after some pins. Try to hit it to the fat of the green, the middle of the green and hopefully make some putts.
"It's a lot different than we play in the States, you're firing at flags and everything else. Here you're trying to get it in the right spot on the green and make a putt."
The irony is that he played in practice with McIlroy, and seems to have come out of it with more benefit than his partner.
"He was hitting it great, looked like he was playing well," he said. "We just played a round. I watched him, the strategy he hit on some holes. But I didn't take back that was surprising or anything.
"If someone had told me I'd shoot 66 before I played this morning, I'd thought it very possible. I was very confident going in.
"After Detroit (two weeks ago) I felt like I was hitting it really well. I felt like we had a good plan. So  while you don't expect to shoot that, but I'm not surprised."
Holmes edged ahead of Shane Lowry, tipped by many to do well because of the state of weather forecast and his links pedigree. But the Irishman who can slip under the emotional radar here because he's from the south – Offaly to be exact – wasn't happy either coming in.
His Scottish coach Neil Manchip needed to take him aside over a coffee to get him back on track.
"I don't feel like practice went unbelievably well this week," he said. "I felt a little bit uncomfortable, but we went to coffee yesterday down at the Bushmills Inn and we found a little quiet room, and had a great chat for about 40 minutes.
"I left that room full of confidence and ready to go. We just put everything out in the open, everything out on the table, what could happen, what might happen."
There's plenty here from the south, and Ireland supports all their boiys at golf, regardless of borders.
"I was cheered at every green, which is great. For me, this course is in the top two in Ireland. I think it's a great Open venue.
"It's great for the people. When you go and play big tournaments in big cities, the locals don't take to it as much as they do in a place like this.
"I can imagine for the last couple of years, it's the only thing anyone is talking about. It's taken over the whole place.
"It's great to be here. It's got the potential to be an unbelievable Open. Probably one of the best Opens I think. And I'm just hoping it's going to be special for me."
Jon Rahm, twice an Irtish Open champion in the last three years, reached five-under at the turn but had a poor back nine when conditions seemed at their best. He fell into a log-jam of bodies on three-under, including the omnipotent Brooks Koepka, major champions like Sergio Garcia and Webb Simpson, should be major champions like Lee Westwood and Tommy Fleetwood, and just maybe, not-far-away guys like Tyrrell Hatton, Tony Finau and Alex Noren.
It also includes Scotland's Robert MacIntyre, who was at four-under until a 15-foot par putt lipped out at the last.
More rain is expected today. More intrigue is certain.